Meet People Where They're At
March 8

|
As you can imagine, we take technology and innovation pretty seriously here at Pushpay. In fact, innovation is deeply ingrained in our company heritage and culture. It's a tremendous honor that churches across the globe trust us to create and deliver helpful, dependable technology to help further their mission—a privilege that we keep top of mind.
It also means we need to be forward thinking as we address and anticipate the digital needs of the Church—and do so without making bold assumptions. At Pushpay, data is our north star, which helps us prioritize and plan as we innovate to meet the digital needs of the Church today and in the future.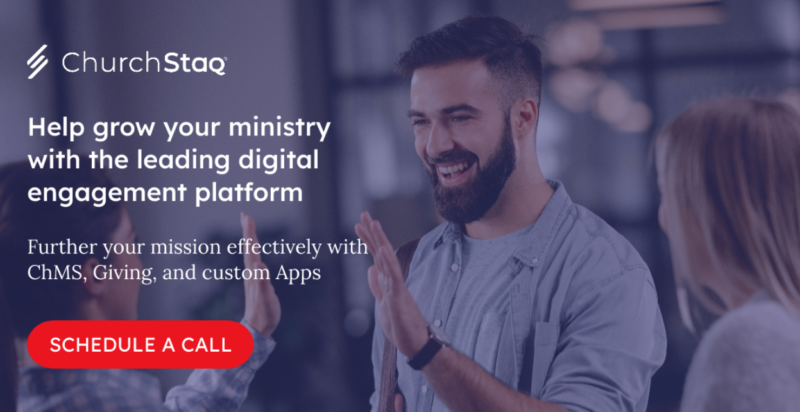 So, what's one way we put that into action, you ask? Mining insights straight from the source: church leaders themselves.
That simple thought led to our first annual State of Church Technology Report (SOCT). We were fortunate enough to receive nearly two thousand responses from church leaders across the country and all cross the faith spectrum. We pored through the data and have learned a lot, but perhaps the most significant finding was this:
Church technology is here to stay.
The Shift to Livestream
As you're aware, the Church's adoption of technology has been steadily increasing for decades, but demand was greatly accelerated by the pandemic. The ability to engage digitally was suddenly critical to engaging communities and connecting with congregations.
We saw this trend especially in livestreaming. Churches all over the world weren't going to simply stop holding services, so there was a rush to embrace video solutions. Entry-level tools like Facebook and Youtube were adopted—and by every metric, churches loved the experience. According to the SOCT report, 91% of churches are currently livestreaming at least some of their services.
It's almost as if one of my favorite sayings was put into action overnight: Meet people where they're at. With most of the world stuck at home, pastors and admins had to improvise quickly, and they did so by reaching out through phones, tablets, and laptops to continue engaging during an unprecedented situation.
In fact, if the church is supposed to be the epicenter of culture, how can we not lean in and explore and experiment with technology? Not saying that the church is necessarily the epicenter for culture today—but I think that's what we desire. I think we all feel that's (in part) what we were called to help create. So to do that, we have to meet people where they're at.
Meet People Where They're At
Perhaps more telling than the number of churches that are currently livestreaming is the amount of those churches that claim they'll continue livestreaming a year from now. According to the SOCT Report, 94% of churches plan to do so next year as well, even once most of the pandemic restrictions have (hopefully!) been lifted.
This tells me that these churches have recognized the power of reaching people through their devices.
We have felt this deeply at Pushpay. In fact, as we continued to evaluate the needs of our customers (last year in particular), livestream crept in as one of the top technology tools churches depended on to help reach and engage with their community.
One of the things we consider is whether it's most effective to build, partner, or acquire technology to further our mission to help churches foster community, connection and belonging. Which really set the foundation for us to join forces with Resi Media last year. We acquired Resi with the vision to bring together some of the most critical digital tools organizations need to help further their ministry—digital giving, mobile applications, church management systems, and now livestreaming. As we continue to bring our products more closely together, it's one of the things I am most excited about as we look towards future innovations and digital engagement for the church.
The Importance of Innovation
I am obsessed with our team at Pushpay. I love that we get to combine the best practices of technology and business to serve the Church. It's quite literally what gets me out of bed in the morning.
But our work doesn't matter if the tools we develop aren't utilized by you and your team. That's what sparked the SOCT Report—to better understand where you and the Church are headed, so we can innovate in the same direction.
And let's not be mistaken—technology shouldn't be a means to replace the sacred traditions, values, or messages of the Church. Moreso, consider how technology can come alongside and maximize those traditions. I think of the tech tools we offer as exactly that—tools to move the mission of the church forward.
We're constantly pushing for more intuitiveness in our products. We're prioritizing new ways to streamline your administrative work. We're always building on our already first-in-class data security. And there's so much more to come. In fact, we've been dreaming up some pretty big and exciting new developments for this year and beyond and can't wait to share some of them with you in the coming months.
We are inspired to continue innovating so that our technology can help you do the good work of your Church. And I believe that the best way to accomplish this is by helping you meet people where they're at.