Catholic Church Trends 2022: 3 Church Giving Trends
February 17

|
In the next two to three years, what technology will be strategically important to your parish?
We posed this question to nearly 100 parish leaders across the United States in a 2021 State of Church Tech survey, and one of the biggest responses? A mobile church app.
All of the survey participants lead new technology purchasing decisions for their parishes and are key decision-makers or influencers just like you.
Download the free report of results from the survey and see how your parish stacks up against other parishes across the country when it comes to the mission of the Church and their digital strategy for the future.
An overwhelming majority of participants said that their parishes currently have some kind of online or mobile giving tool. However, digital giving ranked sixth on the list for strategically important tools for the future.
In pre-pandemic times, most parishes relied on in-person offertory income. But, 2020 has changed the way people participate in parish life.
Two years later, digital giving options are the norm, livestream online worship times are now part of the official weekly mass schedule, and on-site religious education classes are shifting to equipping the domestic church with faith formation resources to catechize their children at home. Naturally, parishes may be frustrated with juggling multiple digital tools to keep up with these new demands and are now shifting from a focus on maintenance to a strategy that values discipleship, relationships, and one that will bring their giving and community together through a mobile church app.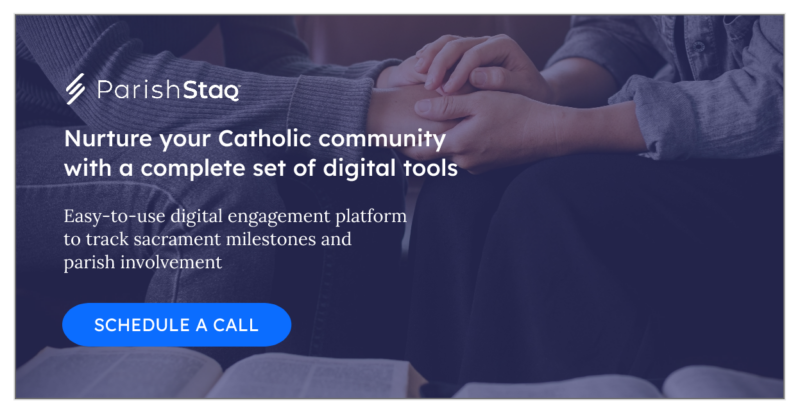 This is new territory, and church leaders who want a financially and spiritually healthy parish are keenly aware that they'll need to explore innovative ways to build and engage with this dual community both in the pews and online. This awareness is moving wise parish leaders to go all in this year with these three Catholic Church giving trends.
1. Shift To Content That Connects And Builds Community
As the pastor of your parish, you know that crafting your letter for the weekly bulletin takes time. There are important liturgical days or parish initiatives coming up and you want your parishioners prepared for what's ahead. However, in 2022, relying on your traditional bulletin to communicate won't be enough.
Consider sharing your weekly letter or bulletin on your church website, social media, email, text, or your mobile church app for greater reach. Experiment with taking themes from your letter or sections of your bulletin and filming a series of short videos that can be shared to parishioners throughout the week.
Some parishes prefer to highlight a passage from the daily readings or a quote from a saint on their feast day, while others choose to spotlight a parishioner for their faithful service or the results of a successful campaign drive. Other parishes are hosting weekly or monthly podcasts to reach an audience beyond their church walls and are finding success with welcoming new church members into their parish community.
Whatever medium you choose, give your people a reason to download your app. Create consistent, relevant content and not something that will just be a repeat of what's on your church website or bulletin. Connection throughout the week matters. Your content will nurture a person's faith and relationship with God, as well as remind them of their mission as disciples through their baptismal promises.
In a time where restrictions and changing regulations are part of daily life, creating an online community to bring your people together when they can't gather in-person should be part of your digital strategy. Groups is a popular feature in Pushpay's mobile church app that's helping many parishes achieve community. Church leaders can create and easily manage small groups where church members can communicate, serve, pray, encourage, and support one another.
2. Shifts Toward Easy-To-Use and Secure Giving Tools
When it comes to digital giving, parishes are learning that offering parishioners a user-friendly way to give is one of the first critical steps towards financial growth.
Fr. Anthony Stewart from Mother Teresa Catholic Church in Tennessee in the Diocese of Nashville, describes his experience with digital giving tools:
"(In a previous parish) When you went to give, it was difficult. You had to sign in and remember your password. If people want to give, you need to make it as easy as possible. (In his current parish) I love the ease of Pushpay and how easy it was for people to give. It was an exciting experience to do that. Those are my experiences of what not to do and then being able to implement something that's state of the art."
This year, intuitive software capabilities will be just as important as security. Protect your parishioners' information and prioritize products that offer the highest security certification available for online payments. Start a genuine conversation with parishioners early on about digital giving and the reasons why you value security. Show them the steps you're taking to ensure that their personal information is protected. It'll be an important step to building trust between you and your parishioners and might make their transition from traditional giving to digital easier.
We're excited to see more and more parishes and dioceses build out their digital campuses with virtual bible studies, classes, training, and livestream Sunday Masses. In their efforts to find more user-friendly solutions, parishes are also experimenting with these giving options for their online and in-person communities:
Recently, St. Anthony of Padua Catholic Church in The Woodlands in the Archdiocese of Galveston-Houston released a new episode of their weekly podcast that delves into their giving software experience. Here's a preview quote from Tracy Miesch, parish application administrator:
"We made the decision to move to Pushay and they've done an excellent job of making it very easy for people to give online. I was asked recently how many people and what does that mean? Basically half of our parish participates on Pushpay."
In the episode, she continues to discuss their experiences with recurring giving, giving statements, and a recent campaign drive. All of which everyone can access from their phones. A custom mobile church app brings value to everyone involved in parish life—parishioners, pastors, business managers, volunteers, and staff.
3. Shift Toward Comprehensive Donor Development Tools
Parishes have suffered from the financial impact of the last two years and are looking to rebuild their offertory collections. In a recent Pushpay survey, 57% of parish leaders view donor management software as strategically important to their future.
Cutting-edge donor development software offers an exciting world of possibilities and one of them is the ability to segment your givers.
Every giver has different needs and gives to your parish for different reasons. Thanking them often and identifying their giving frequency will be key to crafting next steps or opportunities for each category of givers.
For instance, a strategy for your recurring givers should be different from the way you approach your major donors. Recurring givers are the backbone of your parish's finances. You're able to plan out your budget and make decisions for your parish's future because of their consistent donations. They need to know that the reliability of their contributions are making an impact on the mission of the parish. Thank them often and let them know that it gives you peace of mind to be able to count on them.
Your major donors, however, have every intention of making larger contributions during certain times of the year, so it's just a matter of where they'll give. They're typically invested in targeted campaigns and will want to partner with you in the process. Being straightforward with them every step of the way is the best approach for major donors.
The more you know about your people can make all the difference for parishes that want financial and spiritual growth.
State of Church Tech Catholic Report
We've distilled five significant takeaways from parish leaders in our recent survey and shared their expectations for the future of tech in the Catholic Church in a new report. If you're looking for new ways to reach and welcome more churchgoers to your parish, start with downloading this free report. It's an insightful guide that will help you benchmark your parish tech against other parishes across the United States.
Pushpay Is Here To Help You Gain Traction In 2022 And Beyond
Pushpay kicked off the year with a new suite of digital giving and engagement technology for Catholic parishes and dioceses: ParishStaq. It consolidates your Catholic church management software, giving, and a mobile app into one digital suite.
You won't have to navigate another year on your own. Our giving and engagement experts are familiar with parish and diocesan processes and will partner with you to nurture your congregation every step of the way in. Learn more about Pushpay and ParishStaq today.