30 Bible Verses About Work
Updated September 8, 2023

|
Did you know that the average person will spend about 70,000 hours at work? Admittedly, many of us look at work as a necessary evil that takes up a large portion of our lives. It's easy to get burnt out by jobs and let it affect our attitude or work ethic. Luckily there are many bible verses about work that we can turn to for guidance.
In the beginning, in Genesis, we see that God intended for us to work and serve others through our every-day jobs. You can either let the world define your purpose for work, or you can choose to follow God's purpose for your work.
State of
Church Tech
Discover what church leaders like you are saying about their priorities, concerns, and expectations with church technology, today and for the future.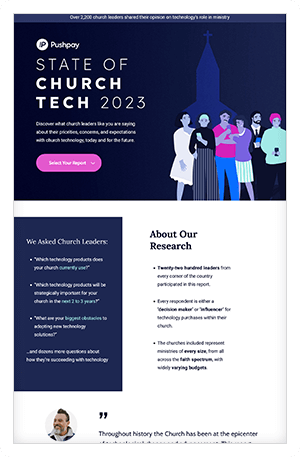 So what does the Bible say about work?
In this post, we gathered 30 Bible verses about work, focusing on seven specific themes:
God's Purpose for Our Work
How to Have a Work Ethic That Pleases God
Serving and Loving Others Through Our Work
Using Work as a Platform for Evangelism
Trusting God with Our Work
How to Biblically Deal with Work Issues
Career Guidance for Church Employees
God's Purpose for Our Work
Work is God-ordained, and it allows you to use the skills, intelligence, and experience that He has gifted you. In Genesis, we see God working to create the earth. We also see God put Adam in charge of the Garden of Eden to take care of it. Additionally, God set the ultimate example for us by resting on the seventh day. Our lives aren't meant to revolve around work, they're meant to revolve around Christ, and work is one of the ways we can bring Him glory.
Genesis 2:3
Then God blessed the seventh day and made it holy, because on it he rested from all the work of creating that he had done.
Genesis 2:15
The LORD God took the man and put him in the Garden of Eden to work it and take care of it.
Ephesians 6:6
Work hard, but not just to please your masters when they are watching. As slaves of Christ, do the will of God with all your heart.
Colossians 3:17
And whatever you do, in word or deed, do everything in the name of the Lord Jesus, giving thanks to God the Father through him.
How to Have a Work Ethic That Pleases God
Even during the most mundane tasks, you can choose to have a work ethic that pleases God. Ultimately, you're working for the Lord, not human masters. The bible verses about work below encourage us to work hard with all of our heart, taking pride in our accomplishments. We weren't created to just slide by in life and do the bare minimum!
Colossians 3:23-24
Whatever you do, work at it with all your heart, as working for the Lord, not for human masters, since you know that you will receive an inheritance from the Lord as a reward. It is the Lord Christ you are serving.
Galatians 6:4-5
Each one should test their own actions. Then they can take pride in themselves alone, without comparing themselves to someone else, for each one should carry their own load.
Proverbs 14:23
All hard work brings a profit, but mere talk leads only to poverty.
Ecclesiastes 9:10
Whatever your hand finds to do, do it with all your might, for there is no work or thought or knowledge or wisdom in Sheol, to which you are going.
Proverbs 12:1
Whoever loves discipline loves knowledge, but he who hates reproof is stupid.
Serving and Loving Others Through Our Work
In your day-to-day job, you have the opportunity to love and serve those around you. Almost every job requires you to interact with others, whether that be a boss, coworker, customer, or client. Your work also allows you to make money that you can use to bless others in your life.
Ephesians 4:28
Anyone who has been stealing must steal no longer, but must work, doing something useful with their own hands, that they may have something to share with those in need.
1 Timothy 5:8
But if anyone does not provide for his relatives, and especially for members of his household, he has denied the faith and is worse than an unbeliever.
Acts 20:35
In all things I have shown you that by working hard in this way we must help the weak and remember the words of the Lord Jesus, how he himself said, 'It is more blessed to give than to receive.'
Using Work as a Platform for Evangelism
Even in a secular job, you have the opportunity to set a godly example. The bible verses about work below call us to shine as lights to the world, keeping our behavior and speech above reproach. You can invest in your work friendships and pray for those around you, keeping in mind that work can be a platform for evangelism.
Matthew 5:16
In the same way, let your light shine before others, so that they may see your good works and give glory to your Father who is in heaven.
Romans 12:11
Do not be slothful in zeal, be fervent in spirit, serve the Lord.
Philippians 2:14-15
Do all things without grumbling or questioning, that you may be blameless and innocent,
children of God without blemish in the midst of a crooked and twisted generation, among whom you shine as lights in the world.
Trusting God with Our Work
When you hold a secular view on work, you're setting yourself up for disappointment. Our jobs won't always bring us the contentment we're looking for. We'll always have those days where we wonder why we're doing what we're doing. Perfect contentment is something you can only find in Christ. The bible verses about work below remind us to trust God with our work, even in times of hardship.
Proverbs 16:3
Commit to the LORD whatever you do, and he will establish your plans.
Psalm 90:17
Let the favor of the Lord our God be upon us, and establish the work of our hands upon us; yes, establish the work of our hands!
Matthew 6:34
Therefore do not be anxious about tomorrow, for tomorrow will be anxious for itself. Sufficient for the day is its own trouble.
Joshua 1:8
This Book of the Law shall not depart from your mouth, but you shall meditate on it day and night, so that you may be careful to do according to all that is written in it. For then you will make your way prosperous, and then you will have good success.
Psalm 128:2
You shall eat the fruit of the labor of your hands; you shall be blessed, and it shall be well with you.
How to Biblically Deal with Work Issues
We have the huge responsibility of caring for and stewarding God's creation through our jobs. As you know, living in a fallen world isn't always easy. We're bound to deal with work issues in almost every job we have. The verses below give us guidance on dealing with issues, calling us to be humble and ask God for wisdom when problems arise.
Ephesians 5:11
Take no part in the unfruitful works of darkness, but instead expose them.
Romans 12:18
If possible, so far as it depends on you, live peaceably with all.
1 Thessalonians 4:11-12
And to aspire to live quietly, and to mind your own affairs, and to work with your hands, as we instructed you, so that you may walk properly before outsiders and be dependent on no one.
1 Peter 5:5
Likewise, you who are younger, be subject to the elders. Clothe yourselves, all of you, with humility toward one another, for "God opposes the proud but gives grace to the humble."
James 1:5
But if any of you lack wisdom, you should pray to God, who will give it to you; because God gives generously and graciously to all
Career Guidance for Church Employees
The Bible lays out some specific guidelines for those who work in the church, serving the congregation. Church members will look to you as a godly example they can follow and trust. The verses below outline the type of God-honoring behavior and attitude a church worker can strive for.
Titus 2:7-8
In everything, set them an example by doing what is good. In your teaching show integrity, seriousness and soundness of speech that cannot be condemned, so that those who oppose you may be ashamed because they have nothing bad to say about us.
Ephesians 4:11-12
And he gave the apostles, the prophets, the evangelists, the shepherds and teachers, to equip the saints for the work of ministry, for building up the body of Christ.
2 Timothy 2:15
Do your best to present yourself to God as one approved, a worker who has no need to be ashamed, rightly handling the word of truth.
1 Corinthians 15:58
Therefore, my beloved brothers, be steadfast, immovable, always abounding in the work of the Lord, knowing that in the Lord your labor is not in vain.
Mark 10:45
For even the Son of Man did not come to be served, but to serve, and to give his life as a ransom for many.
Working in the church and striving to accomplish its mission is no easy task. Discover how you can increase your ministry's connection and momentum with one powerful church software suite that helps you encourage giving, nurture community, and share your message easily, simply, and securely.
Featured Content
You May Also Like