What Is A Parish Leader? Role, Responsibilities, And Common Challenges
December 9, 2022

|
The parish is the center within a community where people turn to encounter Christ's life-changing love. To carry out that important work, a parish needs a pastor's leadership and a supportive team of associate pastors and lay parish leaders to work together in that critical mission. 
How Are Parish Leaders Appointed?
The shortage of priests is a real issue in the Catholic Church as more people are affected by spiritual burnout, but the Church has found ways to solve the problem. As a result, leadership looks different in every parish and depends on the size and unique needs of the community it serves.  
When a priest isn't available to serve as pastor or administrator, Canon Law 517.2 allows a bishop to appoint experienced laity to provide pastoral care of a parish community. This person goes by many titles, including Parish Leader. Just 3% of parishes nationally are appointed a Parish Leader. 
For a majority of parishes in the U.S., bishops assign priests to serve as pastors, spiritual leaders, and oversee operations. Working together with his parish community, the pastor hires or appoints experienced lay people to bring the mission to life and defines what his leadership team will look like. For some parishes, it may be limited to priests (pastor and associate pastors) or staff. Others might choose a mix of priest and laity for their leadership team. Whatever he decides, the ultimate goal is to choose faithful, experienced, and trained leaders who will support him in improving the health of the parish. 
Parish Leader Responsibilities
Parish leadership is so critical to daily operations. They have a huge responsibility to help the parish make decisions in good and bad times, so getting the right people to surround the pastor or parish leader is essential. Let's take a look at some of the common titles for a parish leader. 
Parish Leadership Roles in the Catholic Church
Pastor
The bishop appoints a priest to serve in this role. He is the parish's primary spiritual leader and oversees daily operations while relying on a staff or leadership team to help him manage the parish. 
Administrator
Some parishes that have newly ordained priests, either in between assignments or in temporary residence at a parish, are assigned to serve as administrators. They're expected to carry out the responsibilities of a pastor. 
Pastoral Leader
Canon Law 517.2 allows a bishop to appoint a deacon, religious sister or brother, lay woman or man to provide pastoral care for a parish that does not have a priest serving as pastor or administrator. The laity is required to fulfill a list of qualifications including a master's degree in theology or pastoral studies and five years of pastoral experience. While a deacon is allowed to give a homily during Mass, a pastoral leader can only give a reflection before Mass begins. 
Pastoral Coordinator
A deacon fills this role which includes the responsibilities of a pastoral leader. He reports to the priest administrator. 
Parochial Vicar
Pastors typically serve in this role just before promotion. Newly ordained priests spend two to four years learning and gaining experience as parochial vicars before becoming pastors. 
Senior Priest
Though retired, a senior priest helps a parish when the pastor isn't available to celebrate Mass or needs help with the sacraments.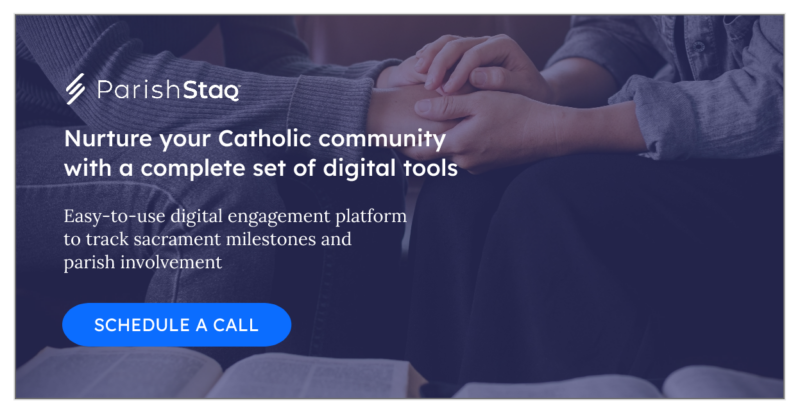 4 Parish Leader Characteristics and Skills
If the parish is the center for people to encounter Christ, then a good parish leader models Christ. Based on that foundation, here are four characteristics of an effective parish leader:
Let's face it. The teachings of the Church conflict with what's popular in society, and that requires significant courage. A parish leader meets challenges with a heart that's faithful to the teachings of Christ and the Church.   
Great leaders bring out the best in the people around them. Jesus inspired the conversions of souls, healing, and moved his disciples to follow Him. Parish leaders can inspire their team members to carry out their ministry with a high bar for excellence and motivate them to develop a deeper prayer life and relationship with Christ. 
Listening and being sensitive to the needs of others is so important to creating a welcoming parish community. When people feel valued, they immediately feel that they can trust and grow in their relationship with you and ultimately, Christ. 
A visionary is always thinking outside of the box, knows when change is needed, and surrounds themselves with the right people to achieve their parish's vision and mission. A visionary leader knows how to implement strategies, set goals, and achieve them. 
Parish Leader Challenges
Parish leaders are sometimes expected to be everything to everyone. From a pastor making decisions on personnel and finances to a pastoral leader administering the sacraments and pastoral care, it's enough to drain the joy out of any ministry. 
The National Association of Catholic Theological Schools and the Center for Applied Research In The Apostolate published a report in 2020 that revealed that one in five priests reported being either "somewhat dissatisfied" or "very dissatisfied" in their place of ministry. Among the top six reasons for dissatisfaction was having "too much work and feeling burnt out." 
Pushpay has the privilege of working alongside all types of Catholic leaders—bishops, pastors, appointed parish leaders, faith formation directors, business managers, secretaries—to help them streamline their workflows and reduce ministry burnout. We know it takes a team to support the pastor in fulfilling the Church's mission. Because when your pastor feels supported, they'll be less likely to burn out and feel more satisfied in their ministry. For parishes to thrive and grow, you'll need to create a culture that cultivates priestly vocations that will last a lifetime. 
Pushpay builds software that lightens the load for leaders. We recently launched new Sacrament Tracking features in our Catholic church management software that enables users to add, edit, and view sacrament records on a profile with one click. We've also made it convenient for customers to access sacraments and faith formation information from their phones. 
If you want to learn more about our solutions for reducing burnout and leading confidently, schedule a demo with one of our parish technology experts or take a self-guided tour today.