7 Ways to Supercharge the Giving Moment in Your Church
September 3, 2019

|
Generosity is an important characteristic of every church. While you need to regularly teach and encourage your church to give, there are times when you want a particular offering to have more impact—and a potentially greater return.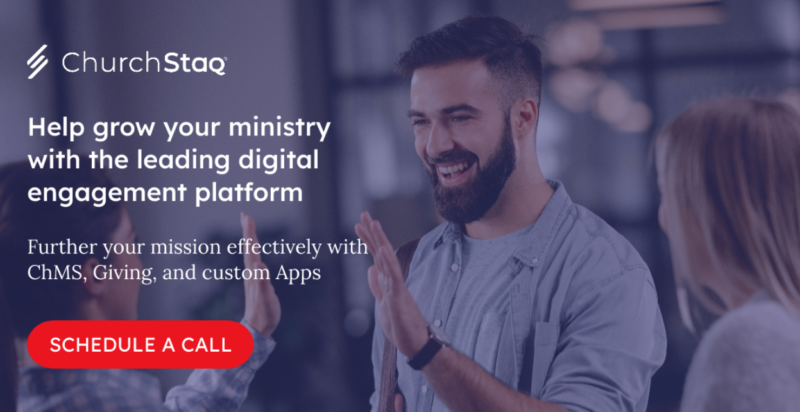 Here are seven ways you can add some significance to the giving moment:
1. Be specific about where the money is going
People understand the more abstract idea of giving back to God, but sometimes they need to be reminded where the money is actually going. And more importantly—people need and want to know how their funds actually make an impact for the Kingdom. Telling people how their money is being used not only lowers people's fear of funds being mishandled, but it builds trust and encourages continued generosity.
Spend a giving moment once or twice a month sharing real-life stories of heart and city transformation that resulted from church-funded programs. Show a video, read a testimony to your congregation, or just show a slideshow that displays God's abundance and multiplication power through their generosity. 
For more on nurturing healthy generosity at your church, download the free ebook, Teaching Your Church to Give, today.
2. Dedicate the offering to a specific campaign
If there's a cause or need that's important to the church, why not dedicate an entire giving moment to it? It's not too difficult to take an issue that people already care about and encourage them to participate. Talk about the specific campaign and give people an opportunity to support it financially. If they have a full understand of why the campaign exists and what it will accomplish, people are likely yo respond more enthusiastically because they understand the direct impact of their giving.
3. Conduct a mobile-only offering
Many churches offer giving alternatives to cash or checks, but they find that these don't get used regularly. One way to supercharge the giving moment—and get people on board with mobile giving—is to do a mobile-only offering.
When it comes time to give, let everyone know that this morning's offering will only be taken from mobile devices. Then walk them through using this less-familiar method of giving. Make sure that they have ample time to sign themselves up and get comfortable with the process. If your mobile giving solution offers recurring giving, make a pitch for that as well. 
Digital givers are eight times more likely to donate to multiple campaigns than non-digital donors. By introducing mobile giving and showing people how simple and fast donating can be, you naturally encourage future gifts and make the giving moment a simpler, more streamlined experience for even your first givers. 
4. Church Giving Slides
Your congregation is filled with different types of learners—some audible learners, some visual. And if you want to effectively reach everyone with your message about generosity, a visual component is critical. That's where giving slides come in. While congregants hear the leader on stage talking about the various ways people can give, and the customary offering plate is passed around, it's helpful to also show them how they can donate at that moment.
So for the people who might have already checked out once the sermon ended and aren't listening, you can effectively use slides to communicate ways to give. But don't just use the same giving slide every service. Just as you mix up the person who speaks at the giving moment and what they say, it's important to keep the slides fresh. Use stock images from Unsplash or Creative Commons to find compelling, seasonal images to share during your giving moment. Check out a few examples below.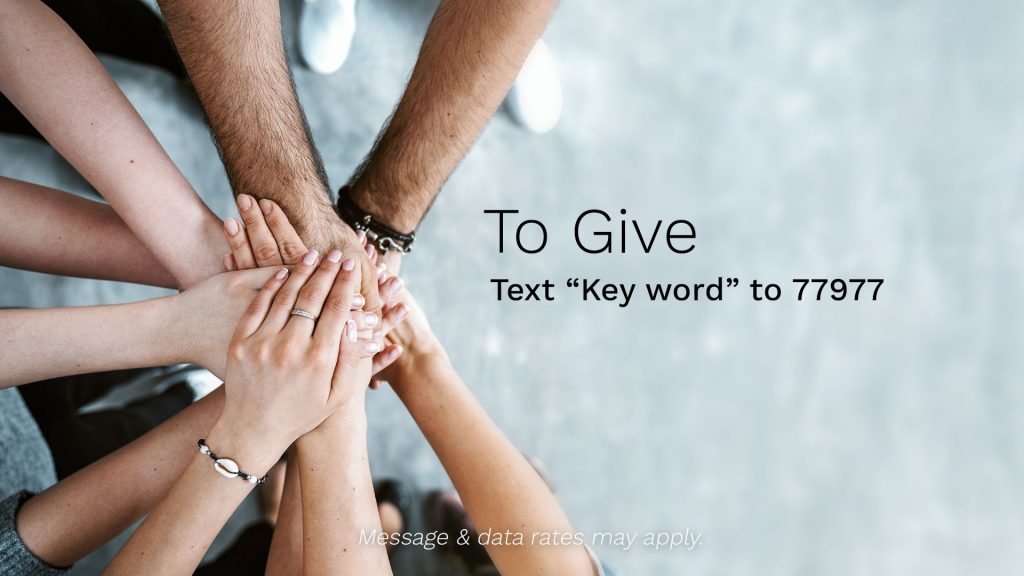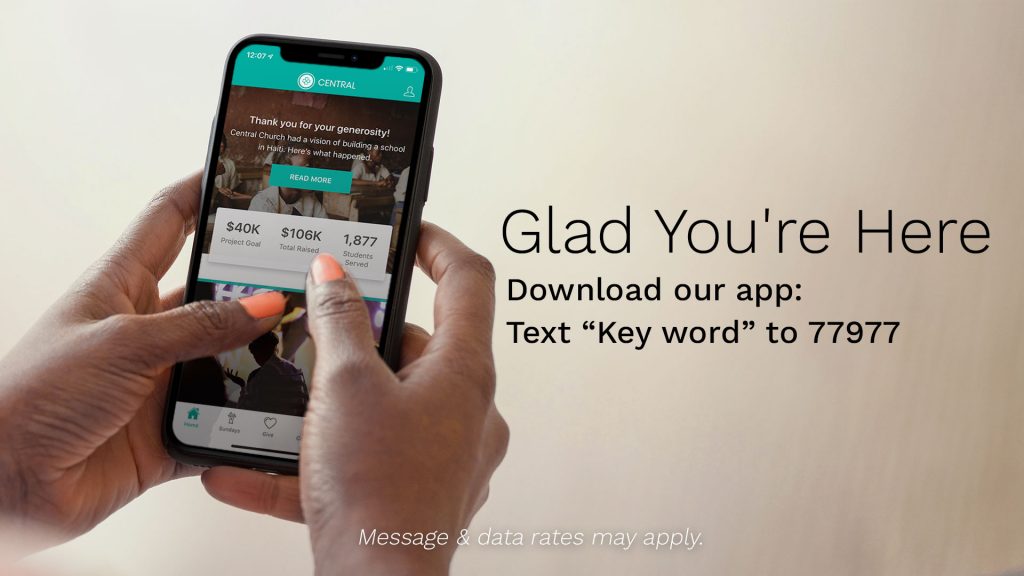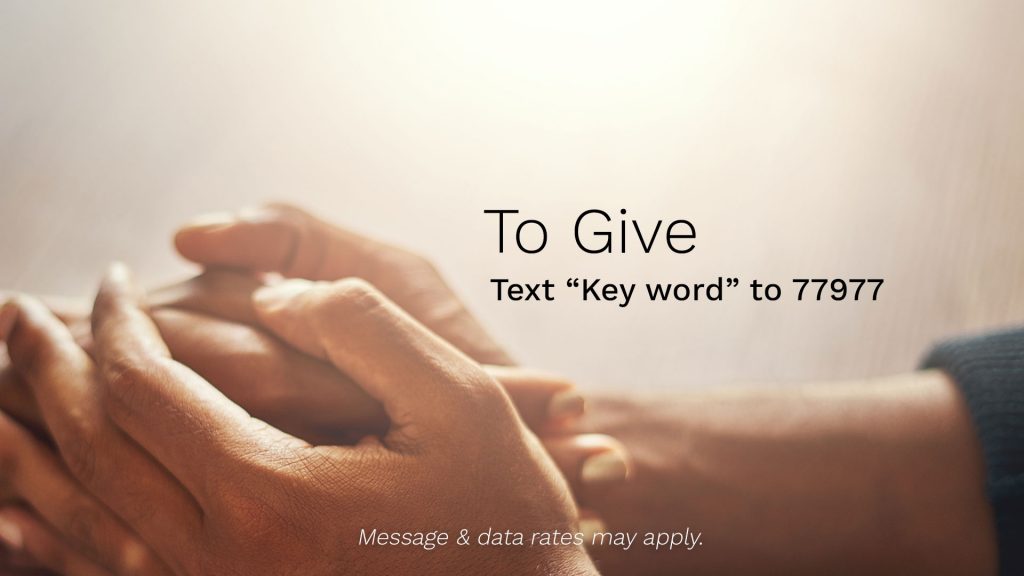 Want a library of free, customizable giving slides to share at your church? Email care@pushpay.com for over a dozen templatized giving slides you can edit and use at your next services. They range from seasonal slides to general but beautiful images—you're sure to find a handful that will help level up your next giving moments.
5. Offer a giving testimony
Occasionally, people need to be reminded of what's at stake in their giving. This can be achieved by including live or recorded testimonies during worship.
One choice for a powerful giving testimony revolves around people or organizations who've been blessed by the church's generosity. Stories that highlight the ways faithful giving has impacted others encourages benevolence.
An alternative would be to feature testimonies by people who have been blessed by becoming regular givers. When people see examples of others who have been blessed through acts of generosity, God's spirit can use it to encourage more generosity.
6. Share Scripture about generosity
If you want to encourage more generosity from your congregation, select Bible passages that will help. Throughout Scripture, God regularly reminds his people to give sacrificially. Reminding your church of their responsibility to steward the Lord's resources can really energize their giving.
We've put together 20 powerful verses on generosity—complete with commentary. Feel free to use them during your offering times.
7. Say Thank You
While the giving moment is about nurturing people's generosity, the fact remains: You're only at church and able to lead your ministry because of past funding. Thank your congregation for their days, months, years, and decades of generosity. You may not pause to express your gratitude each week, but when you do, make it a meaningful moment. Have the band play very softly or not at all, encourage people to really meditate on all that the church has meant to them and remind them that it's because of their gifts that they're there at all. And thank them. You can even mix things up periodically and show a video or place thank you cards on people's seats to collectively thank small, large, and non-financial donors for all their sacrifice and love for the local church.
This is not only a necessary part of donor development but also a sweet opportunity to slow down and acknowledge giving. Plus, a common side effect of gratefulness is continued support from your donors.
For more on nurturing healthy church generosity, download the free ebook, Teaching Your Church to Give, today!