Church Disrupt 2020 Event Highlights and Commentary on the Future of Church
Updated April 14, 2023

|
Pushpay has always had a vision to help the Church grow and thrive by leveraging technology to share an unchanging message. Part of this vision is building world-class technology that empowers churches and moves people deeper into community. Another part is facilitating conversations about the modernization of churches so that pastors and church staff can learn and grow together.
In past years, Pushpay has hosted various events to bring the brightest minds in the church, business, and technology spaces together to empower churches and church leaders to be strong in years and decades to come.
In 2019, it was already on our hearts and minds to shift away from the physical event experiences and move to something more digital. This would not only help us be better stewards of our resources, but would enable us to reach more people.
Likewise, churches everywhere are experiencing this pull toward digital experiences and are wrestling with how to do it—or moreso, should they do it and when. The growing demand for excellent online experiences is causing a disruption in the status quo of how churches serve their communities.
And that's how Church Disrupt 2020 was born. A free, online event experience that brings together more than 20 thought leaders who are on the front lines of change, to deliver tools to help church leaders who are eager to learn and grow.
As the impact of COVID-19 spread its way across the globe, the message of creating digital experiences and the modernization of church has become even more pivotal. In a time when in-person conferences are being canceled or postponed, we are proud to be able to deliver impactful sessions and tools to help church leaders thrive amidst a world-wide pandemic and beyond.
Church Disrupt kicked off on May 13th,  and brought together over 21,000 registrants from more than 40 countries across the globe. Here are some of the highlights and must-read commentary from the event:
Opening with a Message of Hope from Chad Veach
Chad Veach was our first keynote and he led the way with a message of hope and assurance that church leaders are prepared for "such a time as this." In a passionate plea of encouragement, Chad reminded viewers that this isn't a time to be afraid or surrender, but instead, he said: "Let's use the resources God has given us to bring hope to a hopeless society."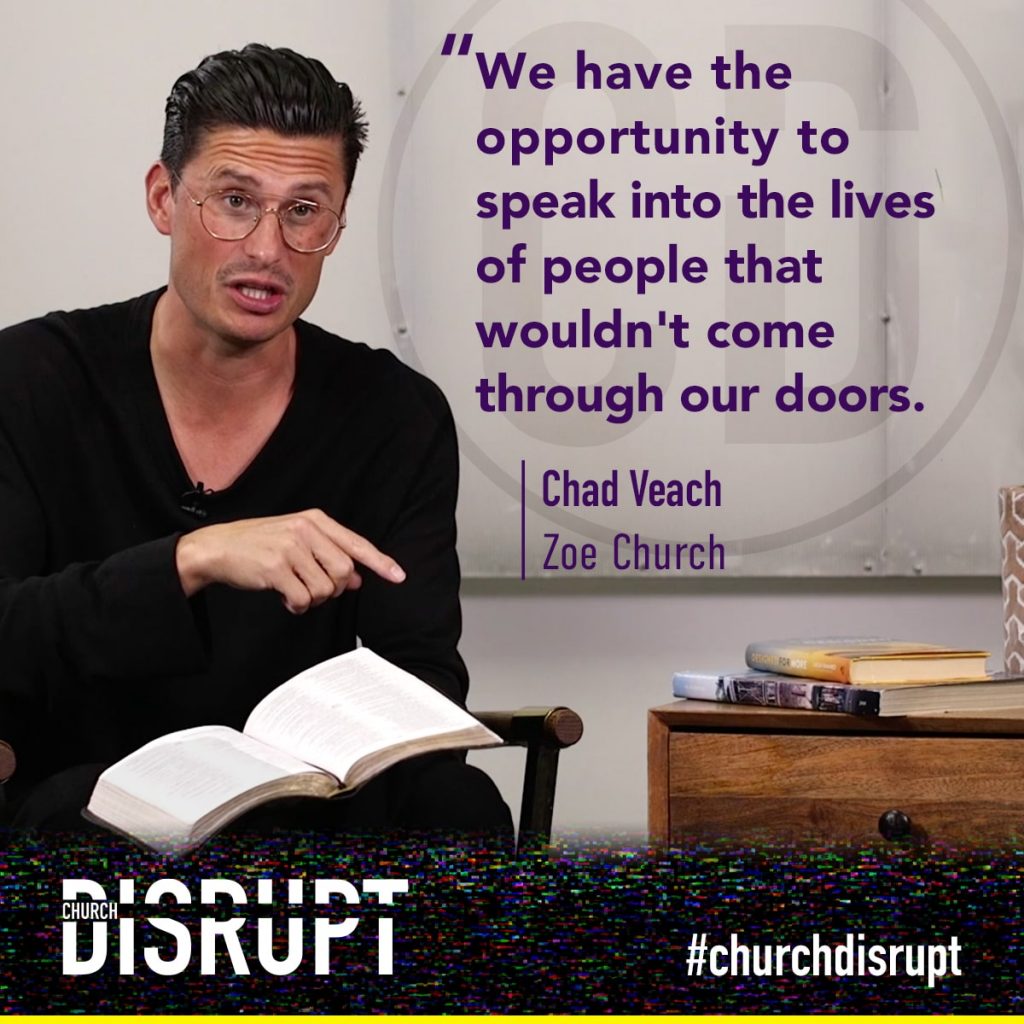 Troy Pollock, Chief Ambassador at Pushpay, sat down with Chad for a Q&A session about how Chad's church, Zoe Church, made the pivot to go fully online and what their plans are for the future. You can access Chad's full talk and the entire interview for free, anytime, on our online education platform, Pushpay University.
The Current and Future State of Online Church
Later in the morning viewers had the opportunity to be a fly on the wall of a discussion about the current state of online church from a few pioneering churches; Elevation Church, Churchome, North Point Ministries, and Champions Centre. Leaders from these churches discussed how they got to where they are today, the growing pains, and how it all ties back to the early Church and the work of the Apostle Paul. The digital pathways these churches have built may seem unattainable to most churches, but these innovators break down practical advice and free resources that any church can implement.
You can view the full discussion, along with all the bonus content including a discussion on the future of online church, on-demand at Pushpay University.
Clay Scroggins Shares How Churches Can Leverage the Digital Disruption
Clay Scroggins provided an incredibly practical keynote about leveraging the digital disruption churches are experiencing and making the transition to a great digital strategy. Core to his talk was the message that what we used to think of as the physical foyer is now the digital foyer. Clay explained that "People are more likely to visit our website, check out social media, or live stream a service than anything else." 
Knowing that this emphasis on the digital foyer might scare church leaders, Clay notes that, "The physical church has a greater meaning today than it ever has before, but it's changing rapidly. It's being massively disrupted."
Clay drew on experiences from retail giants like Starbucks and The Home Depot, and industries like banking and education, and described how they encountered and responded to digital disruption. He provided church leaders five shifts that every church needs to make. You can hear Clay's five shifts and it's full talk for free at Pushpay University.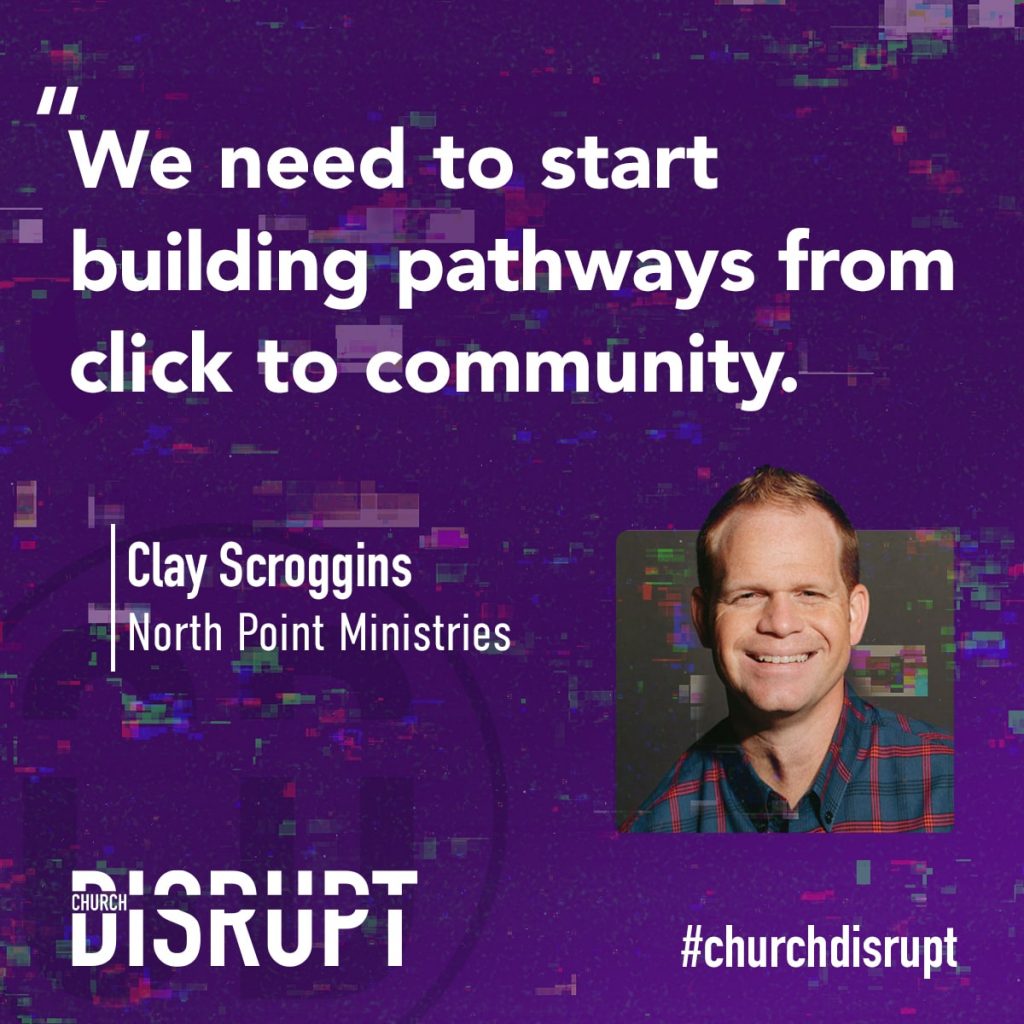 Judah Smith Discusses Navigating Tension in Transition and Calling
Judah Smith of Churchome was another keynote speaker for Church Disrupt 2020 and he addressed another disruption many churches face—transitions in leadership. Judah grew up in the church his parents built, The City Church, and when his father passed away several years ago, Judah and his wife, Chelsea, took the reigns. Judah gave viewers a look into that transition, including the church's transformation into Churchome, while sharing practical advice for the countless churches who struggle with their own leadership transitions.
We saw Judah onscreen again later as he shared his vision of the future Church. The present circumstances made Judah's perspective especially fitting as he believed so much in people doing church at home that Churchome fully invested in that pivot years prior to the COVID-19 pandemic. He described a future-state in which church plants are studios instead of buildings, and where churches spend thousands to reach millions. Catch all of Judah's content from Church Disrupt 2020 and bonus material from him on-demand at Pushpay University.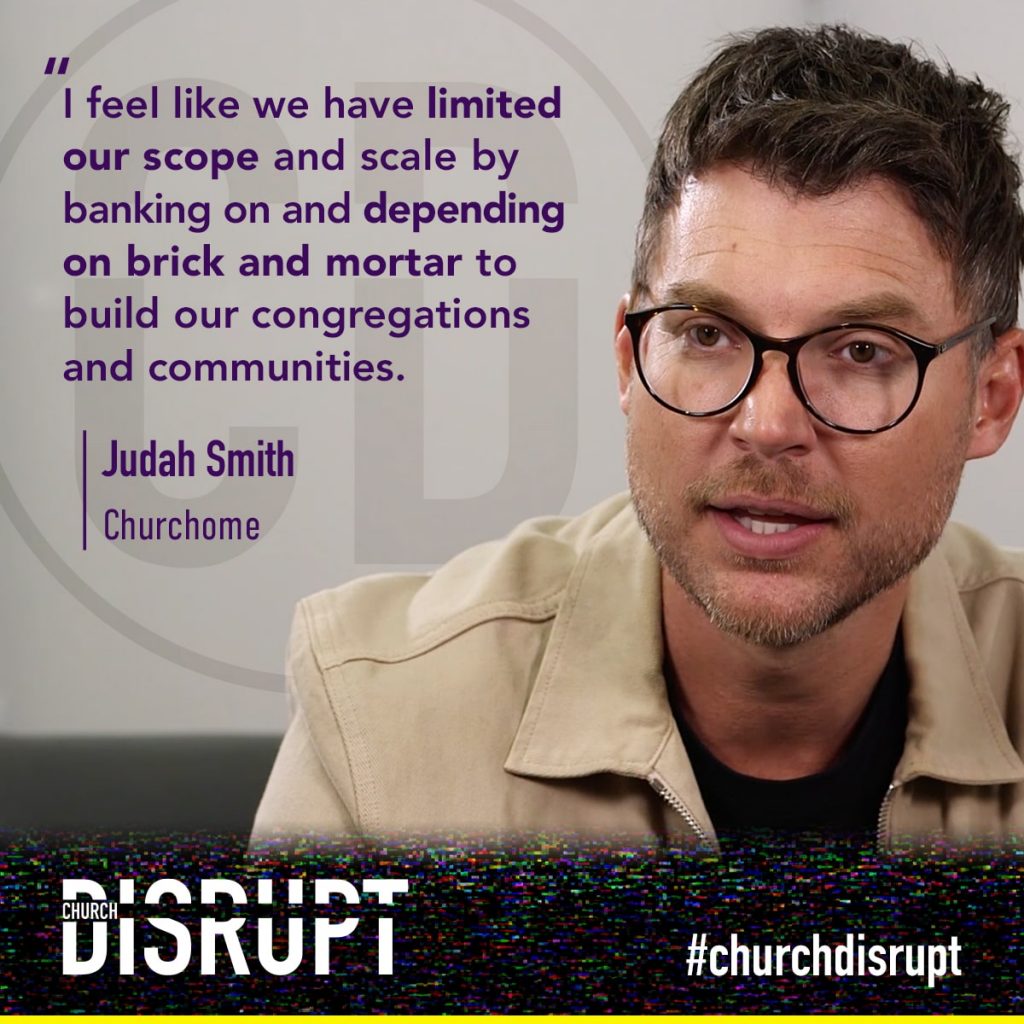 Louie Giglio's Bold Message to Leaders
Capping off Church Disrupt 2020, Louie Giglio gave a powerful and humbling message for leaders. Louie acknowledged the Church is being disrupted but shifted the focus from churches to the individual leaders within them. As Louie defined it, "Leadership and disruption are one in the same." He described that moments of disruption are nothing new and God is always looking for leaders who are called, confirmed, and will carry the work of disruption forward into the future. 
Louie had a great encouragement to share for getting through uncertain situations and seasons like many churches are currently facing. He said, what you need to do is "absorb the reality of the situation, think back to everything you've experienced of God, to not wilt because of the calling and confirmation that's on your life, and step forward making the wisest choice you can make."
It requires a tremendous amount of confidence, humility, and prayer. Louie began and ended his session talking about prayer. He shared a 12-word prayer that he keeps in mind in times of uncertainty and explained how it helps him step forward and stand up in confidence: "I don't know what to do, but my eyes are on you."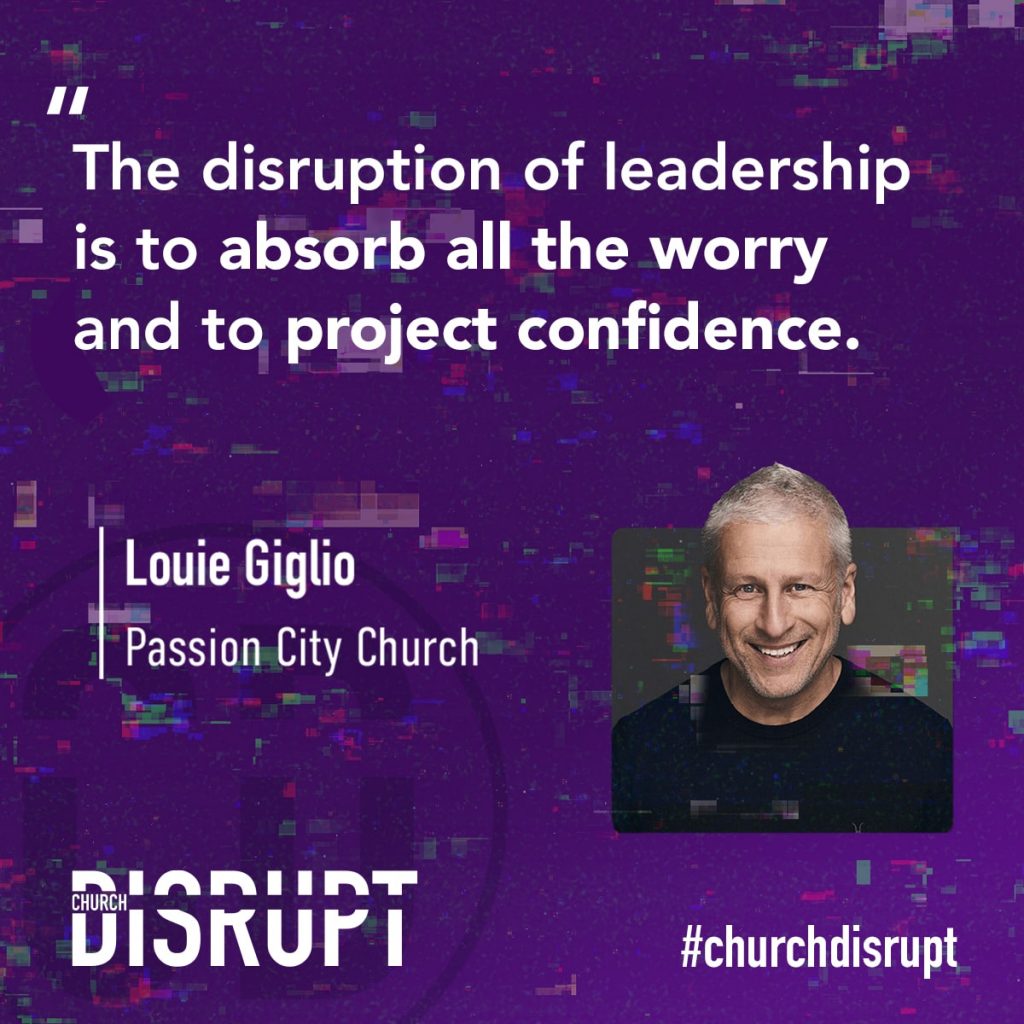 Between Chad Veach opening Church Disrupt 2020 and Louie Giglio closing it out, there were so many incredible breakout sessions and interviews. Of the 21 speakers, there were too many highlights for us to mention here but the good news is that all of the event content plus even more bonus content is available on-demand free of charge at Pushpay University. Get ready to take notes, hit pause and rewind as much as you need, and share the content with your colleagues and friends. 
As our speakers emphasized again and again, today's church experience has been disrupted. But as Clay Scroggins mentioned in his keynote, "God has given us one of the most massive technological advances we've ever seen to take the Gospel into people's homes and into the very fabric of their lives." 
If your church is looking to invest in digital pathways that meet the demands of people today, watch all the content from Church Disrupt 2020 or talk to one of our experts about how Pushpay and Church Community Builder can partner with you to know, grow, and keep your people. 
Featured Content
You May Also Like