5 Ways To Retain Easter Guests At Your Church
Easter is over. Whew! You and your team planned an amazing service. There were lights, excitement, and spiritual fireworks. Maybe five new people gave their lives to Christ. Maybe 50.
So what next?
Some first-time guests will come back, but what about the ones who won't? How can your church follow up with those newcomers in an especially effective way before losing touch with them completely?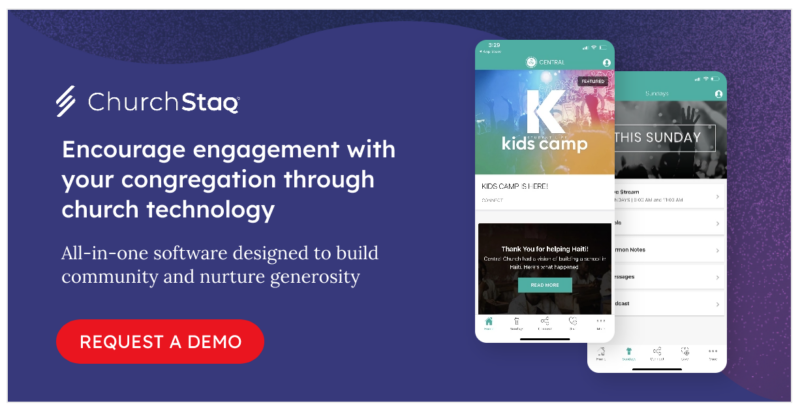 Here are five ways your church can help turn those Easter guests into second-, sixth-, and fifteenth-time attendees.
Surprise them with a phone call
No one is expecting a phone call. So call them. Gather all the in-app or physical connect cards you received during your Easter services and have your volunteers call to follow up with those guests. Keep things casual. Thank the person for showing up and spending Easter with your church family and let them know their presence was not taken for granted. Ask them if they'd be interested in joining for another upcoming service and let them know what the sermon topic will be to get them extra excited in returning.
Overall, though your volunteers' goal is to encourage a repeat visit or get the first-time guest connected to a newcomers small group, make sure they keep the conversation light and casual. And if someone is unreachable by phone, feel free to leave a quick message and call back a few times within the next two week. Send a short, personal email if the person's email address is known. Those personal touches go a long way in encouraging repeat visits and helping newcomers feel more invested in the church. Be sure volunteers are trained by senior staff before getting on the phone with people. If tough topics arise on the phone, it's important that volunteers know to connect that person with senior staff if necessary.
Social invitation strategy
Invite people back with social media.
Having a social invitation mindset means being targeted and strategic when using social platforms to reach and engage with people. Don't just post about upcoming sermons: Post images and short videos highlighting the leaders, staff, volunteers, and attendees at your ministry. Humanize your church and make it more relatable to outsiders, so don't overthink it. Release content that makes people want to follow your church's social platforms and hear more from your ministry. 
And don't forget ads. 
Social ads are cheap, easy to create, and effective at getting your message across to people within your community—whether it's inviting them to a newcomer brunch next Sunday, a connections class, or just for another worship service.
Facebook is a great place to start. Run Facebook ads to surrounding neighborhoods inviting people to attend again. With a strong message and real-life images from your church, you're sure to get people within your community reaching out to your staff or going to your website for more information about your next service.
Not sure where to start? We created 211 Facebook ad templates to take the guesswork out of ad creation. Explore the free ebook, 211 Plug-And-Play Facebook Ad templates That will Grow Your Church, today.

Give good gifts
Maybe your church has a typical package or gift that gets passed out to newcomers. Don't just stop there. Create a small token like a gift card and notepad with your church's logo on it. You can even hand out physical resources like a CD of songs from the worship team prefaced by a welcome message by the campus pastor. Be sure to include a personal, hand-written letter thanking the newcomer for joining in your Easter celebration and offer a list of next steps like small group leaders' contact info or volunteer opportunities.
Get volunteers together to put these packets together and write out the notes. Then hand them out during the next few worship services to people who invited guests and for returning guests. Have your members hand out these gifts to their first-time guests to encourage return visitors. Gauge how many gifts to put together based on how many newcomers you've had at previous Easter services, then go from there! Be sure to explain your vision and heart for newcomers during your worship services so congregants know why you're doing it and are empowered to do the good work of bringing back their friends and family.
Use rich push notifications
Your congregants probably did a stellar job of inviting guests in for Easter. Now take it a step further by using your church app. Send out push notifications periodically in the weeks following Easter to encourage congregants to invite their guests back. It's relatively easy for someone to invite back someone who showed up for a special worship service, but many people simply forget to follow up with a second invitation.
Make it easier for your community to make those invitations by reminding them relatively often. Rich notifications in the Pushpay custom church app allow ministries to send custom notifications to app users and even include engaging images and videos to encourage engagement. Once someone opens the push notification, lead them to a video message from the pastor that encourages visitors to come back and have your members share this video with their friends and family. Or have push notifications open to a church blog filled with simple tips for asking first-time guests to come back. Get creative. Push notifications are a simple and effective way to nurture engagement with your congregation and ask them to reach out to their friends and family on behalf of the wider church.
Ministry fair
A post-Easter ministry fair is an excellent way to bring newcomers back. These can be as elaborate as a "Brunch And Connect" event at a local stomping ground, or a short event the Sunday after Easter where ministry leaders have booths displaying information about the various ways people can get connected at the church.
Show off your community programs, in-church volunteer opportunities, classes, retreats, and small groups. Your church has a lot to offer. Bring that to the fore in a casual setting. Play some music in the background, offer sweet treats and coffee, and have your congregants invite back their newcomers. Cut your normal services back by 15 minutes and encourage people, especially newcomers, to check out the fair and discover at least one way they can get involved at the church.
Once someone is involved, even in a monthly family meal at a staff member's home, they're more likely to experience, first-hand, the beauty and collaborative spirit of Biblical community. As others continue to support them and work alongside them during volunteers stints or checks in on them after small group meetings, visitors are likely to become more invested in the church as a whole. And they're more likely to keep attending.
Easter follow up made easy
Easter is an amazing time of celebration for believers. And for many non-believers, it's a season of family, appreciating others, and togetherness. Churches do a great job of tapping into those emotions to connect people's ideas about Easter with the saving work of Christ on the cross. Now that Easter has passed, and the sermon is still ringing in people's ears, let's get to work to bring those newcomers into the fold and show them what true, Bible community looks like.
Reaching people via social media is an easy and effective way to encourage return visits even months after Easter and into summer. That's why we created free Facebook ad templates your church can use today to get started with social ads. To download these free templates, click here for 211 Plug-And-PLay Facebook Ad Templates That WIll Grow Your Church.

Featured Content
You May Also Like