Church Tech Check: A Quick Assessment That Delivers Actionable Insights
June 29, 2023

|
Most church leaders don't have a deep-seated passion for technology.
To that end, we're constantly exploring new ways to serve the digital needs of the Church. Day in and day out, our team asks, listens, and responds to the evolving needs of our customers.
One common pain point we've been working to address is, how can churches feel more confident about their tech choices? How can we quickly and simply help them identify which of their tools and processes are working well, and which aspects they might consider improving?
That's the spirit behind our brand-new Church Tech Check. This proprietary online assessment helps churches understand how they rank in regards to what tech they use and how they use it.
Backed by our analysis of more than a decade of data and insights from serving over 15,000 churches across the US, the Church Tech Check assessment looks at how your church currently uses technology and generates a custom report, full of actionable recommendations designed to support your mission. The custom eight-page report includes a breakdown of scores, digital strengths, tailored recommendations, and tactical resources to help you rally leadership behind tech investments that will make an impact.
Pushpay is the first church technology company to provide an assessment of this kind focused squarely on mission-based organizations. We analyzed trends and best practices to provide recommendations that will help you know which areas of your ministry can benefit from an investment in technology and, in doing so, help you more effectively build community and increase engagement.
The assessment takes just seven minutes, asking for only basic information about your church's current digital tools, then generates a free comprehensive tech evaluation unique to your ministry.
How We Developed the Church Tech Check
The short answer? We brought in everyone we could!
The questions asked in the assessment, and how responses should be graded, were exhaustively developed by church tech industry professionals and further refined by the opinions and experience of active church leaders—which you can read more about at the end of your custom report.
The heart of the Church Tech Check is grounded in providing a resource for leaders, which can quickly provide trusted tech analysis and recommendations. In doing so, we'll all be better equipped to intelligently march forward in our shared mission of serving the Church.
What You'll Discover In Your Custom Report
The first number you'll see is a raw figure between 0 and 230. Based on that number, you'll receive an overall "ranking" related to your church's technology solutions, identifying if you scored as a Beginner, Intermediate, or Leader.
Then we break out ranks across five different dimensions of church management—Giving, Communicating, Serving, Managing, and Engaging—and identify which of your tech solutions seem to be working well, and where you might have room to improve moving forward.
On top of that, when one of your results rings true and seems like it should be a prioritized point of emphasis for your ministry's growth, your report includes tailored, actionable next steps for addressing that concern.
What Are You Waiting For?
This completely free assessment requires just a few minutes of your time, and will generate the sometimes hard-to-come-by tech insights your church needs to take the next steps in realizing your vision and mission.
And not for nothing, it's kind of fun too!
Church Tech Check
This proprietary online assessment helps churches understand how they rank in regards to what tech they use and how they use it.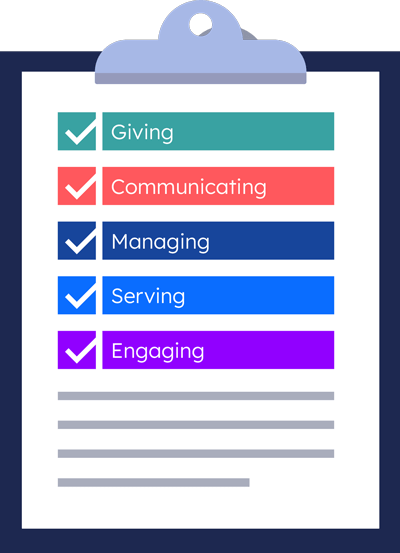 Featured Content
You May Also Like