Digital Discipleship Tools: Empowering You to Serve All
June 9, 2021

|
All can agree that discipleship is central to the Christian faith. In Matthew 28:16 – 20, we're charged with carrying out the Great Commission: (19) "Therefore go and make disciples of all nations, baptizing them in the name of the Father and of the Son and of the Holy Spirit, (20) and teaching them to obey everything I have commanded you."
Admittedly, this is a big ask. Especially so in a world where, despite the emphasis on connectivity, individuals actually feel more disconnected than ever. So how do you effectively disciple in today's culture? Over the last year and a half, it's become clear that digital discipleship options are a must-have for the church that wants to stay relevant, engage their people, and grow discipleship.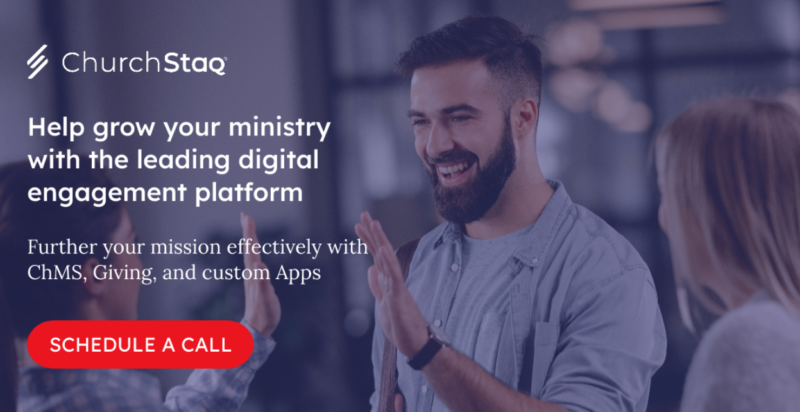 Whether you're  just starting down the digital path or you're looking to grow your digital offerings, we'll meet you where you're at, with technology built to ensure your success. Now let's kick off the tour.
Better Understand Your People
The LEAD app is the perfect on-the-go tool for you and the other leaders in your church. It equips you with the information and tools you need to understand your people and see their patterns of connection and involvement, so you can better disciple them. The mobile platform makes it easy and intuitive to interact with on the go, where real ministry happens.
A few of our favorite features include Create Events and Attendance Search. With Create Events, you'll have the ability to create events in the LEAD app for your groups, campus, or department. This reduces the workload for church administrators while empowering leaders across the org to create events without having to log in to the ChMS web app. This feature also adds the ability to invite people to Events through the LEAD app, putting all of the key group events functionality in one convenient workflow inside the app.
And with Attendance Search, recording attendance is made quick and simple by allowing you to filter the list by a name search, rather than having to scroll through the whole list of group members.This gives Group and Event Leaders the ability to search for specific individuals from a list of possible attendees in the LEAD App, making it easier to find specific individuals when taking attendance.
Reduce Administrative Headaches
A favorite feature we think you'll find extremely useful is the Enhanced People Search and Saved Search in our Church Management Software. We've consolidated our various search modalities into a simple and powerful, unified search functionality for ChMS. Surface detailed information about your congregation in a structured format that's easy to approach, consume, and take action on. Drill down to precise attributes and characteristics with expansive filters, and save specific searches for future reference or for sharing with church leaders and staff.
With the enhancements made to this feature, you can create advanced searches on people information and save the criteria. Ways to search include:
Updated and consolidated people search UI

New scalable filters

Flexible filters

Add a new insights table view

Customization of the table/view (sorting, columns, etc.)

Single source to access saved searches
For your donor management needs, we're rolling out Configurable Columns. Configurable columns put the pastor or church leader in the driver's seat by allowing them to define their view of giving transactions. Pushpay's giving platform holds a significant amount of data that will help church leaders truly do their work.  However, different leaders will often have different needs concerning the data they use. Configurable columns allow the user to rearrange columns, hide, or show specific data. Once their unique view has been created, it can be saved, printed, and exported.
Encourage Generosity and Deeper Connection
We want to help churches nurture each person on their own individual discipleship journey, regardless of where or when, or how much they're giving. With Donor Development tools from Pushpay, you can track what stage each of your donors are in, from new donors to recurring and top donors. It provides metrics, insights, and recommended actions to help church staff identify trends and activity within their congregation like never before.
Our integration of Donor Management and ChMS shares data to increase reporting accuracy and supplies analysis to see a person's full engagement and overall health of the church. This allows churches to take action, encourage generosity, and nurture community.
Your people may not know where to connect or go deeper in their discipleship journey, but you do. Nurture your people to invest further in their next steps of spiritual growth and generosity with Donor Development and Process Queues Integration. Share any custom Donor List or People List with a Process Queue to automate follow up for a first-time donor, or inform donors of opportunities for them to invest deeper through events, groups, capital campaigns, serving opportunities, and so much more.
Learn More About Digital Discipleship Tools
Curious to learn more about digital discipleship tools? Listen to our Church Disrupt 2021 Digital Engagement breakout session. Church leaders and staff came together to talk through the process of serving their digitally-inclined congregants and how they plan to grow their offerings in the future.
Learn more by visiting our Church Disrupt 2021 website.