How To Handle Conflict in the Church Biblically
November 7, 2022

|
No one enjoys addressing conflict, and yet friction is inevitable, both in life and in your church. So how can you moderate and mentor your people when those struggles crop up and minimize a church crisis? 
Those who feel called to lead and build His Kingdom must spend time considering how they handle conflicts within their church. Faith and mission-driven organizations are built and strengthened by their members who strongly believe in their cause, but that same passion can give rise to disagreements and contention, and leaders will inevitably be pressed upon to manage the situation.
Fortunately, churches already have a guide for handling conflict in the church, a text full of examples and instructions for how we should respond to disagreement—the Bible.
Bible Verses About Conflict and Conflict Resolution
"If your brother sins against you, go and tell him his fault, between you and him alone. If he listens to you, you have gained your brother." -Matthew 18:15
The spirit of this verse is discretion. Even when a church member brings a conflict in the church to the table, there's no reason to shout every perceived fault from the rooftops. More often than not a quiet, honest, forthright conversation will suffice to remedy a conflict, without creating a larger problem within the church. This is a really effective way to practice conflict resolution within your church.
"Bearing with one another and, if one has a complaint against another, forgiving each other; as the Lord has forgiven you, so you also must forgive." -Colossians 3:13
Honesty is a pillar of any community, and how can someone be truly honest if they fear repercussions and judgment for their words and actions? Tolerance and forgiveness is called for all Christians. Instead of expecting perfection and lacking compassion, many conflicts can be mitigated through simple tolerance. Simply put, tolerance is an essential part of conflict resolution.
"Pay attention to yourselves! If your brother sins, rebuke him, and if he repents, forgive him." -Luke 17:3
This passage doesn't simply point to forgiveness, but to the grace in looking after one another—and respectfully challenging others when necessary. Confrontation should always come from a place of love and concern for the well-being of another. Initiating church conflict resolution with a spirit of grace can be an incredible way to show the love of Jesus Christ to your congregation.
"The beginning of strife is like letting out water, so quit before the quarrel breaks out." -Proverbs 17:14
A leak in a dam will erode the structure and eventually cause it to collapse. The same holds true with conflict; not addressing a problem once you've recognized it will amplify the potential for disaster down the road. 
"So if you are offering your gift at the altar and there remember that your brother has something against you, leave your gift there before the altar and go. First be reconciled to your brother, and then come and offer your gift." -Matthew 5:23-24
Nowhere in scripture is it more clear that generosity toward the Church is secondary to forgiveness, grace, and love of your neighbor, no matter how egregiously you feel they've wronged you—or how you've wronged them. It's paramount that, when a believer has acted to make another angry, they move quickly to make things right.
"What causes quarrels and what causes fights among you? Is it not this, that your passions are at war within you?" -James 4:1
More often than we realize, quarrels aren't grounded in right or wrong, but in the ideas and principles someone's attached to. Most of us are occasionally guilty of pushing others to see an issue our way, based on a deep-seated belief. 
"Blessed are the peacemakers, for they shall be called sons of God." Matthew 5:9
The commitment to make peace is a throughline in the Bible. When you understand that Jesus, by dying on the cross, was building a bridge between God and those who would come to Him through faith, the ability to make peace becomes more than a good deed—it's an imitation of Jesus Christ.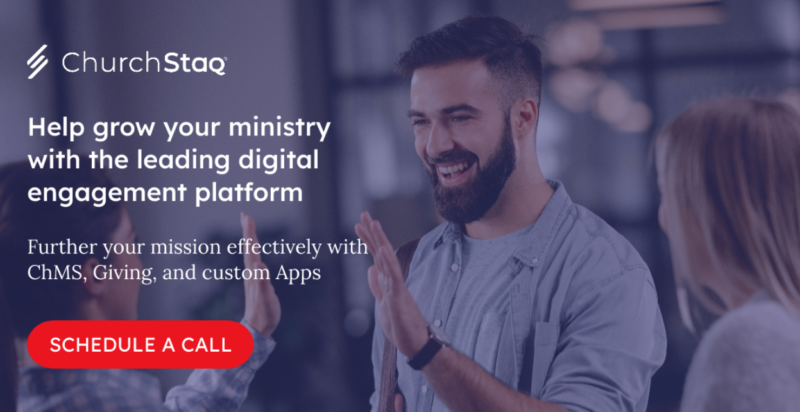 Using the Wisdom in the Bible to Handle Church Conflict
The above verses and many others are always a great starting point for resolving conflict. When managing a disagreement, don't be afraid to cite scripture. The Bible is common ground for everyone in your church, so when people are driven apart by their differences, reminding them of its lessons and instructions is a powerful tool for reconciliation.
But there's also great value in zooming out and examining the message as a whole. When a specific verse doesn't seem right for a particular moment, the overarching themes can still guide you in resolving disputes and building peace.
One of the most difficult yet necessary principles is simply addressing the problem. It's tempting to turn a blind eye to a slight or injustice, hoping it will disappear over time, and hide behind the justification of not wanting to cause a larger issue. But an effective church leader must be honest with themself—if you know action should be taken, a true peacemaker cannot ignore the issue.
Speaking of honesty, it's critical that all parties involved in a dispute approach the issue with open minds and open hearts. As we learn from Ephesians 4:31-32, "Get rid of all bitterness, rage and anger, brawling and slander, along with every form of malice. Be kind and compassionate to one another, forgiving each other, just as in Christ God forgave you." Addressing a conflict with dishonesty and negative emotions will only exacerbate the situation.
And remember, we're all inevitably guilty of fault now and then. If you have erred in some way as a leader, be forthright and own the mistake. Don't try to explain the situation away but ask for forgiveness, and in doing so set a positive example for your church.
How to Prevent Church Conflict
While strife and problems are impossible to eliminate altogether, there are strategies every leader should consider to keep the conflict situation to a minimum in their church:
Define A Resolution Process
Make sure that every church leader, administrator, and congregant agrees to a plan of action for conflict. Draft a simple contract, wherein everyone agrees to be mindful of Christian values—in particular those verses of scripture that deal with conflict—and to follow an agreed-upon process when a dispute occurs. Creating this process could even be a collaborative task, with various members of the community providing input, before putting it to your church as a whole.
Not only will this aid you when a problem arises, but it will guide your church family to be mindful of conflict. Simply by agreeing to a resolution process, your team and congregation will be less likely to act out or create strife.
Build A Healthy Team Dynamic
In any collaborative environment, the proverbial water occasionally gets hot. The best teams succeed by acknowledging tension to prevent the pot from boiling over.
Ensure no one on your team feels uncomfortable speaking about their feelings or potential issues in the church. Encourage honesty, grace, and mindfulness in everyone you depend on. Live out these principles, and communicate through conflicts the way you expect everyone around you to in the future. Once you've created a safe environment for sharing small problems, you'll be able to address them before they spiral into big ones.
Acknowledge The Warning Signs
Ministry burnout is an all too common issue. Every year, thousands of committed and passionate church leaders leave their roles, often citing fatigue, exhaustion, and depression.
Stay attuned to your team's emotional health. An overly stressed leader can easily become a root of conflict for your church and, should they leave their role because of burnout, the strain on the rest of your team will only intensify and create more problems.
A healthy team dynamic nips many sources of burnout in the bud. Make sure to track and manage everyone's workload, especially around the busiest times of the year. A church management software like Pushpay can help you evaluate which team members may be overloading their schedule, an issue they may not even be aware of.
Open, Simple Communication
At their core, all of these preventative strategies revolve around communication. If everyone approaches conflict with grace, honesty, and an open heart, many pitfalls and potential problems can be avoided.  
In this digital era, with so many of us constantly looking at a screen, a significant portion of your congregation might feel more comfortable communicating and engaging online. If someone's struggling or has spotted an issue within your church—despite all your work to create a resolution process and a healthy community atmosphere—that person may still be uncomfortable coming straight to you in-person. 
Fortunately, there are many ways churches today can communicate outside of Sunday. Messaging tools in a ChMS can facilitate direct conversation the moment someone feels led to identify a potential conflict, directly from their computer or through a custom church mobile app. 
All of us wish that the Church was a safe haven from conflict, but even with all the best practices in place, some trouble is unavoidable. The strongest ministries, however, know that conflict is not fatal. In fact, if handled correctly, the work your community does together to resolve the problem will make your church stronger and more resilient in the future.
You don't have to go it alone, either. If conflict in your church is front-of-mind today, take a look through our latest product features, because everything we build at Pushpay is designed to drive engagement, nurture community, increase communication, and ease workflows—all of which can help prevent stress and conflict in your church family, giving you more time to gather fresh ideas for growth and focus on your church's mission.
Featured Content
You May Also Like