International Women's Day 2021: Women Moving Mountains
Updated June 16, 2023

|
In celebration of International Women's Day 2021, we are highlighting a few of our extraordinary customers and all they do to support the women in their communities. 
These women have worked tirelessly to grow their ministry, love and support their local communities, and pour into the lives of the women around them. Follow along as we share their stories and recognize the powerful work that they do.

Growing an Impactful Women's Ministry 
Successfully growing an impactful women's ministry takes an incredible amount of time, prayer, and commitment. Through bold leadership and deep care for the women in her community, Pastor Leanne Matthesius from Awaken Church grew Cherish Women's Ministry exponentially.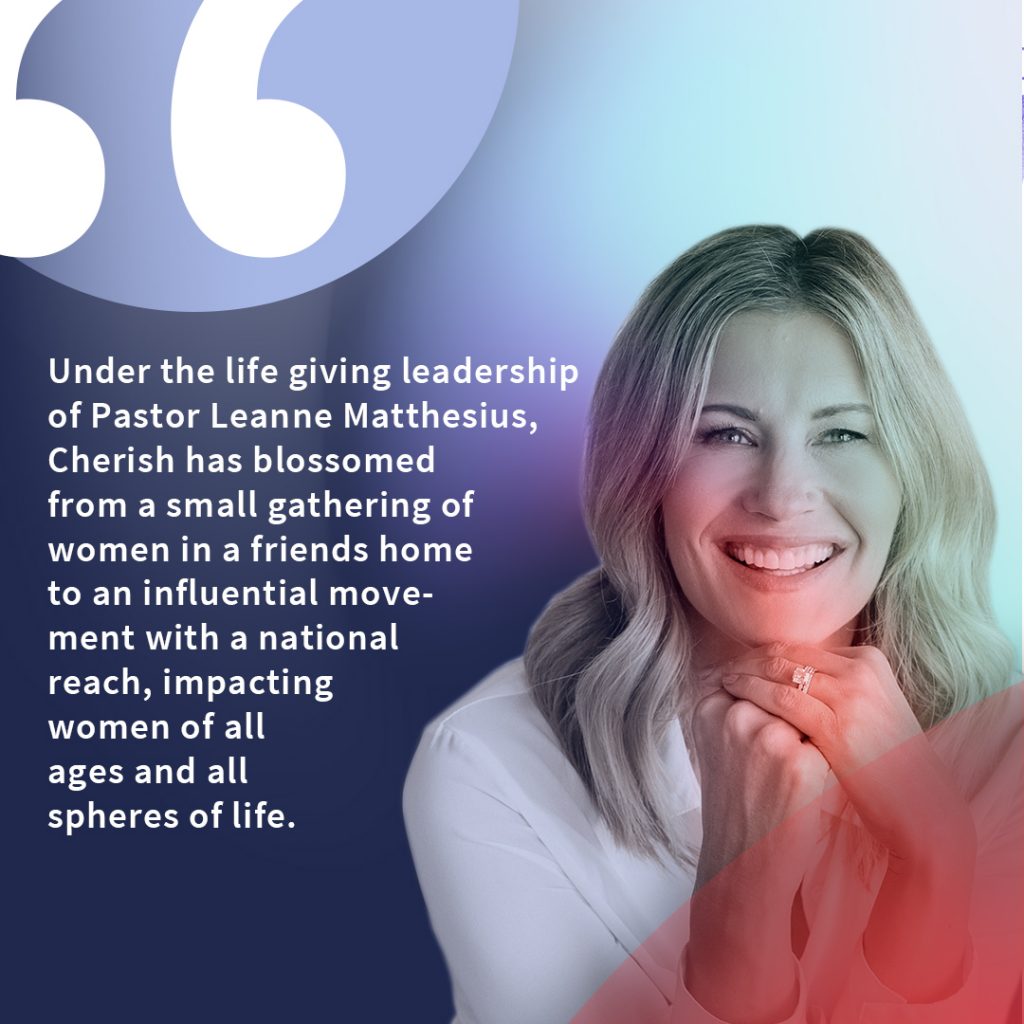 "Cherish Women's Ministry is a growing community of friends, mothers, sisters, and daughters who love the Lord, value genuine relationships, and desire to leave a Godly legacy," Matthesius said. "In a world where there are many voices, Cherish teaches women about the One that matters most." 
Under the life-giving leadership of Pastor Leanne Matthesius, Cherish has blossomed from a small gathering of women in a friend's home to an influential movement with a national reach, impacting women of all ages and all spheres of life. 
Cherish hosts multiple one-night events, weekly prayer meetings, and a yearly conference that sees thousands of women impacted by the gospel and the wisdom of God's word. 
"Women may come in burdened, intimidated, and carrying the wounds and mindsets of a broken world, but when they encounter Jesus and a community of other Godly women who are real and fun, their lives begin to transform," Matthesius said. "Women come alive, find their joy, find their purpose, and live out the wonderful life God intended for them! The Cherish Women's Ministry has the privilege of stewarding these relationships and continues to grow, disciple, and raise up the next generation of Godly women through God's truth, vision, and calling."
A Woman's Heart for Her Community 
It takes a willingness to sacrifice your own time and resources to reach people in your community and truly support them. Tiffany Brinkley, a Director of Community Outreach at The Potter's House, is doing just that. Tiffany has made an incredible effort to support women in the Dallas-Fort Worth area. Because of her past experiences, Tiffany has a unique understanding and sympathy for the hardships these people are going through.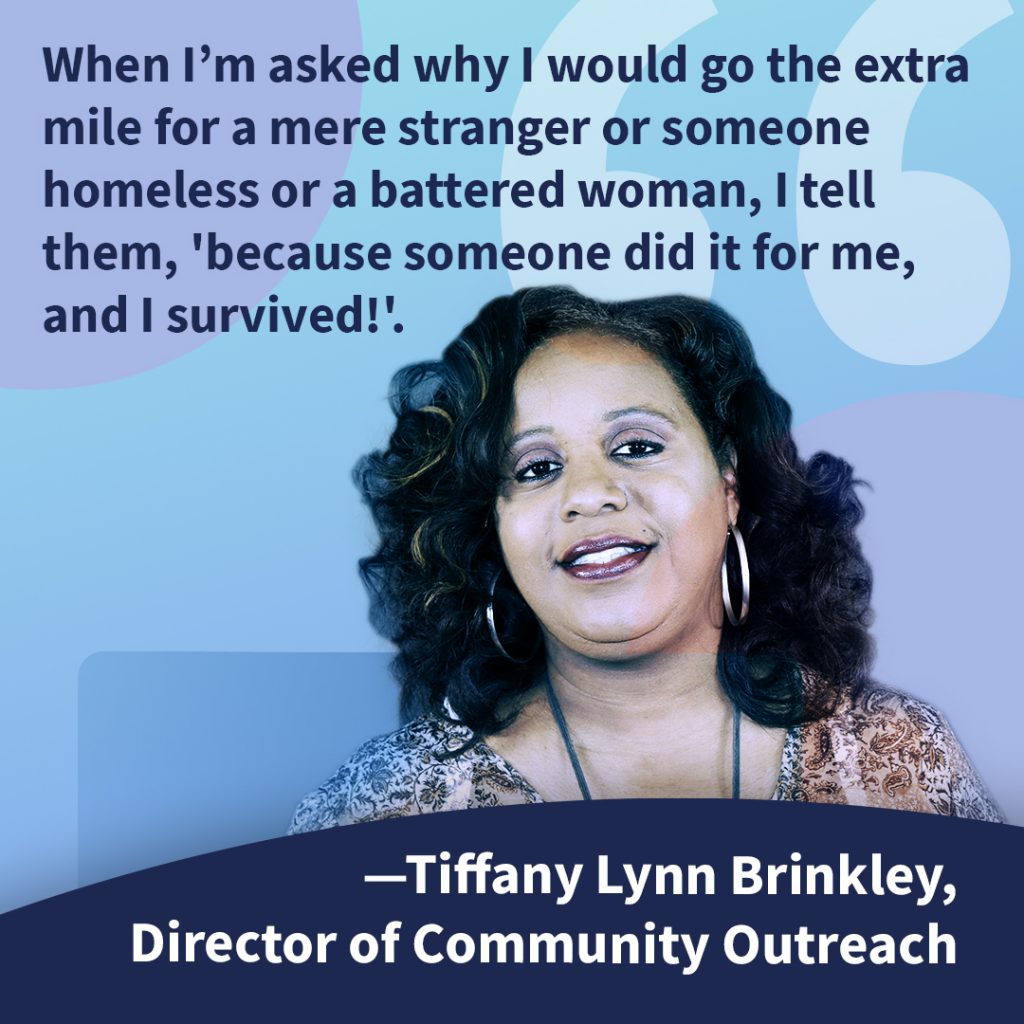 A native of Dallas, Texas, Tiffany Brinkley works at The Potter's House Ft. Worth, a collection of outreach ministries underneath the umbrella of T.D. Jakes Ministries. She's served as the Director of Community Outreach for nearly seven years.
"Growing up, I had very active parents who volunteered in the community and were heavily involved in church, so serving and helping others just came naturally to me," Brinkley said. "Someone once told me I was cut from a "different cloth" because of the magnitude of my service and how passionate I was about the community I served. As I reminisced on my past, I understood why I was so fervent about changing the community. I wasn't just cut from a different cloth; I was woven differently, which allowed me to see and do things differently." 
"Although I am not a certified life coach, a psychiatrist, or a social services worker, I am a community activist, a Christian woman, a mentor, and most importantly, a SURVIVOR," Brinkley said. "I'm a survivor who enjoys assisting families who live in under-served communities dealing with homelessness, unemployment, domestic violence, substance abuse, sex trafficking, mental illness, depression, food deprivation, and now those suffering from the uncertainties of this pandemic." 
"When I have an opportunity to assist a family or individual who's depressed, has lost their job or home, and just can't make ends meet; I share my story with them of how I experienced some of the things I mentioned above, and then I tell them to 'look at me now,'" Brinkley said. "Once they hear my testimony, they are in disbelief that we have things in common, but overjoyed that I overcame those obstacles and got a fresh start."
Brinkley concluded, "Therefore, when I'm asked why I would go the extra mile for a mere stranger or someone homeless or a battered woman, I tell them, 'Because someone did it for me, and I survived!'" 
Women Making a Difference Overseas 
Around the world, there are many people in need of both physical and spiritual healing. One woman making a significant impact in the lives of those in need is Hailey Roberts. Hailey leads The Veritas Foundation and supports a blind school for children in Sierra Leone.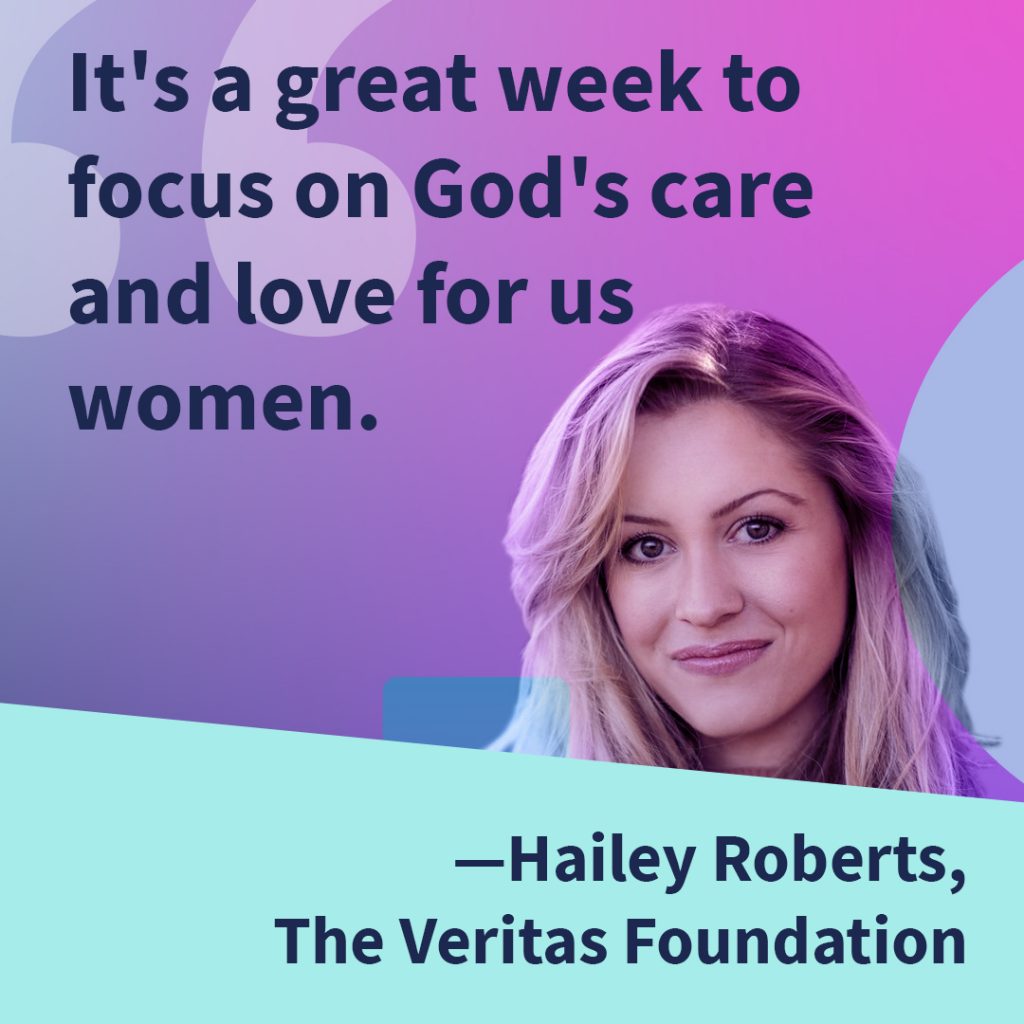 Hailey has witnessed amazing ways that God has displayed his love and care through some incredible women living and working in Southwest Africa. Recently, the Veritas Foundation executive team prayed that God would provide a capable doctor to restore sight to some of the blind children in the school they support. Ten minutes later, the team received a call from the school and discovered a doctor had offered her time for free to evaluate the children and perform any necessary procedures. 
Click here to watch the video and hear more stories from Hailey about how God is using women to make a life-changing difference in the lives of others.
If you'd like to support Hailey and all the work she's doing through The Veritas Foundation, you can give here: Donation Page
Championing the Women Around Us
Lisa Stewart, the CEO at Honey Lake Clinic, strives to champion those around her and challenges others to be their best by taking calculated risks for growth and opportunity. 
This partner of Pushpay is a strong example of how ministries and churches can be outward-focused, investing in others to facilitate positive change in things like mental health, quality of life, and inner healing.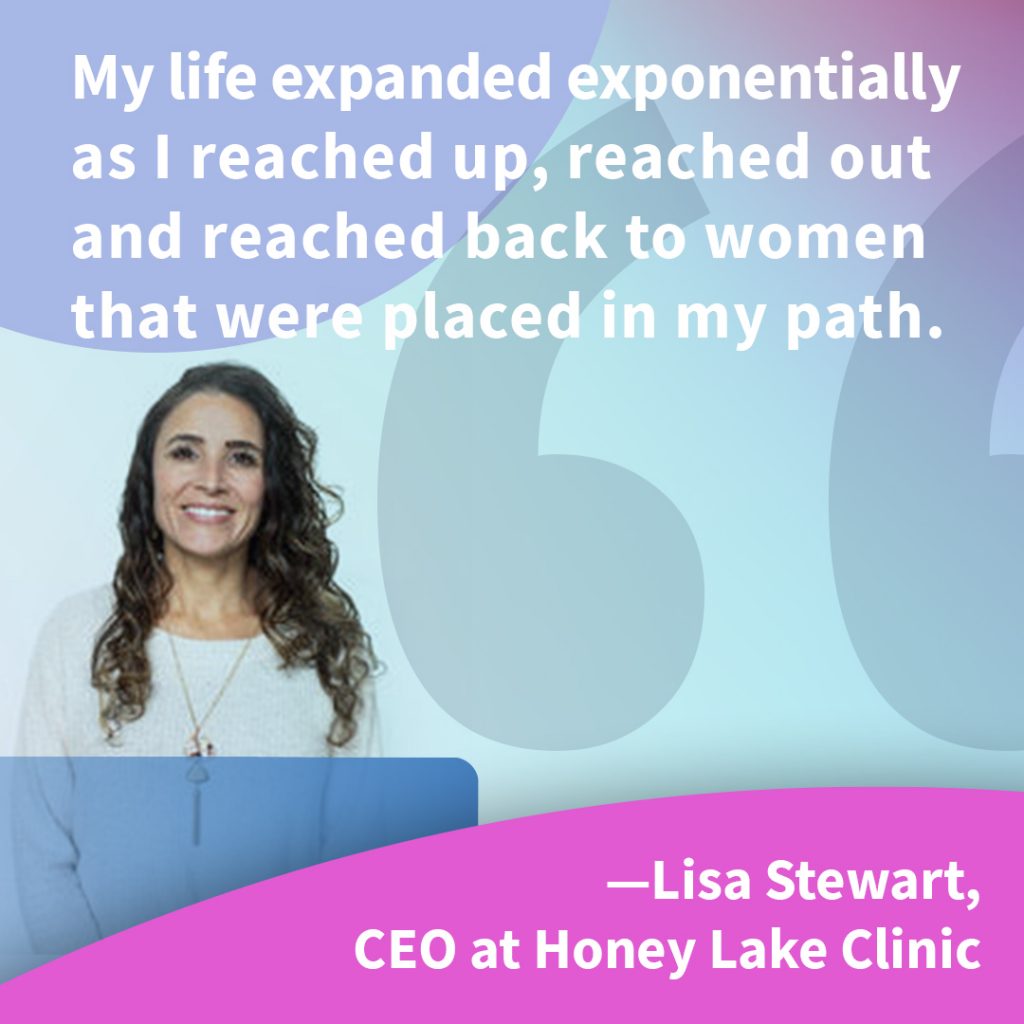 "Born into a family as the only daughter amongst three brothers, my life revolved around the influence of my mother and the men who lovingly surrounded us," Stewart said. "The very nature of my family dynamic placed me in a male-influenced view of the world around me. I really didn't know any different."
"As adulthood ensued, this pattern continued," Stewart said. "I found myself in leadership circles that were dominated by men. I often found myself as the only woman in the room. For a very long time, this scenario was uncomfortable for me, and I allowed myself to believe that I needed to adopt the male leadership style myself to be accepted into this world. However, God had other plans."  
"Fast forward to my experience with Pastor Kerri Weems, Lead Pastor of Celebration Church. Never before had I seen a woman in leadership who led with such strength, embraced her femininity, and was a true champion of other women," Stewart said. "She embraced exactly who God had created her to be and led from there. She not only modeled this for me and thousands of others, but by doing so, she gave me permission to embrace leading as a woman. I never consciously realized how much I held back the leadership gift in my life. From her, I learned that women are to be championed in every stage of life's journey." 
"After that, I embraced that women are crucial to be at the table," Stewart said. "The table is set for both men and women because both bring intentional differences to be celebrated and integrated. God's plan is always the best plan!"
"My life expanded exponentially as I reached up, reached out, and reached back to women that were placed in my path," Stewart said. "As I learned to champion other women, I found myself surrounded by incredibly strong women who sharpened me and strengthened me in every area of life. Let's celebrate International Women's Day by reaching up, reaching out and reaching back to all the amazing women we are surrounded by!"
We encourage you, this International Women's Day and Women's History Month, to share these inspirational stories with the women in your life. 
Further Your Ministry with Pushpay
It's not easy to grow a ministry without sacrificing personal connection. At Pushpay, we offer a solution to help you grow generosity and participation, evaluate and understand your ministry's health, connect and engage with your people, and streamline community involvement – all without sacrificing personal connection. 
Pushpay software includes: 
Click below if you're interested in learning more. We'd love to talk to you and see how our solution could help grow your ministry. 
Featured Content
You May Also Like