Bringing Together Catholic Tradition And Our Tech To Deliver Sacrament Tracking
October 24, 2022

|
It's an exciting day at Pushpay—our Sacrament Tracking feature in ParishStaq is live! 
For many months, Sara Anderson (product manager), James Rutherford (lead designer), and I met weekly with a wonderful group of parish customers to continually gather their input for one of their most essential tools in their digital toolkit. Our teams received their feedback and, together, we're helping them reduce administrative headaches and create more opportunities for ministry.

Customer Input
We knew that the way our software was built prior to launching Sacrament Tracking wasn't serving our customers well, but it was really important to us to make their lives easier. 
One of my favorite responsibilities as a product marketing manager is talking to customers. I held weekly office hours with our product and engineering teams and invited a small group of 12 to 13 parish customers to drop in and share their input. Each time I met with them, I learned something new or I uncovered a piece of information I hadn't considered before. Not because I hadn't tried, but because I couldn't possibly know everything. 
The group included a range of parish staff we knew engaged with the software daily: business managers, parish secretaries, and stewardship coordinators. 
The meetings helped us understand how to serve our customers in the best way possible so that we would be able to develop a truly purpose-built solution. They had so many wonderful ideas, because they were using the software in a way that was doing the job they needed but wasn't really doing it well. Going to the source of the information and hearing their pain and understanding their needs made this process really delightful and productive. 
Part of the process included giving the parishes the opportunity to get "early eyes" on our Sacrament Tracking feature and test the software. What validated our assumption that the tool was easy-to-use was when a customer said that she didn't need any training. That was a beautiful moment because customers don't want to click through several pages of data to get the information they need. Software should be intuitive and built to make the user's life easier. 
"Pushpay's ChMS is off to a great start with their new Sacrament module… We greatly appreciate the willingness of the Pushpay Sacrament Team to continually make their product better by asking for our suggestions and feedback." – Giovanna Christian, Director of Finance, St. Peter Catholic Church
Pushpay Innovation
We've planned a rolling release of our Sacrament Tracking solution. Our first round of features was first introduced in April. We've since upgraded Sacrament Tracking so that parishes can access sacraments anytime, anywhere.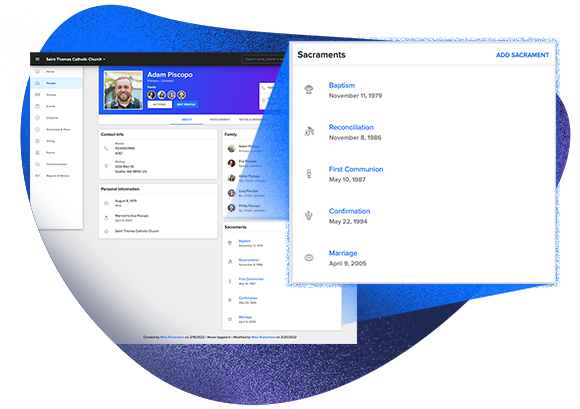 Sacrament management:

With one click, parish staff can add, edit, and view sacramental records on an individual's profile, search and filter people and groups by sacrament, and edit groups within minutes. New features improve workflows and provide faith formation leaders with the confidence they need to engage, track, and support a parishioner's sacramental journey.

Mobile accessibility:

Pushpay is the first to deliver access to sacraments and faith formation information while on the go, via the LEAD App, Pushpay's mobile application for church leaders. Priests and ministry leaders now have easy access to the information they need to be able to better evangelize to parishioners, including visibility to sacraments, contact information, group participation, and more. 
Export and electronic file storage:

Storing electronic versions of sacrament certificates saves time and is a quick way to validate data. Parishes now have the ability to export and natively print sacrament register details with a click of a button, eliminating the need to find and create duplicate documentation. 
Web Church Management Software in Spanish:

Fully translated in Spanish, users are able to access our ChMS in three different ways:
Select English or Spanish via the login page.

After login, a user can simply use the toggle button and switch

between English and Spanish.

Any user can adjust their browser settings to their preferred language in

Spanish and our web ChMS will automatically translate localized content to

 Spanish.
Stay Tuned: More Sacrament Tracking Features Are On The Horizon
We're the first to market a web ChMS solution in Spanish and we're delighted to make more languages available for our customers. In the coming months, customers will also be able to see localized content in Vietnamese, Korean, and Chinese. 
There's also much more in store for Sacrament Tracking—such as the ability to notify the parish of baptism and view sacraments received by site. 
Our innovative nature is what drives our Pushpay teams. We're continuing to listen and learn from our customers so that we can offer you more time-saving, ministry building tools. Schedule a demo and talk to our ParishStaq team to see how we can help you grow your parish and fulfill your mission.