Tracking Sacramental Preparation For Children And Adults
December 5, 2022

|
Celebrating the sacraments brings people together. Children and adults receiving any of the sacraments are surrounded by their priest, parish community, family, and friends who renew their own baptismal promises and remember their responsibility to support the faith of new Catholics. It's not a private celebration. It's a public, outward sign of heaven on earth and a celebration with the Body of Christ. 
While parishes fulfill this responsibility through ministries like OCIA (formerly RCIA), children and youth faith formation, and marriage and baptism preparation, it's crucial to have an effective solution to keep track of their sacramental preparation and an efficient way for volunteer catechists to support the process. It's not only essential to your parish's operational efficiency, it's also vital for growing the Body of Christ.
What Is A Sacrament?
The crisp white garments, holy water, sacramental oils, the cross, and candles are all visible symbols of celebrating the sacraments. But a profound and deeply spiritual event occurs when a child or adult receives the sacraments, so there's no simple answer to this question.
According to the Catechism of the Catholic Church (CCC), "the sacraments are efficacious signs of grace, instituted by Christ and entrusted to the Church, by which divine life is dispensed to us… The Holy Spirit prepares the faithful for the sacraments by the Word of God and the faith which welcomes that word in well-disposed hearts. Thus,  the sacraments strengthen faith and express it. The fruit of sacramental life is both personal and ecclesial. For every one of the faithful on the one hand, this fruit is life for God in Christ Jesus; for the Church, on the other, it is an increase in charity and in her mission of witness."
The Seven Sacraments
Sacraments of Christian Initiation
Baptism, Confirmation, and the Eucharist are the sacraments of Christian initiation. They lay the groundwork needed to live a Christian life so these are parts of the journey that need the most support from your parish. 
The CCC calls baptism the "gateway to life in the Spirit and the door which gives access to other sacraments." Adults and parents bringing their children for baptism choose to unite themselves with God and become part of the Body of Christ. They are invited to trust in the wisdom of Christ and grow in their relationship with God. 
Candidates receive the gift of the Holy Spirit and their journey intensifies. When they receive the sacrament, they are called more deeply to serve the Church and be missionaries of Christ in their community. 
The Holy Eucharist is the source and summit of Christian life and completes the sacraments of initiation. Adults and children who receive this sacrament are nourished spiritually with this first encounter with Christ's true presence in the Eucharist. Every Mass is an opportunity to encounter Christ in the Eucharist, so your work in formation doesn't have to stop at First Holy Communion. Many parishes are still challenged with getting parishioners back to Mass, especially the younger generation. So it will benefit your parish and the whole Church to continue religious education on the meaning of the Eucharist.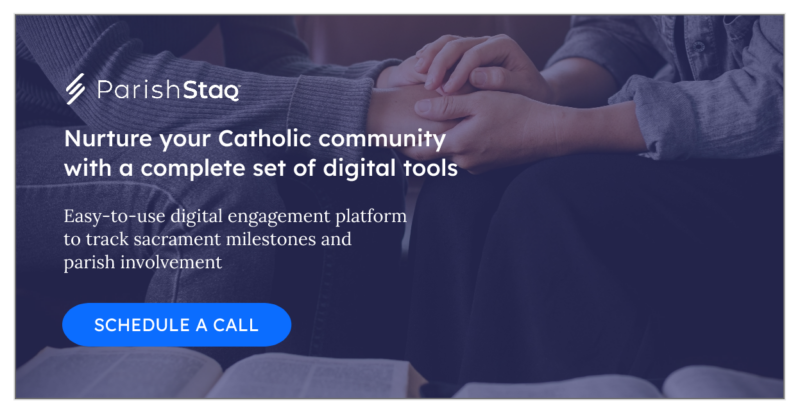 Sacraments of Healing
Penance and anointing of the sick are sacraments of healing. The sacraments of initiation brought new life to people on the journey, but sin and suffering can weaken any child of God. The sacraments of healing spiritually and physically restore those who need it. Your parish will need to be aware when the need arises and have a Catholic church management system to follow through with preparation for reconciliation or administer anointing of the sick. 

In this sacrament, children and adults experience the gift of God's mercy. They are freed from sin and have the opportunity to repent and be open to God's graces. Forgiveness is the communal element of the sacrament and leads people to reconciliation, spiritual healing, and a stronger community of faith. 

Catholics believe that Jesus heals the whole person, body and soul. The sacrament doesn't require preparation like the other sacraments and is administered to someone who is seriously ill or suffering. 

Sacraments of Service
Thoughtful preparation goes into the sacraments of service—marriage and holy orders. Couples and clergy join in a covenant with God to strengthen their relationships and build  their communities. They will need your parish to walk with them through preparation and the rest of their lives with formation. We know that faith formation is a lifelong journey and your church software will need to be able to track the data and help you be accountable with follow-up. 

Marriage is a time of joy and celebration for the couple and their families. For your parish, it's the perfect opportunity to equip them with practical life skills to survive challenges and build it into your marriage preparation program. Marriage is a lifelong promise to be faithful and serve each other and the Church, so preparing them for the skills they'll need will help them be aware of issues when they arise. 

When a parishioner chooses to answer a higher calling and enter the priesthood, they'll need a community to support them along the way. The ordination to become a priest, deacon, or bishop is a lifelong commitment to serve the Church. As they prepare for this sacrament, your parish can support them in various ways, including praying for them at Mass, sending them messages of encouragement, and equipping them with church technology that will make their life in ordained ministry easier. 

How To Prepare For The Seven Sacraments
Sacramental preparation is a spiritually enriching experience for adults and children who choose to join the Catholic faith. Parishes offer year-round faith formation and sacramental preparation, including:
OCIA (formerly RCIA Order of Christian Initiation of Adults) 

Children's Faith Formation

Youth Ministry

Marriage Preparation

Baptism Preparation
For men who are called to become a priest, deacon, or bishop, parishes will recommend them to apply for the seminary through the diocesan vocations director. 

We have the privilege of working alongside hundreds of parishes and parish leaders to help them keep track of the sacraments for their parishioners and follow up with those who need pastoral care through ParishStaq, our Catholic church management software. Your parish not only needs good data, but you also need to support your staff and volunteers with an effective solution to do their ministry well. 
If you want to learn more about our solutions for streamlining your sacramental preparation processes or parish operations, schedule a demo with one of our parish technology experts today.