The Future of the Catholic Church Is Meeting People Where They're At
July 7, 2023

|
On a recent family trip to a volleyball tournament for my daughter and her team, we stopped by a parish in Hiawatha, IA for Sunday Mass. They also happened to be one of our Pushpay customers that I'd be meeting later that day.
As soon as we entered through the church doors, the ushers greeted us and handed us worship aids with all of the readings and songs specifically for that weekend. At the podium, the ministry coordinator thanked everyone joining them in person and participating online through their livestream. Just before Mass, she asked everyone to stand and greet those around us. The Mass was beautiful and the priest delivered an insightful homily. By the end, one of the parish leaders invited everyone to take out our phones and download their mobile app to access the spiritual reflections on the theme of the week. That's not something I see every day in the world of Catholic!
As someone who has grown up in the Church and now a parent raising the next generation of Catholics, it was exciting to see a welcoming parish culture come alive with technology to not only extend the Sunday experience to others online that day but also create a clear next step for everyone to engage in beyond Sunday through their smartphones.
More Than Sunday
In-person experiences are at the heart of Catholic worship. So when I think of hybrid worship experiences, what immediately comes to mind is our parish priest delivering impactful homilies on Sunday and the thousands of people around the world who would watch the recording online and be inspired by his words and the Gospel.
Parish leaders participating in our 2023 State of Church Tech Catholic report shared their views on hybrid. 74% currently offered hybrid worship, but when asked which types of worship services they may offer in a year, hybrid dips to 58%, online-only jumps to 35%, metaverse at 25%, and in-person-only increased to 34%. The numbers paint an unclear picture of hybrid worship in the future.
As the ParishStaq Group Product Manager at Pushpay, I see the value of church technology but I know that it's a struggle for parishes to balance the sacramental tradition of the Faith and personal connection with the demand for digital ministry.
The pandemic impact certainly opened up opportunities for hybrid worship strategies in most parishes but technological and cultural trends were also contributing factors. With a growing majority of Americans owning mobile phones and increasingly connecting to the world of digital information, many parish leaders will easily admit that they'll need to meet people in a digital setting to continue ministering to them in the future. That might not be where they want them to remain because their desire is to bring them into the fold, into community, and into the witnessing of the Mass on Sunday.
Traditional Generosity and Church Technology
Two data points from our 2023 State of Church Catholic report stood out—mobile giving dropped from the previous year, but 27% think cryptocurrency will be strategic in the future.
While that data is surprising, it's also true that Catholics have a more traditional view on generosity. Perhaps now that people are getting back into the ritual of in-person Mass, they're also returning to the familiarity of in-person rituals—the touch of holy water at the entrance, singing hymns, extending the sign of peace, and placing their offering envelopes in the basket.
At Pushpay, we're proud to be able to offer our parish customers more choices. Last year, we launched a partnership with National Church Solutions, one of the largest manufacturers and distributors of church offering envelopes in the U.S. This partnership gives parishes the opportunity to put a QR code on their envelopes so that parishioners can choose to place their offering in the basket or give easily and securely online. Having both options available also opens up a new segment of your community to set up recurring giving if they choose to scan the QR code to give.
The percentage of parishes who have expanded their giving to accept or use cryptocurrency is exciting… and timely!
We recently announced our first cryptocurrency donation integration with Engiven, and now our customers will be able to unlock more opportunities for generosity to support their mission.
Pushpay has always been at the forefront of innovation. When our founders established Pushpay in 2011, online giving was a novel concept, especially for churches. Early adopters were primarily Protestant churches and they helped us set the trend for digital giving in the market. In recent years, Catholic parishes have approached us organically to help them increase generosity with our digital solutions. And now in 2022, Pushpay has helped both churches and parishes save $144.3 million in gifts from failure and grew $69.3 million in future donations through our proprietary technology—Everygift™.
If the Catholic Church in Hiawatha, IA could be an example of a welcoming parish and a successful model of hybrid worship in the future, then we have a responsibility as a company to use our gift of technology to help parishes inspire their people to download the app, engage with them throughout the week, build connections, and inspire generosity.
State of Church
Tech (Catholic)
Parish leaders across the country tell us their top tools for ministry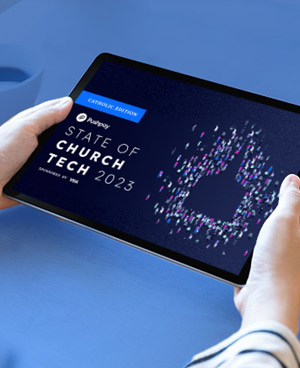 Featured Content
You May Also Like