5 Ways to Combat Church Attendance Decline
January 30, 2023

|
Why Has There Been a Decline in Church Attendance?
There has been a lot of discussion about why people attend church less often. From thought leaders like Carey Nieuwhof to mass media like NPR and the Washington Post, everyone is talking about weekly church attendance and sharing their thoughts on why there's been a prominent church decline. 
learn how to beat church decline
What is causing declining church attendance?
The short answer is a shift in our culture. Digital connection is everywhere, and online is the preferred platform. 
Cash and checks are a thing of the past. Now apps and mobile giving are the preferred methods. 

Anyone can find an answer to

anything

with a quick google search, whether it's finding a restaurant or

diving into

religious research

.

 

People can experience a church service through websites and livestreams, instead of walking through the front door

or becoming dedicated church members

.
There are other reasons for a decline in church attendance besides the demand for digital. Gallup polls people's religious attitudes, practices, and overall identification with a religious group. The primary reason for the decline in church attendance seems to be that more and more people in the United States are expressing a lack of religious affiliation or preference. Over 20 years of Gallup polls, the percentage of Americans who don't identify with any religion has steadily increased, from 8% in 1998–2000 to 21% in the past three years. 
And even for those who still identify as religious, declining attendance persists. More and more people feel too busy to be able to attend church on Sunday. They may find Sunday is the only day to get onto important housework, be traveling for their kids' sports, or just head out of town to visit a friend's place for the weekend. People who are out of town tend to not be in church. 
Another cause for declining church attendance is church shopping. The back of the head you counted last week may not be the same head next week. Church "shoppers" find a church the same way they shop for a new pair of jeans—looking around at all the options, choosing one that checks all their boxes, "buying" it, and then throwing it away when it no longer suits them. 
When cultural shifts like these happen, churches can choose how to react—either with fear and blame or with optimism and reform.
What Has Been The Recent Trend Now?
The world has been through a lot of change in the last five years. So what do the most recent reports say about the decline in church attendance?
We'll start by diving deeper into some Gallup polls. In 1937—the year the poll began—seven out of 10 Americans said they attended church. In 1999 the number held steady, staying at 70%. But that number has been trending downward since 2000. By 2018, it had dropped down to 50%. And in 2020, that number dipped to 47%, officially falling below the majority for the first time in nearly 90 years of the poll's history. 
Since the pandemic, most churches have been meeting back in person. But many have made the shift to offering weekly online worship services. And with good reason. 
A 2022 study by Pew Research found that one in five churchgoers participated in virtual church once a month. However, that study also found that 12% of self-described regular attendees said they hadn't attended church in person or watched a religious service virtually in the last month.
Barna Group found that 22% of Boomers and 21% of Millennials attend church primarily online. In contrast, the majority of Boomers (65%) primarily attend in person. Only 45% of Millennials are in-person churchgoers.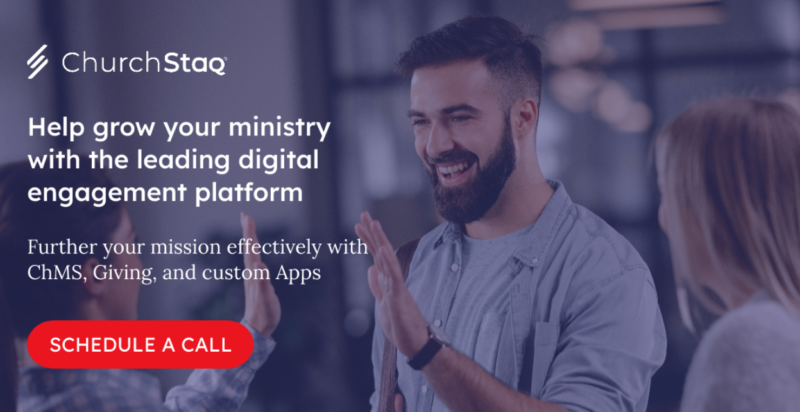 5 Tips to Increase Church Attendance
The good news is that churches can combat the decline in attendance through simple tweaks to how they approach their ministry. If you want create a thriving church where people are eager to attend, here are five ideas you can use:
Cater to different generations
Is there a generation you're not currently reaching that you could try to engage? Working to connect with specific generations—millennials, Gen Z, Gen Alpha—is essential in ensuring your church community's future and helping it to grow into a welcoming environment for different types of people in church. Catering to these generations could look like hosting family-friendly events for the Gen Alpha kids, or offering face-to-face interactions in a small group for millennials, who have been dubbed one of the loneliest generations.
Sunday mornings aren't sacred in our culture anymore. This is because so many things compete for people's time and attention on weekends: work, sports, leisure time, and household chores. So when thousands of other things are fighting for your attendee's attention, it's time to offer more flexible options for your congregation and casual churchgoers.
We've shifted to an on-demand mindset in every other area of our culture. If we want to reverse the decline in attendance, it's time for the church to do the same. Churches could add weeknight service options, a weekly podcast, or virtual services to offer flexibility. Your church should consider the impact on ministry, with a large portion of their congregations regularly tuning in via livestream. What does that mean for evangelism, ministry tools, video content, and your website?
Prioritize a discipleship path
Like we just covered, people are busy. Their lives and calendars are already full. So the last thing people need is to decide which event to attend at church. Competing church programs will only amplify attendance challenges on Sunday mornings.
Instead of inviting people to dozens of different events, encourage people to take steps on a discipleship path. With a discipleship path, you can focus more on who you want people to become in Christ rather than what you want them to do. People are always looking for something bigger than themselves. So when you offer a path to joining a community that helps them grow personally and give back to their community, they'll be inspired to make the extra effort to have regular church attendance.
Follow up with those who fade away
You might miss people slowly fading out of the church if you only check attendance numbers. Many people are gradually leaving the church by attending less often, and decreasing attendance frequency is one of the biggest reasons churches decline.

Fortunately, there are also great tools that make it easier for church leaders to keep track of and follow up with visitors. Pushpay offers a Church Management System with features that can help you know, grow, and keep your people. Some of those features include:
Group Management that helps you connect people to groups and other congregants.

Process Queues to automate the steps in your connection process so no one falls through the cracks.

Metric Dashboards that allow you to view the engagement of every individual.
Stay connected with social media
Is social media the perfect answer to this attendance problem? Of course not. But can social media help? Yes. Social media allows churches to connect with their members and those who may not attend church. Facebook, Instagram, and all the other social media platforms were created to help people stay connected with friends and family, build relationships, and improve communications. 
Why Improving Church Growth is Important
Church growth is important because it's an indicator that the work you're doing is not stagnant.  In his book Purpose Driven Church, Rick Warren wrote, "….since the church is a living organism, it is natural for it to grow if it is healthy…If a church is not growing it is dying…" 
Can we share a secret? Tracking attendance may not be the best metric for tracking your church's growth or health. Here's why: If overall church attendance is the metric you value the most, you could overlook what's happening below the surface in your community. There could be an underlying issue in your ministry, but you could miss the warning signs if your attendance numbers are going up, and that's the only metric you check.
Growth can take many forms, depending on the ministries and mission of your church. Some other metrics to track for church growth instead of attendance are:
Members

First time donors

Registrations for events

Baptisms

Volunteers

Submitted prayer requests 

Small groups attendees

Church App users

Email subscribers

Social media followers
What Are the Benefits?
The benefits of church growth and increased membership are obvious. A growing and healthy church has more people to form a community, more ears that hear the gospel, and more lives influenced and changed. With more people being reached, a growing church has more resources to love and serve their community. 
Improve Church Growth with ChurchStaq
We know churches have unique needs for adapting and growing in a changing culture. Together, we can make an impact in your community. Pushpay's church management software  helps simplify communication, processes, and workflows without sacrificing personal connection. This integrated suite of tools will also help your staff, leaders, and volunteers do their best work.
Move From Surviving to Thriving In Ministry
Whether you are a new or established church, growth is crucial for you to thrive and survive. With all the changes we experienced over the last few years, it's also necessary to try new growth strategies and utilize technology. 
LEARN MORE ABOUT LIVESTREAMING WITH RESI
Sources
https://news.gallup.com/poll/341963/church-membership-falls-below-majority-first-time.aspx
https://www.pewresearch.org/fact-tank/2022/03/22/more-houses-of-worship-are-returning-to-normal-operations-but-in-person-attendance-is-unchanged-since-fall/
https://www.barna.com/research/church-attendance-2022/ 
Featured Content
You May Also Like