Tapping Into the Potential of Parish Giving: A Comprehensive Guide
Updated July 21, 2023

|
"Giving is worship." It's a simple, yet powerful Church teaching in generosity that reminds people to give financially to their parish in thanksgiving of God's blessings.
But giving during worship in today's Church has evolved from checks and cash to include QR codes and mobile giving. Yet despite the expansion of giving methods, some parishes struggle to see an increase in their offertory. In this blog, we will explore a variety of strategies to increase parish giving.
Understanding Parish Giving
We discussed the ways giving has evolved, but what about the reasons why each of them, particularly traditional methods, are still important in our digital era?
Parish giving has traditionally been done through cash, checks, and church offering envelopes, but in recent years online and mobile giving have become increasingly popular. However, when all of these methods of giving are accessible to parishioners, parishes are able to enjoy the combined benefits of both worlds.
Digital giving options allow parishioners to give conveniently, even when they are not physically present in your church building. It also invites them to give consistently through the recurring giving feature, a solution for donors who want to be able to set aside their first earnings to honor God while also helping your parish be able to rely on their generosity on a regular basis, forecast, and budget appropriately for the parish's needs.
Envelopes shouldn't disappear from your giving options. They keep traditional givers in your parish open to generosity. Pushpay's partnership with National Church Solutions allows parishes to place QR codes on their envelopes so that these givers can experiment with digital giving when they feel the time is right to make the switch.
Cultivating a Culture of Generosity
One effective strategy for increasing giving is to cultivate a culture of generosity within your parish community. This can be done through various means, such as acknowledging and appreciating contributions, role modeling generosity, and providing education on the importance of giving. Combining all of these into a thoughtful plan that considers your parishioners' journey of discipleship and giving opens up the spirit of generosity in your community that may have not been as visible before.
1. Make Giving a Part of Worship
Encourage parishioners to give regularly through service or financial gifts by making it a part of worship. During Mass, remind them of the importance of giving of their time, talent, and treasure, and the impact it has on the Church's mission. For financial giving, you can display a QR code on your worship aids during offertory or on cards in the pew, as well as provide giving options in your app, website, or livestream, so your people can easily access them during your Sunday offertory collection.
2. Host Fundraising Events
Organize fundraising events to raise money for a specific cause or project. This can be a fun way to engage parishioners and encourage giving. You can hold a bake sale, a charity auction, or a talent show. Create a giving webpage that's clear, concise, and tells the story behind your cause. Pushpay streamlines your fundraising process so that your supporters have a rapid and secure giving experience while simplifying accounting for your staff.
3. Thank Your Donors
Recognize and appreciate donors for their contributions. You can send them a thank you note, give them a shout out during events, or include their names in your bulletin. This can make them feel valued and inspire greater generosity.
4. Communicate the Impact
Show your parishioners how their contributions are being used to support your operations and how lives are transformed through the work of your parish. Seeing the impact through compelling storytelling can help them grow closer in their relationship with your parish and God.
5. Educate Parishioners
Educate parishioners on the importance of giving and the biblical principles behind it. This can help them understand the significance of giving and tithing. You can integrate giving talks into your small groups, homilies, weekly bulletins, and in all forms of parish communication.
Embracing Technological Advancements in Giving
Since the pandemic, almost every parish has implemented online or mobile giving. But not all tools available out there are created equal.

State of
Church Tech
Discover what church leaders like you are saying about their priorities, concerns, and expectations with church technology, today and for the future.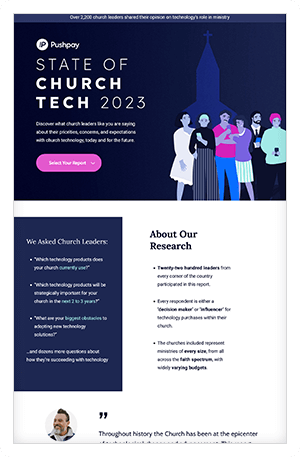 At Pushpay, we made the giving experience for parishioners hassle-free with 10-second giving. The streamlined digital process also simplifies the business end for your finance director or business manager for processes such as annual giving statements and reporting.
Pushpay takes pride in our culture of innovation because it allows us to solve church problems through technology. In 2022, Pushpay helped churches and parishes save $144.3 million in gifts from failure and grew $69.3 million in future donations through our Everygift™ system of features. It was developed to solve common challenges that parishes face such as implementing online giving, processing fees, unfulfilled pledges, donations that didn't go through, and more.
By tapping into the latest technology, your parish can reap the benefits of digital giving.
Effective Communication of Financial Needs
Clear and transparent communication of the parish's financial needs is crucial to encouraging giving. Parishioners need to understand how their contributions are being used and how their giving impacts your parish. Communication can be done through various means, such as regular updates during Mass, bulletins, or emails. When people understand the needs of your parish, they are more likely to give.
Regular Giving vs. Special Campaigns
It's essential to strike a balance between regular tithes and special fundraising campaigns. Special campaigns can be used to raise funds for specific needs or projects, but they should not detract from regular giving. The key is to create stories of impact that communicate the importance of both regular giving and special campaigns. When people understand the importance of regular giving, they are more likely to give to special campaigns as well.
Building Trust Through Financial Transparency
Financial transparency is essential in building trust with parishioners. This can be achieved through regular reporting and accountability. The importance of financial transparency cannot be overstated, as it helps to ensure that parishioners know how their contributions are being used.
Building and Nurturing Donor Relationships
Building lasting relationships with donors is crucial to encouraging giving. This can be done through acknowledging and appreciating their contributions, providing regular updates on the parish events, and involving them in the decision-making process. When people feel valued and connected to your parish, they are more open to generosity.
Tax Considerations and Benefits of Parish Giving
Understanding tax laws related to giving is important for both the parish and your parishioners. Charitable giving offers several tax benefits, including deductions for donations made to non-profit organizations. However, it's essential to seek professional advice from financial advisors or tax professionals to ensure that your finances are managed effectively and in compliance with tax laws. This can help you avoid legal issues and maximize your tax benefits.
Strengthening Your Parish Finance Council
As a parish leader, your primary goal is to bring people closer to the Mass, guide them through the sacraments, and into a closer relationship with Christ. Leaning on your Parish Finance Council to accomplish that and increasing offertory is crucial. Learn more about how to strengthen your relationship with your Finance Council.
Assessing and Adapting Your Giving Strategy
It's essential to regularly review and adapt your giving strategy to ensure that it's effective. This can be done through analyzing giving patterns, monitoring the impact of special campaigns, and seeking feedback from parishioners. When you take a moment to assess and evaluate your progress, you're able to see opportunities where you can build on your progress and adapt your strategy.
Giving is an essential part of worship, and by understanding the various forms of parish giving, your parishioners can express generosity more easily and your parish can continue to fulfill your mission. To learn more about our Giving product, take a free self-guided tour.
Featured Content
You May Also Like