30 Bible Verses About Faith – Scriptures for Difficult Times
Updated September 8, 2023

|
Are you looking for some great bible verses about faith?
For many of us, the most difficult time to muster our faith is in the face of a crisis or challenge. The knowledge that there's a greater plan doesn't necessarily ease the pain of losing someone too soon or the discomfort that comes with conflict. It's natural to ask, why me? Why now? Though this answer often feels unsatisfying at first, it's not always up to us to understand God's plan. And relying on our faith doesn't mean we don't suffer or feel pain, but it does provide solace and strength in knowing that we are cared for in ways unseen and unknown.
Faith also helps us when supporting others who are going through a difficult time, giving us the perspective and empathy to care for and lift them back up. What's true is this: no suffering is in vain when you have true faith.
What is Faith?
Put simply, faith is believing in God and trusting in His plan, even when you don't understand it and can't see it. As it applies to our life, however, faith is about more than just a feeling, it's about living it. We live our faith through obedience to God and acts of service.
When looking for ways to capture and live in faith, the best resource for direction is the Bible.
How Is Faith Displayed In The Bible?
The Bible is filled with messages about the love and acceptance we receive from God when we put our faith in Him, even during hard times. But what exactly does it look like to practice faith? Fortunately, there are plenty of scriptures on faith in the Holy Bible. Meditate on the following scriptures (both in the Old Testament and New Testament) to learn more about what the Bible says about faith, and how you can practice it in your life.

Bible Verses About Faith
(Hebrews 11:1) Now faith is confidence in what we hope for and assurance about what we do not see.
(Ephesians 3:16-17) I pray that out of his glorious riches he may strengthen you with power through his Spirit in your inner being, so that Christ may dwell in your hearts through faith. And I pray that you, being rooted and established in love.
(2 Corinthians 5:7) For we live by faith, not by sight.
(Hebrews 11:6) And without faith it is impossible to please God, because anyone who comes to him must believe that he exists and that he rewards those who earnestly seek him.
(John 11:40) Then Jesus said, "Did I not tell you that if you believe, you will see the glory of God?"
(James 1:3) Because you know that the testing of your faith produces perseverance.
(1 Peter 1:8-9) Though you have not seen him, you love him; and even though you do not see him now, you believe in him and are filled with an inexpressible and glorious joy, markfor you are receiving the end result of your faith, the salvation of your souls.
(Mark 9:23) "'If you can'?" said Jesus. "Everything is possible for one who believes."
(John 11:25-26) Jesus said to her, "I am the resurrection and the life. The one who believes in me will live, even though they die; and whoever lives by believing in me will never die. Do you believe this?"
(Romans 14:1) Accept the one whose faith is weak, without quarreling over disputable matters.
(Matthew 21:22) If you believe, you will receive whatever you ask for in prayer.
(Mark 10:52) "Go," said Jesus, "your faith has healed you." Immediately he received his sight and followed Jesus along the road.
(John 6:35) Then Jesus declared, "I am the bread of life. Whoever comes to me will never go hungry, and whoever believes in me will never be thirsty."
(Hebrews 11:11) And by faith even Sarah, who was past childbearing age, was enabled to bear children because she considered him faithful who had made the promise.
(Romans 1:17) For in the gospel the righteousness of God is revealed—a righteousness that is by faith from first to last, just as it is written: "The righteous will live by faith."
(Galatians 3:26-27) So in Christ Jesus you are all children of God through faith, for all of you who were baptized into Christ have clothed yourselves with Christ.
(John 3:16) For God so loved the world that he gave his one and only Son, that whoever believes in him shall not perish but have eternal life.
(James 5:14-15) Is anyone among you sick? Let them call the elders of the church to pray over them and anoint them with oil in the name of the Lord. And the prayer offered in faith will make the sick person well; the Lord will raise them up. If they have sinned, they will be forgiven.
(Matthew 17:20) He replied, "Because you have so little faith. Truly I tell you, if you have faith as small as a mustard seed, you can say to this mountain, 'Move from here to there,' and it will move. Nothing will be impossible for you."
(John 6:29) Jesus answered, "The work of God is this: to believe in the one he has sent."
(John 7:38) Whoever believes in me, as Scripture has said, rivers of living water will flow from within them.
(Romans 10:11) As Scripture says, "Anyone who believes in him will never be put to shame."
(John 20:29) Then Jesus told him, "Because you have seen me, you have believed; blessed are those who have not seen and yet have believed."
(Luke 8:50) Hearing this, Jesus said to Jairus, "Don't be afraid; just believe, and she will be healed."
(1 John 5:5) Who is it that overcomes the world? Only the one who believes that Jesus is the Son of God.
(Romans 5:1) Therefore, since we have been justified through faith, we have peace with God through our Lord Jesus Christ.
(Mark 11:24) I tell you, you can pray for anything, and if you believe that you've received it, it will be yours.
(James 1:6) But when you ask him, be sure that your faith is in God alone. Do not waver, for a person with divided loyalty is as unsettled as a wave of the sea that is blown and tossed by the wind.
(Philippians 4:6-7) Don't worry about anything; instead, pray about everything. Tell God what you need, and thank him for all he has done. Then you will experience God's peace, which exceeds anything we can understand. His peace will guard your hearts and minds as you live in Christ Jesus.
(Proverbs 3:5-6) Trust in the LORD with all your heart and lean not on your own understanding in all your ways submit to him, and he will make your paths straight.

Guide to
Church
Engagement
Learn how to boost church engagement physically and digitally.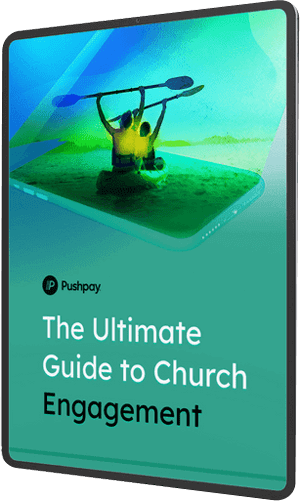 Prayers For Strength and Saving Faith
Dear Lord Jesus Christ,
Though we don't always understand the plan you've laid out for us, we have true faith in your devotion and love. It's clear there's a greater purpose at play here, but it's not always easy or comfortable. Please give us the strength to move forward mightily and to walk your path without stumbling, especially during difficult times. Please help us grow deeper in our relationship with you, be a better neighbor, and shine your light. 
Amen. 
How to Encourage Your Church Throughout the Week
Are you a church leader looking to share encouragement and bible verses with your people beyond Sunday morning? A church app is a great way to connect with your people where they're probably spending a lot of their time – on their phones. Through an app, you can share sermons, music, and podcasts. So it's like they're attending a Bible study online. You could also share blog posts, related articles, or bible verses. As you add new content and related posts to your custom app, you can easily let people know it's available by sending out push notifications.
If you're interested in offering your people a tool like this, we'd love to talk to you and help you get started!
take a self-guided tour of pushpay's church app
[/vc_column_text]
Featured Content
You May Also Like