11 Ways to Create Engaging Church Content without Breaking the Bank
September 18, 2019

|
The rise of social media has created unbelievable marketing opportunities for churches. These platforms aren't just an excellent way to get the word out about upcoming events, but they also help demonstrate what's unique about your church and its culture. 
Unfortunately, every social media channel requires attention and so much content. You could hire a full-time staff member whose only job is to create and design updates, posts, and tweets and still struggle to keep up with the opportunities and demand. 
But you don't have to sink a bunch of payroll dollars into maintaining these channels. You can create a lot of good stuff without hiring professionals. Besides, you're probably already creating tons of great content you could repurpose for your social platforms.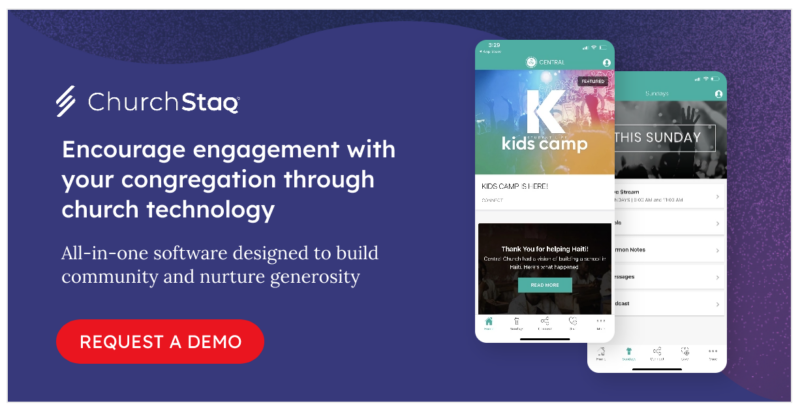 Here are a few suggestions: 
Repurposed content
One of the easiest ways to craft lots of content with minimal effort is taking the stuff you're already making and putting it to other uses. Here are a couple of suggestions to get your creative juices running, but don't stop here. Look at the other stuff you're creating and imagine how you can recycle it in other areas. 
Sermons
You're already sinking lots of time and energy into your messages, and they're probably a big draw for many in your church. Why not get as much mileage out of them as possible? Here are some tips for repurposing sermons. 
1. Sermon videos 
Likely, you're already recording sermon video for your website and church app. Put those videos on your YouTube channel and create playlists around topics, themes, or biblical passages. These videos can also be posted on Facebook every week where people can discover and share them, and you can link to them in your email newsletters. 
2. Sermon video snippets
If segments of your sermon are especially provocative or engaging, you can cut them into one-minute sections and upload them to your church's Instagram account.  
3. Presentation slides
You're already creating slides to use in your presentation. These include Scripture, quotes, and all kinds of interesting data. There's no reason these need to be used once and tossed—especially if you have a designer working on them. You can use them as informative and inspirational content on nearly every social platform. 
4. Quotes 
Are there quotes from last Sunday's sermon that stand out as particularly uplifting or thought-provoking? Pull them out and use them as tweets or Facebook posts. With very little attention from someone with an eye for design, you can use them on Instagram, Pinterest, and Snapchat, too.  
For a comprehensive look at creating compelling content for your church community, download the free ebook, Content marketing for Churches, today!

Bulletins and announcements
Every week your team is putting together updates about the exciting stuff you've got going on: concerts, events, conferences, gatherings, etc. There's no reason you need to waste time recreating this material for new platforms.
5. Announcement slides 
Do you run a series of slides on Sunday mornings that offer announcements about upcoming events? Use these same slides toward the same ends on social media (and church members can share them)! All you need to do is make sure you're designing them for dual purposes. This means creating images that make as much sense of Facebook as they do on Sunday morning.
6. Paper bulletins 
If you're still creating paper bulletins, store appropriate copy in a document you can pull from later. This content can be used for tweets and updates, or even mined to set up Facebook Events. 
You might also want to consider trading in your paper bulletins for an all-purpose church app.  
Brand new content  
It's not enough to throw some old quotes and events onto your timeline. You need fresh content. But again, it shouldn't cost you a lot of time, resources, and energy to come up with it. Here are a few suggestions for engaging content with a high ROI. 
Powerful Video 
Whether you're maintaining your own YouTube channel or you need videos for Facebook and Instagram, you shouldn't feel the need to employ professional videographers. Some of the most compelling videos come from unedited everyday moments. 
7. Testimonies and interviews
Your church is full of inspirational stories that others need to hear, and it's easier than ever to record and share them. So when someone on your staff hears an exciting story about what God is doing in a church member's life, record a brief video about it to share with your followers.  
8. Set the youth group loose
Let's face it. If anyone knows what plays well on social media, it's the kids in our youth groups. They have an eye for Snapchattable moments. Have the kids in your church be on the lookout for awesome moments to record video and take pics. If they come up with some good stuff, have them submit it to your social media person for vetting. 
Motivational Copy 
More than one billion people in the world have a Facebook account. If you want to speak to the average person in your community, Facebook's your best bet. This platform is perfect for long- and short-form copy. It's not that difficult to meet that demand if you know where to look. 
9. Staff blogs
Do you have exceptional writers on staff who run their own blogs? Not only can you use these in your church app, but you can also promote their work on your Facebook page. They might be willing to let you post portions of their work, which makes it even more engaging and shareable. 
In fact, they might be willing to write a weekly devotional to share with the people who follow your page. 
10. Bible studies, Sunday school, and small group lessons
Education is a big part of church life. You're probably creating an almost never-ending supply of fascinating content you can use on social channels. The trick is to curate it carefully. You don't want to copy and paste an entire Bible study into a Facebook post. But a biblical passage or brief motivational teaching followed by a thought-provoking question leads to meaningful discussion—and every time someone comments, more people see the posts. 
Uplifting images
Right now is an unbelievable time for aspiring photographers. Not only are digital SLR cameras more affordable than ever, but even the ever-present cameras in our pockets are capable of taking amazing pictures. All we need to do is tap into this congregational resource. 
11. Congregational photography
You probably have more than one person in your church who considers themselves a photographer. And for every one of them, there are scores of people who just have a knack for capturing timely, beautiful images. Ask your church members to share some of their best pictures with you. Then edit those pics with some inspiring Bible passages or stirring quotes. 
Just make sure that when you post them on Instagram, Facebook, or Pinterest that you give them photo credit. 
Managing social media doesn't have to be difficult
You probably didn't realize it, but you're already creating a lot of the content you need for social platforms. And even the fresh content you need isn't too hard to come by. All you need to do is recycle the content you have and invite others to help you curate new stuff. You'll be surprised at how your engagement explodes.
For more on easily curating excellent content at your church, download the free ebook, Content Marketing for Churches, today!