4 Church App Features That Drive Engagement
June 12, 2019

|
Church apps aren't just fun to have—they serve an important purpose. In this highly digital age, apps allow people to engage with their church outside of regular weekend services. That means people can revisit past sermons, listen to worship, check in on events, donate, sign up to volunteer, and perform countless other important actions when they're away from the church building.
That makes apps extremely important for nurturing people into a deeper relationship with their local church.
That's also why we designed a number of new features within our custom church app to help people foster closer ties with other churchgoers as well as their church. Discover how the Pushpay custom app better helps grow healthy, sustainable church communities.
1.
Content Cards
After someone donates to your church, they may linger on your church app or website for a while longer. Maybe they'll poke around the events/calendar tab or check out the latest blog by your executive pastor.
Or maybe they'll just close the browser or app and move on.
We don't want that.
Content cards are a new feature within your custom church app designed to help your donors stay on your site or app and keep interacting with your church's content. They are icons that now appear on the thank you receipts and emails people get after they donate, and display content recently uploaded into your church app.
After someone donates, they're likely to keep interacting with your church in some way. Content cards give your donors a logical next action to take and an opportunity to engage even more deeply with your ministry.
Discover how else content cards and other new features can help nurture engagement at your church or simply see if Pushpay giving and engagement is right for your church. Talk to an expert today.

2.
Rich push notifications
Push notifications are all the rage in every type of app—and for good reason. These subtle but eye-catching notifications are effective tools for communicating with app users. And your church has a lot it needs to communicate. Whether you have a men's retreat coming up or a gospel fluency class for new believers, there's always something your ministry would like people to know.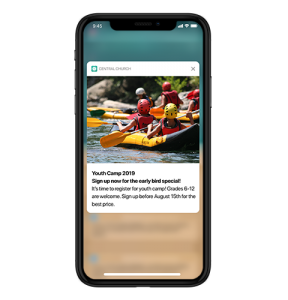 Now your church can use push notifications to get your message to the right people at the right time and drive engagement. Even better, churches can add photos right into a push notification and make it more personalized. These new, richer notifications capture people's attention even more effectively than static ones. Plus, they encourage user engagement and make it easier for congregants to remember exactly what you were trying to communicate.
Ever need to talk to your congregation on the fly? Rich push notifications are effective, easy to create, and easy to send.
3.
App badges
Your staff has a lot to juggle, even when you're fully staffed. Everyone pitches in and helps whenever there's a need. The app badge feature was designed to remove additional work for your staff when it comes to communicating with your community.
Instead of writing, designing, and sending an email or mass text to let people know that a new piece of content is available, app badges step in to help. This small red badge allows your app to automatically "raise its hand" and alert app users that a new piece of content is ready and available.
You don't have to do anything. Your staff doesn't have to do anything. This new feature removes an additional layer of communication effort when something new and exciting is released. So when you push a new message to your community, the app badge will do its job to gently (subconsciously) urge users to open up the app and see what's new.
This seemingly small addition works well alongside push notifications and is a mighty tool for ministries wanting to drive engagement.
4.
Related content
Amazon does this really well: They make it easy for customers to find similar products they might be interested in. To the chagrin of many of us shoppers, these suggested finds are normally exactly what we'd want to buy next, and our Amazon cart is suddenly 12 items deep within 5 minutes.
Much more valuable than products on Amazon, the content at your church is simply sitting in your custom app, waiting to be consumed. The new related content feature makes it easier for app users to find and engage with the content you've added to your app. This new tool surfaces similar pieces of information to app users, resulting in more content being consumed and longer app engagement.
Maybe there's a marriage series at your church or videos documenting your missionaries in the field. This new feature allows you to group content together in a logical way that makes it easy for people to find more content related to a specific theme.
Custom church app: Redefined
The Church is founded on a living text that will never change, even as the culture and technology change around it. And technology is an important tool to help ministries fulfill their mission. That's why we're constantly listening to our 7,500+ customers and finding new ways to improve our platform to better serve them. Leaders need to have the tools necessary to do more in this tech-saturated world, and we're constantly pushing the envelope on what's possible in church tech to keep ministries properly equipped.
To explore the other ways your ministry can benefit from these new features or to see if Pushpay giving and engagement is a good fit for your church, talk to one of our experts today.