5 Ways to Encourage First-Time Givers on Easter Sunday
Updated March 3, 2023

|
On a typical Easter Sunday, a lot of people who don't regularly attend your services will be sitting in your pews – or watching online. And with so many more visitors in attendance, there's potential to inspire even greater generosity on Easter Sunday than any other weekend. With recent technology, churches no longer have to rely on solely in-person donations. If people are remote, they can still participate in online giving for churches.
For most churches, Easter isn't just one of the highest attended services of the year. It's also the weekend they see some of the greatest displays of generosity. So how do you make the most of this Easter giving moment? And more importantly, how can you shift your strategy to still reach new attendees guests, when the reality is, most church goers might have to celebrate Easter in the confines of their own homes and practice worship by viewing an all-digital service. The key is still finding ways to invite new guests and encourage first-time givers in your local church.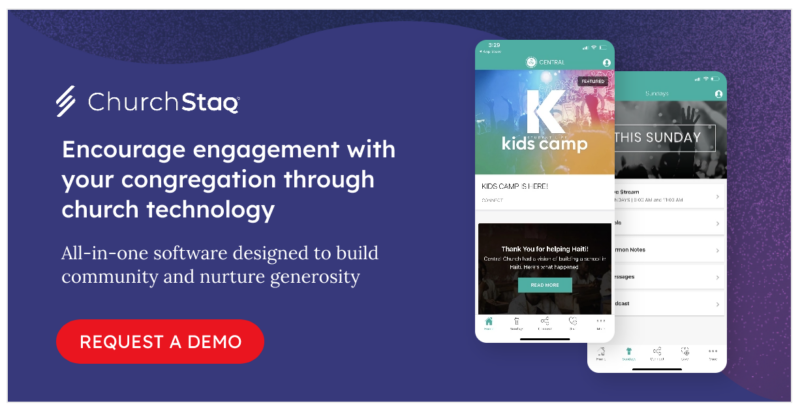 Here are five ways to invite new guests and inspire people to give for the first time on Easter Sunday:
1. Invite New Guests Digitally
If current times could predict what Easter services will look like, the reality is, most churches might be faced with delivering their Easter sermon completely online. One of the amazing things about Easter Sunday is the opportunity to welcome new guests and spread the word to people that have never stepped foot in your building. This creates a new challenge as you start to think about ways to still invite and engage with new guests. Consider a few ways to attract new individuals digitally:
Leverage your congregation to spread the word: Same as you would promote a regular in-person Easter service, invite your congregation to share and extend an invite to their friends and family via their social networks, email, or text message. Providing a resource with all the links, details, and service times is a great way for people to quickly forward that to their friends and family.

Update your website

: A given, but having a very clear message up-front on what people can expect on Easter Sunday is critical. Where can they view the sermon? What times? How can they participate?

Include a quick form-fill on your website

: On either your website homepage or in a pop-up banner, allow people an opportunity to 'opt-in' to receive updates or email messages about the Easter sermon. A simple form-fill of their name and contact information is all you need. Doing this will also set you up for success to be able to reach and engage with them after Easter, and invite them to participate and grow their faith when your doors are open again.

Target ads on Facebook or social sites

: If you do have a little budget, consider doing some targeting to people in your local community. You may be able to grow your reach by thousands of people.
2. Give away your entire Easter offering
A lot of people assume churches just care about their money. This assumption is one of the biggest barriers to giving because it makes people wary whenever you talk about money. Giving away your Easter offering is an extravagant gesture, and it invites your congregation to see giving to the church as a way to participate in something greater.
The key is to find the right organizations and causes to support and make sure you explain why your church has chosen them.
Giving away your biggest offering of the year sounds crazy, but some churches have found that it leads to a significant spike in new donations and inspires lasting generosity. In fact, Hosanna Church in Minnesota saw a 66 percent increase in their Easter offering after announcing that they were giving it all away, and it proved to be so worthwhile—and representative of their mission—that they started giving away the offering at other services throughout the year too.
(Read the rest of Hosanna Church's story in our free case study, The Big Easter Giveaway.)
3. Dedicate your offering to a special project
Similarly, dedicating your offering to something specific your church wants to accomplish can motivate people to give. It reassures them that their donation won't buy your church a private jet or simply keep the lights on. They're contributing to something tangible, and afterward they'll be able to say, "I helped make this happen."
Maybe your community is investing in a park or a new public attraction, and your church could make a unique, meaningful contribution to the project. Or a local school desperately needs new playground equipment, but there's no room for it in the budget. Or perhaps your church is trying to renovate your children's ministry or create a new space for your youth group.
In response to an unprecedented time across our nation and around the world, this is a great opportunity for you to consider aligning with an organization in your community that can help provide support to those who have been affected and may need assistance due to COVID-19 impacts. This could be a local food bank, hospital, or creating a fund to directly give to those in your congregation who have lost their jobs due to the pandemic.  
When you can connect giving to something tangible, it helps people feel like their giving matters and makes a difference. 
4. Highlight some recent accomplishments
If you want to establish confidence in your church's ability to faithfully use what people give you, why not share some recent examples of how you've already been faithful? You could share testimonies from people whose lives have been changed through your ministries. You could use videos, pictures, or stories to highlight significant projects you completed in the last year. Or you could talk more broadly about some of the most important work your church is doing right now.
The point is to show people what you're asking them to invest in. You're giving their generosity a specific context and helping them see the potential impact of their donations.
5. Connect giving to the truth about Christ
Giving isn't just some sort of obligation churches impose on believers. It's a response to the gospel. Generosity comes from a mature understanding of our relationship to our resources, and what following Christ entails. Everything we have comes from God, and we're supposed to use it to advance his goals and meet the needs of others.
If you want to inspire people to start giving to your church, help them see why giving isn't just an obligation—it's an opportunity to participate in what God is doing through your church.
Learn more about
The Big Easter Giveaway
Two months before Easter, Hosanna Church made a radical decision to give 100 percent of their Easter offering to charity. They believed it would inspire greater generosity than they'd ever seen on an Easter Sunday. And they were right.

"It would be like Best Buy saying that everything that comes in on Black Friday, we're going to give away," remarked Jennifer Ford, the church's executive director of ministries. "Who does that, right?"
In our free case study, The Big Easter Giveaway, we peel back the curtain to show you how Hosanna pulled it off, why it's still paying dividends today, and how to apply this to your church.
Get your free copy of The Big Easter Giveaway.
Featured Content
You May Also Like