Giving Tuesday 2023: Ideas & Campaign Examples
October 3, 2023

|
Giving Tuesday 2023 marks the 11th anniversary of the worldwide generosity movement. The holiday began as an international attempt to celebrate and motivate generosity, and to counter the commercialism of Black Friday and Cyber Monday. More than 2,500 nonprofits participated in the first year, raising around $10 million, with numbers climbing to close to half a billion dollars in recent years.
Creating a winning Giving Tuesday campaign can often make or break your organization's giving goals for the year, so it's crucial to head into the planning period with a solid strategy. As a church software provider, we've gained a fair bit of experience with Giving Tuesday over the years—so we've taken all our learnings from the past decade to provide you with someGiving Tuesday ideas, tips, and examples that you can use to create a campaign that boosts your ministry this giving season.
In this blog, we'll discuss
1. Choosing a cause to support
2. The type of Giving Tuesday campaign you should launch
3. How to build a Giving Tuesday campaign
4. Our favorite Giving Tuesday ideas
5. A successful Giving Tuesday campaign
6. Planning your Giving Tuesday campaign
Choosing a Cause to Support
The first step to your Giving Tuesday campaign should be to nail down the cause you want to support. This will impact every part of your campaign and any messaging you put out, so once decided, stick with the plan all the way through the campaign.
You should be looking to get donations for a specific purpose; repairs, events, upgrades, etc. However, it's also important to give your community your blessing to donate to other nonprofits and causes that are important to them. Be sure to address each of these questions for potential donors:
Is it okay to give to causes besides the church?
Does this count towards my tithe, or is it above and beyond?
Does the church encourage and support non-profit giving?
Members are already asking these questions and looking to you to provide direction. More clarity equals more willingness to participate.
What Type of Giving Tuesday Campaign(s) Should You Launch?
If you're using an online giving platform, you should have the option to create personalized Giving Tuesday campaigns that really let you drive home your message. Depending on your goals, you should consider using aspects of multiple fundraising campaign types to develop your strategy.
1. Peer-to-peer campaigns: fundraising efforts that are conducted by individuals or small groups of people for a particular cause.
2. Crowdfunding campaigns: similar to peer-to-peer campaigns, but they're typically larger and involve more people. Crowdfunding campaigns typically use online platforms to raise money from numerous donors.
3. Donation website pages: dedicated pages on your website that include information about the cause, and a donation form that donors use to contribute money.
4. Fundraising events: In-person, hybrid, or virtual events that often leverage crowdfunding and donation pages to support them.
How to Build a Giving Tuesday Campaign
Before solidifying your Giving Tuesday strategy, make sure you've considered all the angles.
1. Start Planning Early
The more time and effort you spend planning and communicating your goals, the more involvement and enthusiasm you'll see from your congregation. So start planning early and decide:
What charities and opportunities do you want to focus on?
Who will be the starting point for creating all the assets you need?
What and who do you need to execute and communicate your vision?
Who will be in charge of communicating goals with the congregation?
The better prepared you are, the easier it will be to define and communicate your vision.
2. Set an Ambitious Goal
Without a clear target, people won't give as much. But when you set an objective and an aggressive goal that spurs them to rise to the occasion, they'll be more invested in the outcome.
You can even turn fundraising into a friendly competition. Create teams to "battle it out" to raise the most for different aspects of your cause. As long as you tackle this tastefully, it can be fun for everyone—and raise more donations.
3. Get Your Community Involved
One of the best things about Giving Tuesday is that it appeals to everyone. If you hone in on local issues and causes that your community cares about, it's easy to get them on board with this event, and the benefits will extend beyond simple fundraising:
It helps the community see that you're here for them, and communicates that you care about the same issues they do.
It propels people in your community toward your social media platforms. People rarely unlike Facebook pages—so once someone follows your page to support your Giving Tuesday drive, they're likely in for the long haul.
Create a simple landing page for your Giving Tuesday campaign with a place to capture emails to keep people abreast of how much you've raised. This way, you're growing an email list that you can utilize in the future.
4. Focus on Digital Giving
Online donations are, simply put, the new norm. If you don't have a landing page set up for your Giving Tuesday campaign, or ways for people to give online, it will be challenging to hit your fundraising goals. Must haves include:
A website and/or app for your church
If your church doesn't have either of these, now is the time to create them. Not only will a website or app help grow your church and increase long-term engagement within your congregation, it gives you access to a new world of digital communication tools that you can use for Giving Tuesday and  future fundraising initiatives.
If you already have a church app, use Giving Tuesday as an opportunity to improve engagement. Encourage everyone to download your app, both inside and outside your church. This is a great time to get the entire community to embrace your preferred giving infrastructure and creates yet another touchpoint with your church.
A dedicated Giving Tuesday landing page
You'll need to have a donation link to share with your community. This page should include your goals for Giving Tuesday, how members can support the cause, and a donation form (or other process) for online giving.
An email messaging platform
While you'll also focus on your social media presence, sending emails to your congregation should be part of your Giving Tuesday Strategy. Make sure you're using an email platform that is easy to use, customizable, and offers reporting so you can break down what's working and what's not .
Text messaging, push notifications, and QR codes
Besides email, push notifications and text messaging are two other powerful tools at your disposal. Push notifications have a 60-80% open rate, compared to just 20% for emails. Push notifications are especially effective for Giving Tuesday campaigns, and should be sent-out every 3 or 4 days.
Some folks aren't ready to download a giving app, but they're willing to do a simple text-to-give. This is a significant first step to help people get over the mental hurdles associated with digital giving and discover how simple the process really is.
QR codes are making a comeback as an effortless and contact-free giving option. With Pushpay, the QR code creation process is easy. Each code is tied to a specific URL, and for each giving-specific QR code you generate, you can pre-configure the fund visibility, gift type, and default gift amount. Once you have that single QR code, you can share it on your website, in your app, on social media, in print, and via email.
Our Favorite Giving Tuesday Ideas
There are tons of Giving Tuesday ideas to choose from, but here are some of the more creative ways to engage potential donors.
1. Have your leader(s) make the first gift
This is a simple yet effective strategy. Nothing encourages generosity like seeing generosity in action. Whether it's from the stage, on social media, or through weekly email newsletters, kick off Giving Tuesday donations from the top-down.
2. Initiate a friendly competition
The Enoch Pratt Free Library in Baltimore annually challenges other libraries across the country in a Giving Tuesday fundraising effort they call "The Book Bowl". This event is proof that a little competition can go a long way.
In the year they challenged the Oakland Public Free Library—tied to an upcoming NFL game between the Ravens and Raiders, who played on the Sunday before Giving Tuesday—online donations rose to nearly $40,000 in just three days.
For churches, this concept could take the form of inter-group competition, or a competition with other local churches. Use your imagination, and have fun with it!
3. Have an Incentive
One of the most powerful ways to boost giving is through matching donations. This incentive not only doubles the impact of each individual's contribution, but also encourages more people to participate, knowing their donation will go twice as far.
Another idea might involve lighthearted participation of a pastor or church leader. For instance, if a certain level of giving is matched, they could agree to participate in a dunk tank. You could also hold a special service, concert, or community event if a particular fundraising goal is met.
4. Introduce Challenges
Whether you have the ability to provide an incentive or not, introducing a challenge or two can be a great way to encourage participation. They create a sense of competition, camaraderie, and excitement, making the act of giving even more rewarding.
This could take the form of milestones with small celebrations for wins; perhaps everyone gets donut holes the following Sunday if the community hits their half-way goal.
Or the church could pledge to do something, like a community service project, if the donation goal is met. This could be a food drive, a neighborhood clean-up, or volunteering at a local charity.
5. Show real-time donation progress
For shorter fundraising campaigns, like Giving Tuesday, it's crucial to provide donors with real-time updates on progress. This can be achieved by incorporating a fundraising tracker,  progress bar, or meter on your donation page.
A visible donation tracker will significantly boost the motivation of your fundraisers, provide a sense of instant gratification, and allow donors to witness the real-time impact of their contributions.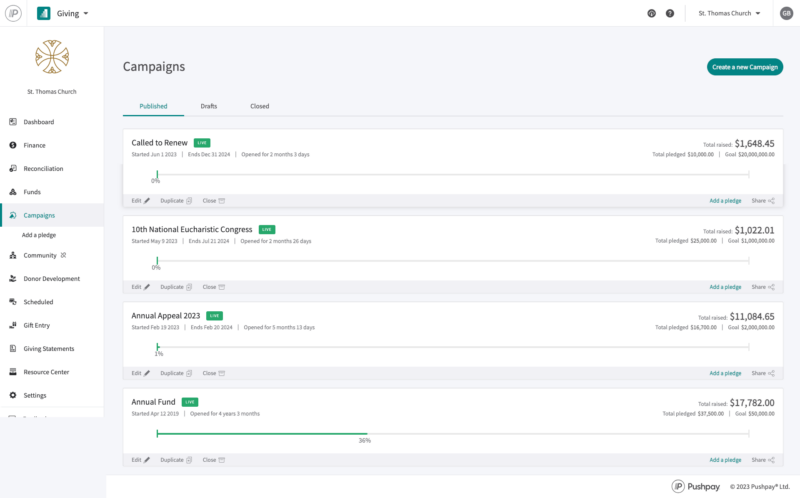 6. Set or increase your default donation options
Maybe your normal giving forms only have an open option for donors, allowing them to give whatever they want. Or maybe you already suggest predetermined amounts.. During your Giving Tuesday drive, you should definitely set default options, and adjust them to be a bit higher than normal. Increasing your default donation options by $5 or $10 could make a big difference.
See It In Action: Giving Tuesday Campaign Raises $35k for New Building

If you're feeling overwhelmed and ready to abandon the idea of a Giving Tuesday campaign altogether—don't! Read one of our favorite Giving Tuesday campaign examples, an inspiring story that shows the power of investing time into strategy development.
When looking to fund The Pax Center, State Street Community Church had a few important guidelines they wanted to follow. They wanted to fund the center with integrity, and without bombarding the community with requests throughout the year. That's why Giving Tuesday  remains the perfect annual fundraiser to ask for those donations.
Back in 2017, as the church headed toward Giving Tuesday, Pastor Nate Loucks wanted to see the church build on the $20,000 donated during the previous year's campaign. The church had recently onboarded Pushpay and gotten their own dedicated church app—and giving had already started to grow after adoption. Incorporating mobile as a part of State Street's Giving Tuesday campaign seemed like an obvious way to take their fundraising efforts to the next level.
To give the initiative the attention it deserved, the church put their Giving Tuesday campaign in its own special spot of their church app. They used mobile notifications to make sure everyone using the app stayed informed on campaign goals, donation progress, and how to give. All their communications, even email, encouraged donors to give through the app.
The result? The church blew past its goal of $25,000 and raised close to $35,000! Even  people from other states pitched in to help fund The Pax Center that year.
The church raised enough money from their Giving Tuesday campaign to support The Pax Center for nearly half a year, providing one hundred community meals and eight weeks of programming for the children's gardening program.
Planning Your Giving Tuesday Campaign
Keeping yourself and your team on a tight timeline can be one of the hardest things about Giving Tuesday. We've provided a rough timeline for executing your campaign once you're done planning.
2 Weeks Before: Get Ready
Update Your Digital Presence
Your first inclination may be to announce your Giving Tuesday campaign from the stage, but there's a step before that. It's important that people can find additional information about your  campaign the moment you've announced it live.
Expect people to take out their phones right after the service or on the car ride home, and search your website and church app for information about your campaign.
Be prepared and make sure your giving platform has a fund designated for the campaign and that Giving Tuesday information is pinned to the home screen of your church website and app until the campaign ends.
In all communications, be sure to highlight three talking points:
1. What your church plans to do with funds raised
2. The various ways people can donate
3. What work your church has accomplished in previous years
Announce It From The Stage
Make your announcement two weeks before,aligning your in-person Giving Tuesday message with what both your website and app says. If you have a staff member that can really get your auditorium excited and laughing, let the initial delivery come from them.
Include Giving Tuesday In Weekly Emails
Don't forget to highlight your established talking points, and always add a link where people can donate directly. Also include contact information for the campaign's point-person just in case anyone has questions that aren't addressed in the email.
Here's a Giving Tuesday example email that you can use as a template to get people informed and excited:
*****
Subject Line: You Can Help Change Lives Across The World
Body:
Hi there,
[Our church name] is so honored to partner with [Organization Name] for a second year to help with the clean water crisis in Southern Mexico. Currently, 800,000 people have limited access to clean water and mortality rates are rising. Last year we dug 81 wells and provided purification systems for 200 families, but there's still a lot of work to get done.
That's why this November [date] on Giving Tuesday our two campuses are coming together to raise $200,000 to guarantee fresh water for these families long-term. You can donate today until Wednesday, November 28th. 
Donate using the blue envelopes given out at weekend services, using text-to-give, our church app, or website. Or simply use the link below.
Donate today (link to your giving platform)
Tell your friends! Forward this email and share it on Facebook and Twitter.
PS: Every cent matters and every person talking about the Mexican water crisis is an agent of change in their community. Donate here (link to your giving platform).
*****
Facebook or Twitter may not be the best places to type out a transcribed sermon on generosity, but it's perfect for sharing a worship video and your Giving Tuesday announcement. Schedule posts that highlight your talking points and how much you appreciate your community's generosity.
Make posts short, easily digestible, and honest—and don't forget to add a few photos from your campus to make things visually engaging!
Here are a few sample posts:
Flint, Michigan is $X away from clean water. Our $200,000 goal can help 800 families get access to clean water long-term. Donate today #GivingTuesday (your link to donate)
Help us plant 500 vegetable gardens in Haiti this Christmas. Donate today #GivingTuesday (your link to donate)
Last year we dug 85 wells in Burundi. This year, we're aiming for 200 wells in Liberia. Donate today—every cent counts #GivingTuesday (your link to donate)
Update Your Church Calendars
Make sure you add Giving Tuesday as an event to all your calendars. Be sure it's on all physical bulletins in the church building, your website, and your app calendars. You can also  message your small group leaders, walking them through Giving Tuesday talking points they could bring up during their meetings.
10 Days Before: Send Reminders
Consistent Reminders Are Key
As with any successful fundraising campaign, you must strike a balance of reminding people to participate, without bombarding them with a tsunami of messages. Text and/or push notifications through your church app are helpful here, as they're gentle nudges to remind your community about Giving Tuesday.
Be sure to use message notifications early on Black Friday to remind people about your Giving Tuesday campaign. People will still go out shopping, but this small reminder can help shift people's holiday thinking from spending on expensive items, and more toward what their generosity can help accomplish in the community.
Here are a few push notification templates you can use for inspiration:
Get your generosity on #GivingTuesday2023! Help the (our campus name) campus serve the (our city name) Food Bank well. Tap to donate.
Looking for a way to give back this holiday season? Tap to donate to #GivingTuesday.
"$5 feeds a child for a day. (Our Church Name)'s goal is $X—Ready to make a difference? Donate today.
2 Days Before: Remind Again
One More Announcement
Be sure to speak about Giving Tuesday at your weekend services after Black Friday. Talk through the money raised to date, the campaign's goal, and other ways members can participate—having your congregation share a donation link could get your local community engaged in that last-minute push toward your goal!
The Day Of: Update Frequently
Keep everyone in the loop
People are going to be interested in how Giving Tuesday goals are progressing. Make sure to let them know throughout the day, not just at the end.
At the bare minimum you should send out notifications/messages (across all platforms) with:
An encouraging morning message
A midday update on funds raised
Total amount raised at the end of the day
The Day After: Follow-Up
Thank Donors and Volunteers
Let your congregants know how much their donation means and what their funds will accomplish.
A few digital forms of communication come in handy here. On Wednesday, create a message on all your church's social platforms thanking volunteers and donors. Use the same language for a push notification and an email you can send a few days later. In case a few late campaign donations come in after Giving Tuesday, a delayed email send will include the final giving total after all donations were counted.
People want to give—help them
The beautiful thing about Giving Tuesday is how it demonstrates the philanthropic nature of most people. They're generous, and they're looking for an opportunity to give. This annual event kindles your congregation's giving spirit, so direct their energy and passion toward something that makes the most sense for your community. By being intentional about choosing your cause, you can encourage generosity in a way that makes everyone feel content and confident about their gifts!
We hope this year's fundraising campaign is a huge success, and that some of these ideas help you plan a Giving Tuesday campaign to remember.
For more information about how a custom church app, online giving, and other digital solutions can help your church encourage generosity and participation this giving season, talk to an expert today.
Tour our
ChMS Product
A seamless, engaging, people-focused product that grows with your congregation.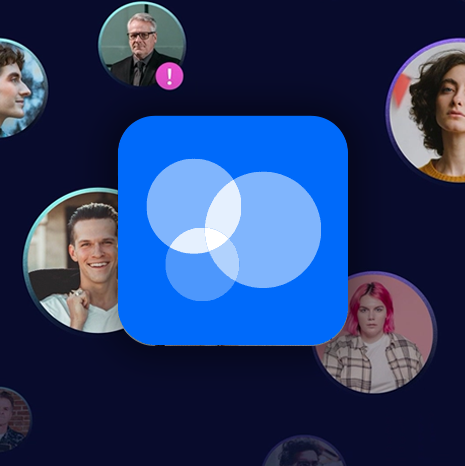 Featured Content
You May Also Like