How To Set Up Text to Give in Church
Updated June 8, 2023

|
For churches, online giving isn't a luxury anymore. The vast majority of Americans now have smartphones, and almost 80 percent of people shop online. Digital transactions offer an unparalleled level of convenience, and it's the type of experience people simply expect to have in today's mobile world—whether they're making a purchase or making a donation. Offering a solution that allows your congregants to text in church to give just makes sense.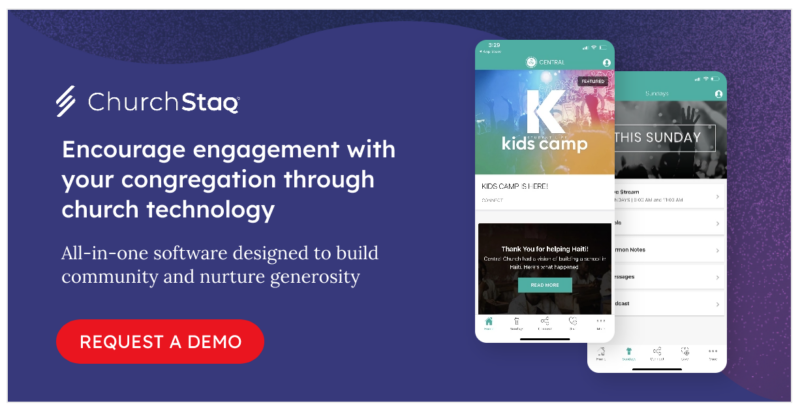 Implementing Text Giving for Churches
Churches aren't simply asking, "Should we offer online giving?" They're asking, "How should we offer online giving?"
When it comes to digital giving, your church has four main options:
Webforms have been around since pretty much the dawn of the internet, and some of them haven't changed much.

Giving kiosks came onto the scene around 2003 to provide a physical location to give digitally. They're still widely in use today, but they're best used as a supplement to another online giving solution.
More than a decade ago, text-to-give revolutionized online giving and challenged churches and charities alike to harness the power of mobile devices.
What's the Big Deal about Text-to-Give in Church?
Text-to-give provides a unique tithing experience. Simply by texting a phone number, people can donate straight to your church, or even a specific ministry fund. They can specify the amount they want to give, and they receive a confirmation text message within seconds. 
Pushpay church texting giving services are fast, easy, mobile,  and incredibly popular. Here's why.
1.

Text-to-give doesn't depend upon cash or checks
This is probably the best reason for churches to consider text-to-give. Digital currency is well on its way to making cash and checks obsolete. In a recent survey of bank and credit union customers, four out of five people said that they no longer carried a checkbook. The demographic that had the largest percentage of people still carrying checkbooks was over 65.
Cash doesn't fare much better as a payment source. In a 2014 Bankrate.com report, it was found that at any given time…
8 in 10 people carry less than $50 cash

Nearly 50% carry less than $20

9% carry no cash at all

Only 7% carry more than $100
Expecting that all of your giving and fundraising will come in traditional forms is misguided. The internet revolutionized the way we handled our finances, and the rise of mobile computing has only solidified this revolution.
And on top of all that, seven out of ten Americans have at least one credit card.
Text giving isn't the only alternative to cash and checks, though. This same argument applies to any other online giving solution.
The Pushpay giving platform offers givers a 10-second text donation experience by allowing  church supporters to text a number and be sent a link to give. Even first-time donors can enjoy an easy, secure giving experience at your church through the Pushpay platform, and your church will see at least a 5% increase in donation amount within the first year. To learn more about how Pushpay can increase generosity and participation at your church, talk to an expert today.
2.

Text giving is more secure than passing the plate
One of the big problems with churches exchanging physical currency is that it comes with the responsibility of handling, counting, storing, securing, and depositing checks and cash. It only takes a single mistake in any of these areas to create a huge problem.
Many churches have stories of break-ins, lost deposits, dishonest staff members, or any number of problems that arise from dealing with currency. Church text to give apps and solutions mitigate many of these potential problems (not to mention the headaches for treasurers in counting currency).
But again, the positive here lies in text giving as a digital substitute for traditional giving and not necessarily in any aspect specific to text giving. Text-to-give is a solution to currency hassles.
3.

Text-to-give is more convenient than traditional giving
Obviously, text giving is more convenient simply because church members don't have to carry cash and checks whenever they go to church—but that's not the only convenience. The mechanics of text giving are simple, too.
Text-to-give is as simple as texting a dollar amount to a phone number. After a little back and forth, the donation is complete. Most text giving providers allow church members to set up recurring giving, which automates their donations. (Most modern online giving solutions do this.)
Mobility and convenience set text giving apart from earlier models of online giving—but text-to-give isn't the only mobile giving solution anymore, either.
4.

Text-to-give is one of the best mobile giving solutions for churches
Especially in the early days of online giving, webforms were clunky and designed for people on computers. To use one on a mobile device, you had to pinch and zoom and squint and scroll to navigate the form.
(Sadly, this is still the reality on a lot of church websites.)
And while giving kiosks streamlined the donation process, people still had to physically be at a kiosk to use it. That means online giving only happens when your church doors are open.
Computers and kiosks are stationary. Today's world is mobile. And people now spend more time navigating the internet on their phones than they do on computers.
Text-to-give was the first online giving solution that focused on mobile devices and text message donations. Nobody had to go to a website or get in line: They just texted a number, and the donation was added to their phone bill.
If your church is thinking about using text-to-give, here's a quick primer on what made text giving such a groundbreaking solution.
Charities First Used Text-to-Give for Disaster Relief
For more than a decade, charities have used SMS texting to gather relief funds for various crises.
Text-to-give raised $200,000 in 2004 after the Indian Ocean tsunami, and $400,000 in the wake of Hurricane Katrina. After nearly three million people were killed, injured, or homeless in a 2010 Haitian earthquake, the Red Cross raised
via text messaging: Pretty exceptional when you consider that it was raised in $10 increments.
In its earliest stages, cell providers directly facilitated text giving, so donations didn't wind up in a charity's account until after donors paid their phone bills. This created a significant delay while charities waited to receive donations and find out how much had truly been given. This, coupled with the limited donation dollar amounts, made text giving less than ideal.
However, these problems were offset by some big wins:
A vast majority of Americans had cell phones (roughly 80 percent)

It was easy and quick: donors received a response minutes, if not seconds, after texting their donation

It was perfect for impulse giving: Potential donors could give immediately and wouldn't forget or change their mind

It made sense to technology-reliant Millennials

The cost to the charity for the transaction fees was negligible
Compared to the alternatives people had at the time, text-to-give was incredibly convenient. The public also closely followed these disasters in the news, so there was already a lot of awareness surrounding relief efforts. But that's not all that these charities had going for them.
The Red Cross' wildly successful text giving campaign heavily relied on influencers. They partnered with celebrities, including former First Lady Barbara Bush, and the NFL promoted the text-to-give fundraiser during the playoffs. At the campaign's peak, a Red Cross spokesperson says donations were "coming in at the rate of $500,000 an hour."
Not every charity can partner with massive brands or well-known influencers, but the initial success of charities like the Red Cross led to the widespread adoption of text-to-give. Now, modern text-to-give platforms have taken the reins from cell providers, so they can process donations faster and at a lower cost.
Meanwhile, churches were slow to embrace this new text donation method.
Text-to-Give and the Church
Passing the plate has a familiar and tangible quality that gives it the feeling of a sacrament, even though the Bible doesn't say we have to tithe that way. This could be part of the reason why even as late as 2015, only 42 percent of churches offered any type of online giving.
When text-to-give was first introduced as a digital giving solution, there was some question about whether churches would be able to make the jump to digital giving from the traditional webforms they were used to. The criticism of text giving was that it would be perceived to be impersonal. Any sense of the sacredness of giving would be lost.
What detractors hadn't considered was how comfortable people were becoming with texting as a method of communication. It wasn't too long before texting replaced phone calls as the preferred method to interact with friends, relatives, and significant others. By the time that text-to-give campaigns showed up, people were already thinking of texting as an intimate and personal method of communicating. The transition toward churches using text giving seemed completely natural.
Now, text-to-give is one of the main potential digital-giving solutions churches consider. I bet you never thought you'd be encouraging your congregants to text in church! If you're wondering if text giving is the right choice for your church, here are some considerations:
Text-to-Give May Not Be the Best Option Anymore
The same arguments churches make for text giving could be made for responsive web forms or a mobile app. The reality is that while text-to-give was a groundbreaking solution that bridged the gap between mobile devices and online giving, churches have additional options today.
How a
Mobile Giving App
Provides More Than Text-to Give for Churches
As great as text giving might be, there are other tools that provide the best digital giving solution. Case in point the mobile giving app. When your giving is bundled with a church's app, it becomes part of the church's entire engagement strategy.
Mobile giving includes all of the perks of text giving without the liabilities. You're free from the dependence on cash and checks, and you don't have to worry so much about the security issues associated with currency. You also have a tool that's even more convenient. You can do it anytime and anywhere, but you don't have to remember numbers and codes.
Here are some advantages to using a mobile app:
1.

People are used to making transactions with mobile apps
People do much of their shopping with branded apps. They even use apps to order their coffee. (Nearly one-third of Starbucks' revenue comes from their mobile app.) When someone makes a purchase through the eBay or Amazon app, they know that they're dealing with a reputable company.
People also use apps for banking, managing their investments, and even paying their friends.
You don't have to get your congregation used to the idea of using an app to make a financial gift. Sure, text-to-give is something people have probably heard of, but sending money through an app is something people already do all the time.
Church apps let you provide a branded experience that gives people the confidence that they're interacting with your church. The app looks and feels like your church, and they don't have to remember a number every time they want to give.
Mobile apps have far more versatility, and our apps are designed to optimize the giving experience. Text giving is still pretty easy, but mobile giving is even easier. It's getting to the point where you'll have to retrain people to use text-to-give because they aren't used to it anymore. Next, you'll be telling them how to look up your number in the phone book! (Not to be confused with your text-to-give number, of course.)
2.

Mobile apps are more secure
Remember how easy it could be for a child to accidentally send a donation text from your phone? Accidentally making a mobile payment isn't as likely. Your child would have to open the app, navigate to the giving portion of the app, and then actually give. It's a simple process, but it's not easy to do unintentionally.
You can also make that scenario next to impossible by requiring a secure login, such as a fingerprint.
3.

Mobile giving encourages greater generosity
Churches we have worked with that made the jump from text to mobile giving have also experienced a jump in their giving. A lot of churches know they need a digital option for giving, and they think they're making a huge step forward with text giving.
4.

Church apps can do more than giving
Imagine if the number people used for text-to-give was the same number people used to communicate with your church for everything else. It'd be a number they regularly interacted with and associated with your church, and the next time they wanted to give, interacting with that number would be a familiar experience.
That's what mobile giving can be like with a church app. It's a clean, simple giving experience, but it's also a lot more than that. It's where people go to read your blog, watch to your sermons, listen to your podcast, register for events, and find information about your church.
If you're serious about having an online presence—not just accommodating your mobile members—a church app is definitely a better long-term giving solution.
DOWNLOAD THE MAKE YOUR MARK EBOOK
Thousands of Churches Use Mobile Giving Apps
More than 7,000 churches choose Pushpay to provide their congregation with the best online giving experience.
Real Life Church had about 750 members when they started using Pushpay. Like many churches, Real Life had piecemealed together their online giving experience—they had online giving forms, kiosks, and text-to-give.
"We had, like, twelve different ways to give, and it was kind of cumbersome," says Pastor Steve Murray. Switching to Pushpay streamlined their mobile giving experience.
"Sunday morning is no longer the main place that people give. We're starting to see people giving while they're on vacation, people giving on a Sunday that they're not at church, people giving from their seat before the buckets can get around."
Pastor Steve Murray
Get a Free Demo of Our Digital Giving Tools 
If you're interested in digital giving solutions, it's time to consider your own church app experience. Not only is it another online giving solution, but it's also the next-level way to engage the 21st-century church. 
Pushpay offers a world-class digital giving solution that not only helps streamline financial admin processes but increases recurring giving and community engagement. Learn how Pushpay can help you drive giving and participation in the digital age today. Talk to an expert.
Featured Content
You May Also Like