How to Recognize Donors at Your Church
June 20, 2019

|
We know thanking donors is important, but how do you do it correctly? How often? What should you really say to your givers? What shouldn't you say?
Saying thank you in any other context but when recognizing givers, church's should have a strategy in place, not just send out thank you notes after big campaigns or holiday drives. More so, saying thank you should be done well in order to recognize and appreciate the sacrifices your community members make to contribute to your church's mission.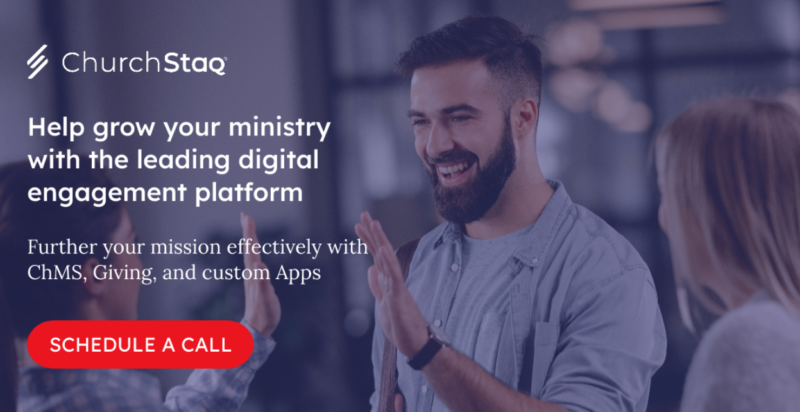 Here are five simple tips on how to recognize your donors appropriately.
1. Timely
Time is always of the essence, and to truly make someone feel recognized you need to acknowledge their contribution as soon as possible after a gift. Sit down with your finance, communications, and operations staff if possible and identify ways to automate the thank you process and build in timeliness.
Maybe it means customizing in-app thank you messages after donations or having thank you cards prepared before the end of a big fundraising campaign. Whatever strategy you decide on, make sure days and weeks don't pass before you thank your givers.
2. Personalization
We've all gotten those thank you cards in the mail from the charity that you gave a small gift to 10 years ago in your great aunt's name. Yet today you're getting postcards addressed to "On Behalf of Great Aunt Virginia."
This is not personal. And, quite frankly, can feel out of touch.
That's why personalization is critical when thanking donors. Personalization goes beyond addressing someone by the correct name (though that is a great place to start) but includes topics and information that the giver cares about. Even if you don't know much about the person donating, you can glean insight from what fund they donated to or even what articles they perused on your church's app.
Writing a thank you email to send out soon? Is it personalized? Is it going out to the right people? Is your subject line compelling? If you don't answer "yes" to all of these, you might be about to send a bad email. Download the 7 Deadly Sends of Church Email Marketing today to discover the seven mistakes most churches make when sending emails, and how to avoid them.

3. Connect to the cause
Thank yous are more meaningful when there is an emotional connection involved. When people feel connected to the cause through their donation they are more likely to stay connected to your organization. By adding personal touches such as photos from the mission trips, stats from the food bank (your donation helped feed 10 families this week!) or cards signed by the children whose tuition you paid, you help show the giver how they are helping to impact lives.
4. Pick the right medium
There are lots of ways to communicate with givers these days. Make sure you have a strategy for each of your mediums.
In-app
With thank you by fund, you're able to instantly thank givers who give to a specific fund and customize their thank you message to reflect the good work your organization is doing. Impact cards are another great way to show your community your gratitude. This is an easy way to communicate weekly stats about a project that givers made possible.
Online
Many organizations opt to send a personalized email message to their givers since it is easy to automate and even easier to personalize. Including a video or a link to a video that tells the story of how the giver's generosity impacted your organization is a great way to make a powerful emotional impact. With emails you can also direct a giver to your website to learn more about other causes they can support through you.
In addition to a personal email, you can include givers names in a weekly bulletin or newsletter that calls out and thanks them for their generosity. However, make sure you get permission from the giver before publicly thanking them. Not everyone is comfortable with attention being called to their giving.
Email receipts and annual giving statements also provide a great opportunity to thank givers again. While these communications are primarily used for tax purposes, you can maximize the impact by including a personalized thank you note as well.
Offline
Finally, hand-addressed envelopes and personal phone calls are the most tried and true way to make a profound impact on a giver. These high touch communication mediums make people feel very special. Time is the most limited resource these days, so for a board member or a leadership team member to make a phone call or sign a letter shows how much they care. These small touches, while they may feel like an administrative hassle, can help strengthen community and foster generosity for years to come.
5. Set up the right thanking levels
While all gifts come from the heart, not all gifts are of equal amount or impact. It's important to have a strategy in place for how you will thank givers.
Not only do you want to think of gifts in terms of amount (low, medium, high), but also be sure to consider if the giver has been generous before. Consider structuring your thanking strategy into two sections.
First, divide your community by the frequency of their gifts. You may have categories such as:
Non-giver

First-time giver

Semi-regular giver

Recurring giver

Champion giver
Then within each of those categories divide them into subsets of small gifts, medium gifts, and large gifts. By segmenting your community you will have a better handle on how to start with your thanking strategy.
It's important to make these distinctions because a first-time giver who gives a small amount should be thanked very differently than a recurring giver who gives the same amount. How you thank these members could drastically change how engaged these people are in the future. When figuring out your thanking strategy for each tier, consider how you want your community to feel when they get thanked through all of their stages of involvement.  
While thanking strategy depends on the organization, the overall goal is to move a community member from a non-giver through all of the stages to eventually be a champion giver. In the nonprofit world, this is called "donor development". While the majority of your community may never be champion givers, understanding how thanking people can affect givers in their various stages of interactions with your organization.
No matter what you do, make sure you have a sustainable system in place to thank your donors. Even if you have nothing today, implementing an email, a text, or even a letter will make a huge difference to givers. By making your community feel involved, you will foster both giving and engagement in the future.
Most churches send thank you emails, whether after big events to supplement in-app messages or continuously through the year. But not all thank you emails are created equal. Show your appreciation without making mistakes that distract or downplay your gratitude. Download the 7 Deadly Sends of Church Email Marketing to discover how your church can send better, more compelling emails to your community.