The Best Catholic Software For Effective Crisis Response
July 24, 2023

|
As a parish leader, you know many of the faces in your community. You may have counseled a married couple who just moved into the neighborhood, baptized their children, or brought the Eucharist to a sick member who lives two blocks away. So when a crisis hits your area, people will likely turn to a place they trust—your parish.
In this critical moment, every minute counts, so it's important to have a plan in place to manage it effectively. Crisis management involves identifying potential risks, preparing response strategies, and implementing them quickly and efficiently. The goal is to minimize the impact of the crisis on people and to get back to normal as soon as possible. With the right tools, resources, and mindset, your parish can navigate a crisis successfully and emerge stronger on the other side. In this blog, we'll talk about key strategies for crisis management and explore the best Catholic software to empower leaders like you to work efficiently and effectively in disaster situations.
Prioritize Preparation
The first step in crisis management is preparation. Adopting the Boy Scout mantra to always be prepared and gathering your parish leaders together to identify the key essentials will be important to your crisis plan. By taking care of the details ahead of time, you can respond more efficiently when a crisis occurs because the work you do or don't do today will be magnified in a crisis.
Your plan should include the following:
Set up a task force or crisis management team of experts.
Establish a chain of command and the main point of contact for communication.
Maintain a list of emergency contact information for staff and ministry leaders to reference.
Stock up on first aid supplies and AED equipment.
Create an emergency fund for disasters.
The Federal Emergency Management Agency (FEMA) in recent years invested in training resources and grants to help faith-based organizations be more prepared for crises. The growing partnership ensures that houses of worship are supported so that they can be ready for their community.
State of
Church Tech
Discover what church leaders like you are saying about their priorities, concerns, and expectations with church technology, today and for the future.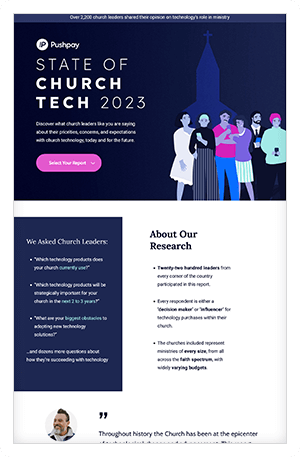 Comprehensive church management software is another form of support that crisis teams can rely on to execute their plan in a crisis. The best Catholic church management software will equip your leaders to communicate in real-time, quickly execute groups of volunteers, and inspire generosity for relief efforts.
Centralized Communication
In times of crisis, centralized communication is vital to ensure that the right information is disseminated to the right people in a timely and effective manner. When communication is decentralized, there is a risk of misinformation, confusion, and chaos. But when there's a centralized method, there is a clear channel for communication that can be easily accessed by those who need it, providing clarity and direction during a crisis. This can help to minimize the impact of the crisis and ensure that everyone is on the same page, working towards a common goal.
Pushpay's Solutions:
ParishStaq was built with your leaders and parishioners' needs in mind. The Groups feature allows leaders to push out requests for volunteers and organize support through the LEAD App. Parishioners receive those notifications through the custom app and respond in real-time. At the diocese level, leaders can use Mail Merge to push out requests to designated leaders at the parish level. As the crisis evolves, volunteers also have the ability to swap assignments in the custom app if necessary.
Empower Generosity Before, During, and After
During times of crisis, people are often looking for ways to help those in need. However, if the process of giving is complicated or confusing, it can deter individuals from donating altogether. That is why having a user-friendly giving experience is so important from preparation to the aftermath of a crisis.
Before a crisis, set up an emergency fund and create a schedule for a second collection each month. Remind parishioners that planning can only help you better serve your community.
During a crisis, a streamlined giving process that's quickly accessible for those who want to help is critical. Have a discussion with your communications team about what this process should look like. Who will be responsible for creating and posting a giving link? How will you promote it? Who will manage fund distribution? Walk through a plan so that your financial support can quickly make it to the people who need it.
After a crisis, prioritize transparency and communication regarding the impact of donations. It will encourage further support and trust in the giving process for any other efforts in the future.
Pushpay's Solutions:
A user-friendly giving experience ensures that those who want to make a difference are able to do so efficiently and effectively. Through Pushpay, parishes can create a unique QR code generator so donors can quickly access your giving page. Plus, the recurring giving feature helps donors follow through on their commitment, while automations ensure that donors receive a thank you for their generosity.
Ensuring Spiritual Care
Crisis situations often challenge beliefs and values, and people need hope amid chaos and confusion. Spiritual care provides a sense of comfort, connection, and meaning to those experiencing these emotions. It allows people to tap into their inner strengths and find hope in something greater than themselves. Make spiritual care a part of your crisis plan. Priests can offer individuals solace, peace, and a renewed sense of purpose in the sacraments, prayers, and the Word of God, all of which are vital for recovery and healing.
Pushpay's Solutions:
With Pushpay, it's easy for priests to administer spiritual care while on the go. The LEAD App gives them access to parishioner profiles, sacraments, and information they need to minister effectively. While parishioners can access the custom app to livestream Masses, recorded homilies, parish news, and Groups that keep them connected to your parish.
Supporting Your Community Together
Your primary goal in this process is to be prepared so that those who come to you in their greatest time of need in a crisis are nurtured, supported, and given the gift of hope. ParishStaq streamlines your operations and empowers your leaders to respond effectively when crisis strikes. For more resources, visit the crisis resource library.
Featured Content
You May Also Like