4 Church Challenges That Tech Can Solve
June 18, 2021

|
In 1 Corinthians 10:13, the Bible assures us that "God is faithful, and he will not let you be tested beyond your strength but with your testing he will also provide the way out so that you may be able to endure it."
And yet, we know there are days when you and your staff may fear you're not up to the task. Sometimes, our humanness gets the best of us, and seeing our way clear of the challenges that come with shepherding a church can prove difficult. But first things first: You're not alone. From blog writer to pastor, medical doctor to Sunday school teacher, we all face frustration and at times, even deep-seated fear that the hurdle may be too high. And that's ok. It's what you do next that matters.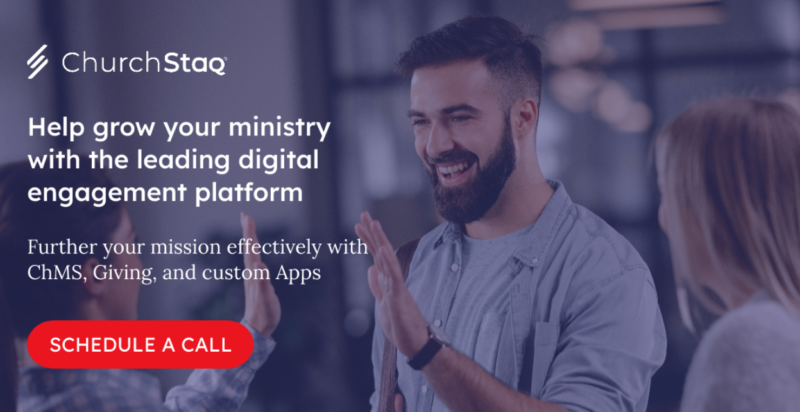 Today, we have tech to help. So let's talk about four of the top problems churches are facing today and what tech can do to not only address the issues, but help you get beyond the roadblocks and back on the path to doing God's work to the utmost of your ability.
Churchgoers falling below 50%
"Americans' membership in houses of worship continued to decline last year, dropping below 50% for the first time in Gallup's eight-decade trend." While the drop in membership can be seen across all demographics, the majority is made up of millennials. The theories as to why this particular group is not engaging in religion are many–and, possibly, not even needed. You know millennials aren't attending your church. What can you do about it? Full stop.
How about taking a look at your digital discipleship offerings? These are your online efforts to connect, disciple, and care for your parishioners, through blogs, online services, giving apps, videos, and social media. You know millennials operate in a tech-heavy world, so meet them where they're at. Putting a digital strategy in place will help you to not only reach millennials in a way that is comfortable and familiar to them, but it also allows you to identify gaps in your plan and what's working for your people.
Bonus? A thoughtful digital discipleship program can benefit everyone. Just because someone's not participating in the latest TikTok dance challenge doesn't mean they're unable to use digital tools. Yes, technology comes slower to the older. So what. Don't see this as a blocker–use it to deepen your connection with your people and the connections they've built with fellow parishioners. Digital tools can bring people together in a way that we haven't seen before. Take advantage of that.
Staff Burnout
A study done by the Families and Work Institute "suggests that employers should be creating work environments that support employees and help them manage the many conflicting issues and pressures in their lives." Let's be honest. If one person knew how to manage the "conflicting issues and pressures" of life, she'd be a very, very rich woman. No one has all the answers. But a great place to start for your staff is addressing administrative friction.
What kind of ChMS are you working with? And if you don't know what ChMS is, you're not the only one. Church management software is specifically designed to help churches run their church–a set of tools used to automate, organize, track, and do much, much more. From worship planning to attendance to event planning, church technology can help streamline many church processes. Some churches don't use a ChMS at all, relying instead on emails, excel spreadsheets, and other more rudimentary means to manage all the moving pieces. Others have a ChMS in place, but it's been augmented with tools that might not properly communicate with the system, so duct-tape, bailing wire, and lots of lost time go into making this "process" work.
There's a third option. One that saves your people time and effort, so they're able to focus on the work they're meant to be doing. A full ChMS suite that seamlessly integrates tools, and generates the information you need in order to not only be sure your church is thriving, but growing, and provides your people with an intuitive all-in-one alternative that they actually want to use.
Technofear
Would Jesus use technology? Type that into Google and you'll receive roughly
If we're meant to go out into the world and bring as many people to Christ as possible, can you think of a better way to do that than utilizing the tech resources currently at our disposal? Some might even say Jesus was the ultimate crowdsourcer. I'd listen to His podcast. But all of this doesn't erase the real fear some of your parishioners might have around technology.
What's a pastor to do? Well, first, have a heart-to-heart with your people. Explain why you're thinking about introducing new tech and how it's going to make their church experience better. Also, don't gloss over everything that goes into establishing a new tool in the church's current mode of operating. The good. And the bad. Be transparent as possible. But before that, make sure you've partnered with a company that's going to make your migration process and on-going support a source of pleasure, not pain.
Even better? Find a company that "you won't just hear from when something is wrong. One that contacts you regularly to compare the growth of your mobile engagement with the goals you set. Together you'll look at adjustments that'll help you grow even more. A company that will do what it can to ensure you're getting the fullest value possible out of the investment in your app."
Encouraging Generosity
A new State of the Plate poll involving more than 1,000 churches across all 50 states shows that more than six out of 10 churches have seen a decline in offerings since the coronavirus outbreak began. You don't have to think very hard to come up with reasons why, in today's world, it can be hard for your people to give generously. Pandemic. Record unemployment. Online security concerns. The list goes on. This doesn't mean parishioners won't give, but you'll need to evaluate your current strategy behind encouraging people to give and likely rework it to better take advantage of the resources available to you.
In addition to these helpful suggestions, consider incorporating some giving tools. From website giving forms and text-to-give, mobile giving apps and giving kiosks, we've never had so many options to make giving generously that much easier. And the best online giving platforms integrate with your accounting and church management software. So you can connect your giving solution with the tools you're already using to manage your church community. Integrationing the right tools allows data to be shared seamlessly so that you have the information you need in all the right places.
If this makes sense, we'd love to chat about how we could help. Contact one of our experts today.