The Ultimate Guide for Managing Church Volunteers
August 5, 2021

|
It's no secret that volunteers play a critical role in a growing church. You'll never have enough staff to fulfill your ministry vision on your own. And if you do, your vision might be too small. Of course, it takes time to recruit, empower, and celebrate church volunteers while also helping them to flourish in their roles.
Increasing involvement is one of the most important things you can do for your church. Growing churches almost always have a real spirit of volunteerism where people are excited to jump in and donate their time, talents, and resources. If you want to grow your church, you'll also need to grow a strong volunteer ministry.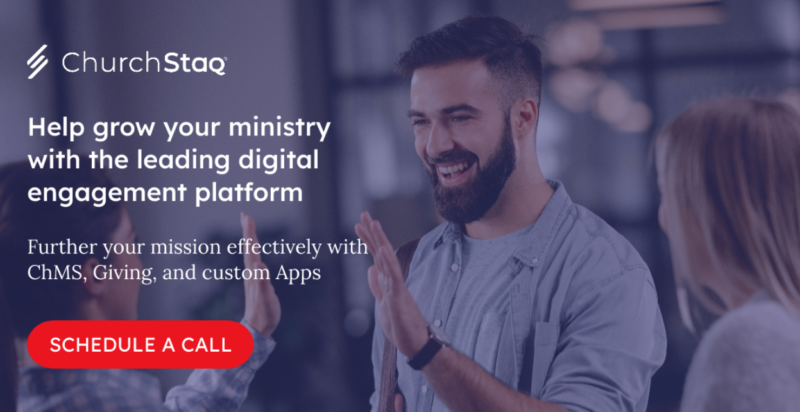 In this post, we'll address:
Before You Recruit, Prepare
There are so many moving pieces that go into effectively managing a church that it's easy for volunteer development to fall through the cracks. This means that when you do need a volunteer, you end up going to the people you know will deliver, or you grab someone randomly and throw them into the role—which may not always have a happy ending.
If you want to up your volunteer game, preparation is key.
1. KNOW WHAT CHURCH VOLUNTEERS YOU NEED
Every ministry needs to have goals for growth, including future volunteer positions. In fact, one of the key goals for any church-ministry leader is figuring out ways to include more people. If someone comes to you looking for stewardship opportunities, it's ideal if you're already prepared with an idea of areas they can jump into.
2. PRIORITIZE AVAILABLE CHURCH VOLUNTEER POSITIONS
It's important for your church leadership to look at all potential positions and rank them by their requirements:
Skills
Strengths
Spiritual maturity
This will help narrow down who to talk to when you need a volunteer, and it will also help you place people that want to get more involved. For instance, you would probably require different levels of spiritual maturity for leading worship than you would for greeting.
Or someone who's spiritually mature but lacks leadership skills may be a wonderful mentor, but the right fit to lead home groups.
3. CREATE A CHURCH VOLUNTEER RECRUITMENT SYSTEM
You need a system that helps you find the people you need and take care of the people who come to you looking to get involved.
A volunteer management system can help you marry essential roles with the right people to fill them – keeping track of history and even suggesting the best fit, which is a huge time and stress savings when a need arises.
Aligning your team is key and Pushpay has designed volunteer management software to simplify the process of volunteer recruitment and engagement. This allows you to accomplish more in less time while giving you the means to quickly organize your volunteers to serve and communicate with them.
The ability to integrate with the rest of your software–eliminating data silos and the need to keep things in sync–our volunteer management system helps you answer the following questions:
IF SOMEONE WANTS TO VOLUNTEER, WHERE SHOULD THEY GO?
Put a person in charge of getting people plugged in. If two church members are having coffee and one mentions that they wish they could be more involved, the second person should know exactly who to connect them with–your volunteer leaders.
Our software provides them with tools in the Schedules feature that will help on board and train your volunteers.
HOW WILL YOU HELP PEOPLE DISCOVER THEIR STRENGTHS?
There are some wonderful spiritual-gift inventories and strength-finding assessments. Try working them into your membership classes. And when an opportunity comes up, you'll instantly have an idea of who will be a perfect fit.
Also, Pushpay's ChMS allows you to keep an eye on your people's engagement. This will give you an understanding of what's resonating with each congregant based on critical performance metrics and insights. So you'll be able to provide them with opportunities based on their interests.
4. DEFINE THE VOLUNTEER'S COMMITMENT
This is one of the areas that churches struggle with the most, and, when handled poorly, can really burn people out. Whether you invite them or they enlist, volunteers need to know what the expectations are.
It's vital to understand who is serving in your church, and our Volunteer Schedule feature is a great way to accomplish this. It's also important to know if your church volunteers are showing up and maintaining their serving commitments.
You should be able to tell a volunteer what is expected of them, how long they're scheduled to serve, and what success looks like. Lack of clarity in any of these areas sets them up for failure.
5 Easy Tactics to Recruit Members to Serve
1. EMPHASIZE SERVICE IN MEMBERSHIP CLASSES
A lot of church membership classes spend most of their time discussing policy and doctrinal beliefs. And while those are really important, it's critical that you take this opportunity to emphasize what it means to be a member of your community. What can these new members expect from others in your community of faith, and what do you expect of them?
When the relationship begins with the understanding that a new congregant is joining a family, it's a lot easier to ask them to get involved in the future.
2. COMMUNICATE SERVICE OPPORTUNITIES REGULARLY
Folks in your church shouldn't have to work hard to see volunteer opportunities. They should be shared everywhere:
Weekly bulletins
Pre-service slides
Social media
Small groups
Church website
Church app
Our Schedules feature allows volunteers to sign up for open positions, whether you're trying to fill empty spots as an event approaches or scheduling well in advance.
As often as possible, include the commitments tied to the service opportunity. If someone decides to help,  then finds out it requires more hours than they were led to believe, it can have a negative impact on their willingness to serve in the future.
3. SAVE THE BEST JOBS FOR NEW VOLUNTEERS
When your staff is putting together volunteer projects, make sure that they identify and set aside some of the most meaningful, simple, or fun opportunities for first or second-time volunteers. These should be used as baby steps to help people discover the joy of serving.
Often, tasks that are the most fun are handled by staff members, and the repetitive, tedious jobs are given to volunteers. But if you flip that dynamic on its head, you're going to get a lot more people who are willing to donate their time to serve.
4. TRY NOT TO MAKE BLANKET REQUESTS FOR HELP
If you stand up during announcements and ask for volunteers to work at the food bank next Thursday, a lot of people who might be willing to do so won't respond. They might be on the fence, your blanket request is too easily written off when they think, "Someone else will respond."
If you want people to get involved, you should specifically ask them. Not only is it harder for them to justify saying no, but it's also an honor to be asked. When you say, "I have this thing that needs to get done, and I think you'd be perfect for it," they hear, "I was thinking about you."
5. SHARE CHURCH VOLUNTEER POSITIONS ON SOCIAL MEDIA
Use your social media accounts to promote volunteer positions. People are on Facebook and Instagram throughout their day. It's a great way to get those opportunities out there—and encourage your congregation to share them, too!
How to Fire a Church Volunteer
Many churches have volunteers running important ministries. This can put leadership in an awkward position when they have to deal with a ministry that's being mismanaged. How do you go about relieving someone from a position they're filling out of a desire to serve? To make matters more complex, letting a volunteer go may result in hurt feelings and estrangement. How do you navigate this potential minefield?
REPOSITION, IF AT ALL POSSIBLE
Sometimes people are just trying to operate outside of the area in which they're gifted. Maybe the position requires more attention to detail than they're able to give, or perhaps it needs someone more extroverted.
If you've noticed that a volunteer is not in their element, they probably have as well. Helping them pivot into a position with more appropriate expectations is a win for everyone—and can offer a potential solution that doesn't need to hurt anyone's feelings.
If repositioning isn't possible, and you've made expectations clear but the volunteer still isn't meeting them, then it's time for the painful—but necessary—removal process. Here are four guidelines for removing a volunteer:
1. SCHEDULE A PRIVATE MEETING
There's more at stake here than simply removing a volunteer, so you need to handle this situation very carefully—and never relieve a volunteer of their responsibilities in front of others.
Set up a check-in meeting with the volunteer in private. You want to be able to let the individual save face without jeopardizing the morale of staff and other volunteers.
PRO TIP: It's a good idea to have a third party present for your meeting. This will help mitigate any misunderstanding about the discussion. If the volunteer being relieved is of the opposite gender, make sure the third party is the same gender as the volunteer.
2. EXPLAIN WHY THEY CAN NO LONGER BE ON THE TEAM
As mentioned earlier, this conversation shouldn't be a total surprise. While you want them to understand why this decision has been made, this isn't a debate between you and the volunteer. If it's possible for them to return to this position in the future, let them know what needs to happen to facilitate this change.
Remind them that the love the church has for them doesn't depend on this position. Their importance to the body of Christ isn't undermined just because they aren't suited to this one role.
PRO TIP: Have regular performance discussions with all staff and volunteers. Let them know where they're exceeding expectations and where they could improve, and make sure you document these discussions. If you need explicit examples of infractions in the future, you'll be thankful that you kept a record.
3. COME PREPARED WITH SPECIFIC EXAMPLES
If you've been communicating well, you probably won't have to defend your decision to remove this volunteer from their position. But it's helpful to be able to reinforce the decision with concrete examples of infractions or unmet expectations—as well as a history of discussions about expected improvement.
PRO TIP: Church leadership should have a clearly spelled out policy and code of conduct for volunteers. The policy should include:
Which staff member is responsible for disciplining or firing volunteers.
What the process looks like:
How many strikes are there before a volunteer is removed?
What constitutes a strike?
What kind of paper trail is required?
When and how can someone volunteer again?
How will you differentiate between moral issues and work ethics? For example, it's important to discriminate between a volunteer who is in a marital affair and another who is habitually late.
4. IF APPROPRIATE, GIVE THEM NEXT STEPS
Unlike a business, you have a commitment to your volunteer that goes beyond your work relationship. This means that you're not just cutting them loose and telling them, "Good luck!"
You want to help them as much as possible.
If they're struggling with a moral issue, help them understand what the next step is and how the church will work alongside them in their restoration. If there's an issue that requires counseling, make sure they have the resources to get the help they need.
PRO TIP: The best thing you can do is help them find a place where they can shine.
MAINTAIN TEAM MORALE
While you're talking with the volunteer you're removing, ask them how they would like to let the team know. As far as it's up to you, work with them to inform the team about the change in a way that respects their dignity.
That said, don't let too much time go before this decision is shared with the staff. If you allow this news to spread on its own, it will pick up misinformation and rumors. Taking charge of this discussion and protecting your team dynamic is an important part of effectively letting someone go.
LETTING A CHURCH VOLUNTEER GO IS NEVER EASY
It's difficult to remove someone who has sacrificed their time and energy to serve your church, but sometimes it has to be done. But the most important stage begins before anyone needs to be let go. If you've done your work up front to ensure policies are in place and everyone knows how they're performing, it doesn't have to be a nightmare.
7 Ways to Motivate More Church Volunteers
1. TEACH SERVICE AS A COMPONENT OF DISCIPLESHIP
We use the word "volunteer," but the Bible doesn't use that term in reference to God's work. We are followers of Jesus, students of the King, and laborers in His vineyard. Serving is not optional in His work; in fact, the word "disciple" makes more sense than "volunteer" when speaking of God's work.
Teaching service can motivate volunteers to have ownership over their work and encourage more positive feelings toward ministry tasks. However, many churches don't invest in their volunteers and even members of staff, leading to poor team culture and burnout, which can, in turn, harm the church's growth.
2. UTILIZE A GOOD TOOL TO HELP MEMBERS UNDERSTAND HOW THEY MIGHT BEST SERVE
Tools like Rick Warren's SHAPE process, Wayne Cordeiro's DESIGN process, and Jay McSwain's PLACE process help believers look not only at their spiritual gifts, but also at their personalities and life experiences. When members begin to understand how God has shaped them throughout their lives, they will begin to see more clearly how they may be of use to God today.
3. QUICKLY GIVE NEW MEMBERS A ROLE
Clearly, one's level of spiritual maturity matters here, but everybody needs to be needed in the church. Create entry-level positions (e.g., preparing coffee, greeting in the parking lot, cleaning the worship center between services), and give each person some responsibility. If a member knows he will be missed if he doesn't show up, he'll think twice about staying home.
4. FOCUS ON PEOPLE RATHER THAN POSITIONS
Many churches recruit volunteers this way: They have an open position, so they look for someone to fill it. That process can work, but it may overlook the people God has intentionally placed in our churches.
Sometimes God brings folks to us who don't seem to fit any of our current positions; instead, they bring opportunity to develop a new ministry or approach. That's one reason we need to help members understand how God has shaped them—we then develop ministries around people, rather than positions.
5. OFFER TRAINING AND SUPPORT FOR VOLUNTEERS
Volunteers who haven't been properly prepared may feel discouraged and alone. Too often, churches focus simply on getting volunteers to say "yes" to the task and don't provide the support or motivation they need to succeed in the role.
Change that pattern by providing solid training, ongoing encouragement via email, and continuing prayer support. Build training into your church's volunteer program by utilizing the Schedules feature within our volunteer management software. It will provide you with the tools to successfully onboard and train volunteers, so that potential recruits know that your church stands behind those who are willing to serve.
6. PROVIDE "PRACTICE" OPPORTUNITIES
Strategies that allow potential volunteers to "test the water" can help them determine their place of service. For instance, allow a potential teacher to teach one week under the loving eye of a master teacher. Invite that prospective men's leader to join an event-planning team. Let them serve with less risk while you and they seek God's will.
7. RECOGNIZE THOSE WHO SERVE
Publicly saying "Thank you" can go a long way for volunteers. In fact, I encourage churches to pray for workers as they begin their service, and then honor them for their faithfulness at least once a year. A simple but intentional "Well done, faithful servant," can be enough to motivate volunteers for the year to come.
5 Volunteer Best Practices to Prevent Burnout
We know that not everyone in the church is as involved as they should be. This means that a lot more work is spread across fewer shoulders, which inevitably leads to burnout. The problem is that these volunteers tend to keep working long after weariness has set in. And this can lead to resentment and eventual collapse. The individual may stop helping entirely or even leave your church.
Because you love your volunteers and want them to serve comfortably, we've put together a handful of tips that you can use to save your volunteers from burning out!
1. BE CLEAR AND UPFRONT ABOUT EXPECTATIONS
If you have a babysitter that you rely on but you constantly ask her to stay late or perform other household duties, eventually she's going to move on—and she's not even helping you for free! What happens when you're doing virtually the same thing to volunteers?
Anytime you ask for volunteers, make sure you communicate what's expected of them and how long it will take. Don't ask for open-ended commitments. That gets old really fast. By telling people how long a task will take and what it entails, you're communicating that you value their time—and you're giving them the ability to make educated decisions.
2. PAY ATTENTION TO HOW MUCH SOMEONE IS HELPING
It's easy to overwork church volunteers because no one has visibility into how much someone's doing. If a volunteer is known for helping out whenever they're asked, people will unintentionally take advantage. They don't realize that this person is helping out Sundays in the nursery, making meals for their small group, serving in the prison ministry, and creating Sunday school handouts every week.
It's important that you have a system in place so that everyone can see how much time and effort various volunteers give to the church. This way, people aren't taking advantage of anyone's generosity. If a certain threshold of volunteer time is reached, consider giving them a sabbatical from volunteering.
3. BE AWARE OF HERO SYNDROME
We all know that there are people who will not volunteer—no matter how much they're asked. But there's another individual that's just the opposite. They're compelled to be in the middle of everything. They want to be seen as a volunteer with a can-do attitude and boundless energy.
It's incredibly easy to take advantage of these individuals because they're always up for helping out, but when they crash—they crash hard. The desire to go above and beyond to prove your value and loyalty isn't much healthier than not helping at all. We need to do what we can to keep the "heroes" balanced. This means ensuring that they take breaks.
4. HELP PEOPLE WORK WITHIN THEIR GIFTING
The church talks about gifts a lot. But the truth is that there are some tasks that come down to service and not gifting. For instance, God didn't give anyone the gift of toilet cleaning, but church bathrooms still need to get cleaned. So there are a lot of things that people need to be willing to do irrespective of their inclinations.
That said, the more people can do what comes naturally to them, the happier they're going to be—and the longer they'll want to do it. An introvert isn't going to flourish as a greeter like an extrovert might. It's good to be mindful of people's gifts and help them work within their strengths.
5. PROVIDE HEALTHY FOOD AND REFRESHMENTS FOR VOLUNTEERS
Most church volunteering happens around people's work schedules. That means that they're often running straight from the office to the church. If you're asking people to volunteer in the evenings or weekend afternoons, make sure that they're fed and taken care of. This will have a huge impact on their morale.
But beware. When churches do try and keep this in mind, they fall back on the same standby—pizza. If someone's volunteered at a church for a couple years, it's quite likely that they've eaten a lifetime supply of pizza. After a while, it no longer feels like a thoughtful way to say thank you. So be thoughtful about the food options you're offering.
8 Ways to Say Thank You to Church Volunteers
Anybody can say "thank you" with a card or a gift. But there are a lot more ways to show someone you appreciate what they do. As you get to know them, you'll learn what makes your volunteers feel most appreciated. Try thanking them in a few different ways to find what works best.
Here are eight ways to say "thank you" to your church volunteers:
1. SPEND TIME WITH THEM OUTSIDE OF CHURCH
When you only see someone once a week, it's hard to get to know them personally. And if your volunteers feel like you don't know them, they may not care what you write in a card or if you give them a gift. They may feel like you don't care about what's going on in their lives or what they're sacrificing in order to serve. When you see them at church (or your weekly ministry meetings), you're obligated to be there. Spending time with your volunteers outside of that shows them you care enough to invest your personal time in them.
Don't let this time feel like a "check-in" meeting. Use it to get to know them. Find a comfortable environment—play frisbee golf, take them out for coffee, or invite them over for dinner. You could even help them with a project at home.
2. IDENTIFY SPECIFIC THINGS THEY'RE DOING WELL
Anybody can say "good job" without knowing anything about you or the job you're doing. It's not a meaningless compliment—it's still nice when someone says "good job"—but you can do better.
Specific complements are opportunities to affirm someone's gifts—gifts they may not even realize they have until you point them out.
Check out these three compliments:
"Good job!"
"You're so good at noticing the details. I'm really glad you're here to make sure we do this right."
"It's so clear that you really care about people. Thank you for being the hands and feet of Jesus."
See the difference?
3. BABYSIT FOR THEM
Most likely, your volunteers have work, school, and other things besides your ministry that keep them busy. For volunteers with young kids, even the weekly meetings or extra time at church require some juggling—they may even need to hire a babysitter just to help you out.
One of the biggest blessings you can give people you serve with is free babysitting.
Seriously. Give Mom and Dad a night out together (free babysitting could be a great addition to a thank you gift card). Babysitting is an investment in your personal relationship with your volunteers, and it lets you say thanks in a meaningful way.
4. HAVE A VOLUNTEER APPRECIATION SERVICE
Thanking volunteers with a special service does a few things:
It makes volunteers feel like your church values what they do
It shows your congregation what your ministry has been up to
It can inspire others to volunteer
Highlighting your volunteers provides a tangible picture of what the body of Christ can look like. Show your congregation a variety of roles. Talk about the skills and gifts that help each volunteer thrive in their position.
Your service might use videos, volunteer testimonies, share stories and projects, or simply talk about some things you've noticed about how each person has served your church.
5. TAKE YOUR VOLUNTEERS OUT TO LUNCH
Buying people lunch means spending time and money on them. This could be a monthly, quarterly, or randomly scheduled time to thank your church volunteers. However you decide to do it, use lunchtime to celebrate the work they've done and to show them your appreciation. Let them choose where to eat for bonus points.
6. TELL THEM WHY THEIR ROLE IS VALUABLE
Especially when your role involves menial tasks, it's easy to feel like it doesn't matter. But every volunteer role at your church is part of something much bigger. Help your volunteers connect what they do to what your church is accomplishing. Cast the vision for your ministry's mission and talk about how they make that mission possible.
7. RESPECT THEIR TIME
Your volunteers are making personal sacrifices to serve in your ministry. So be respectful of that.
Create a schedule and stick to it. When your meetings start late or end late, you're showing your volunteers that you don't value what they're already sacrificing to be with you (especially if they start late because you're unprepared).
If you know you have more material than what you can cover in the allotted time or that a special event is going to extend beyond the usual window, communicate that to your volunteers as early as possible. Likewise, if an event might get done early, tell them in advance so your volunteers can plan their lives around the adjusted schedule.
Respecting people's time shows them that you appreciate what they're sacrificing. And it lets every meeting end with, "Thank you for your time tonight" instead of, "Sorry we ran late."
SHOWING GRATITUDE IS IMPORTANT
Volunteers are the powerhouses behind strong, vibrant ministries—and it's important to show appreciation for them. Thankfulness is a vital motivator. There are plenty of little ways to acknowledge the people who serve alongside you, but this list should get you off to a good start.