33 Church Outreach Ideas to Grow Your Church
August 30, 2018

|
The church exists to introduce people to Jesus Christ, and this is why we constantly need to come up with new church outreach ideas! We shouldn't pour all of our energy and resources into erecting a wonderful, comfortable building with the hope that people will wander in—we need to be out building relationships with them.
That means we always need to be challenging ourselves to reach people in our communities through outreach ministry. We'd also recommend exploring church management software to propel these strategies and expand your reach within your congregation. With digital technology fronting the heavy lifting, you can refocus efforts towards building connections. Check out 33 fun outreach ideas to help you brainstorm ways to impact your city.
Looking for ways your church can perform outreach while social distancing? We've also compiled community outreach ideas that are safe to hold during COVID-19.
(Don't see your favorite outreach idea here? Drop us a comment and if it's a big winner, we'll add it to the list!)

How Each of the Community Outreach Ideas is Laid Out
For each outreach idea, we've included some overview information to help you quickly evaluate whether it's something you want to pursue. This section includes the following fields:
TIME COMMITMENT 
Some outreach ideas can be done in an afternoon, and some need to be committed to for months (or longer). This entry will give you a rough idea of how much of a time commitment this idea will require.
INVESTMENT 
You can expect to make a financial investment for any outreach, but some opportunities are going to cost more than others. Hopefully, you can expect a greater outcome with a larger capital investment. I'll break this field down this way:
$ (Up to $200)
$$ ($200–$500)
$$$ ($500–$1,000)
$$$$ (Over $1,000)
VOLUNTEERS
You'll also need to consider whether you have enough people to run the event. I'll give you a range of the ideal volunteers needed to run this event successfully.
How to Successfully Host a Community Outreach Event
If you want to make your church outreach ideas successful, there are a few things you'll need to consider.
WHO ARE YOU TRYING TO REACH?
The members of your community are individuals that have unique interests and personalities. Due to these differences, the same ministry outreach idea won't have the same impact on everyone. To have a truly successful church outreach event, you need to narrow down and identify your target audience. This will make your outreach efforts more effective and feel more personal.
MARKETING YOUR EVENT
You can plan all of the outreach ideas you want, but your church will not see growth unless members of the community actually attend. Once you have your event's specifics planned, you'll also need to plan how you'll market the event. Advertising the event with flyers and signs or sharing it on your church's website or social media accounts will help get the word out and increase the likelihood that your outreach attempt will be successful.
KEEP TRACK OF VOLUNTEERS
When planning an outreach event, you not only have to take into consideration all the people who will attend, but all the people who volunteer to help. With a ChMS tool that incorporates church volunteer management software, you'll be able to easily find, place, and organize people to serve during your outreach events. Your volunteers will be able to set availability and serving preferences so you always have the best people helping with each event.
AFFORDING YOUR OUTREACH IDEAS 
More often than not, outreach events cost a good amount of time and money. It's always wise to think ahead and plan out some of your outreach ideas at the beginning of the year so you can budget for them. You can also use tools such as Pushpay to make your giving more predictable. Pushpay provides you with digital giving tools, as well as aggregate giving data to help you keep track of your church's financial health and your congregation's participation.
Fostering a culture of generosity is also essential. Our ebook, Start With Generosity, has been an excellent resource for others hoping to learn more about how God approaches generosity. Click here to download it today and learn how giving tools have helped these churches grow a more generous culture.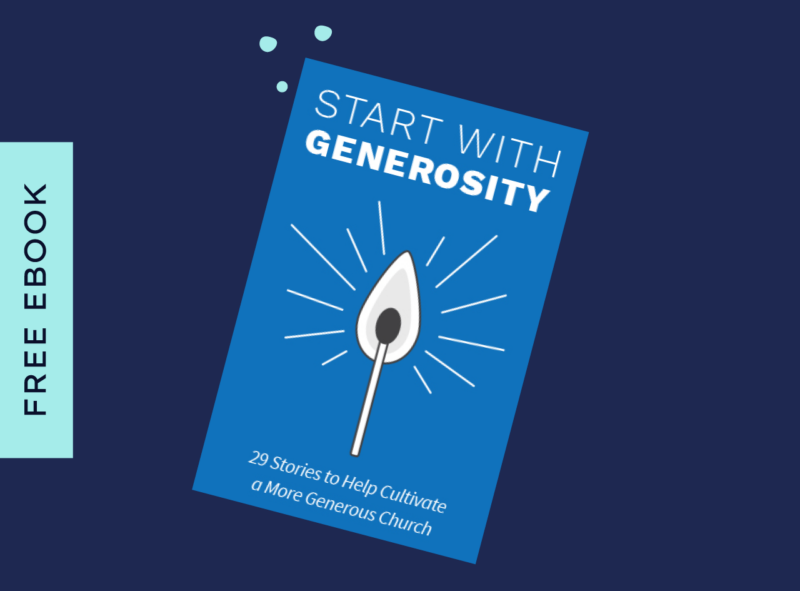 SETTING GOALS FOR YOUR EVENT
An event that goes off without a hitch is great, but if church growth is your goal, it's not a good indicator of event success. When planning ministry outreach, set concrete goals that can be measured against, whether that be the number of event attendees, new members acquired, or another metric. These tangible goals will allow you to better measure how successful your event was, and these insights will help your church have successful outreach events in the future.
Top Outreach Ideas for Churches
CHURCH OUTREACH IDEA #1: SPONSOR A SCHOOL OR CLASSROOM
Time commitment: Ongoing
Investment: $$$$ (over time)
Volunteers: 10–20
If you really want to make an impact in your community, invest in a school or a classroom. This can include purchasing of supplies, volunteering as helpers or chaperones, or maintaining the grounds or equipment.
This isn't a "quick-return" kind of outreach. To get the most out of this outreach idea, you'll have to commit to something long-term. The amount of work and financial investment will wax and wane over time, but if you're not in it for the long haul, any return will be negligible.
The likelihood for this to translate into a flood of visitors is pretty small. But what you can expect from sponsoring a school or classroom is a strong reputation, trust, and influence. You'll be building important relationships with the staff and community. When you've established trust, you can almost guarantee that they'll come to you with information about families that need help and assistance. It's like you're creating a perpetual outreach machine.
For more back-to-school outreach ideas to spur church growth, check out this blog!
Great ideas and projects must be supported by excellent marketing efforts to make sure your community knows what you have coming up. Discover the world-class marketing strategies other forward-thinking churches are using to promote their outreach efforts and help drive even more church growth. Download the free resource, Content Marketing for Churches today!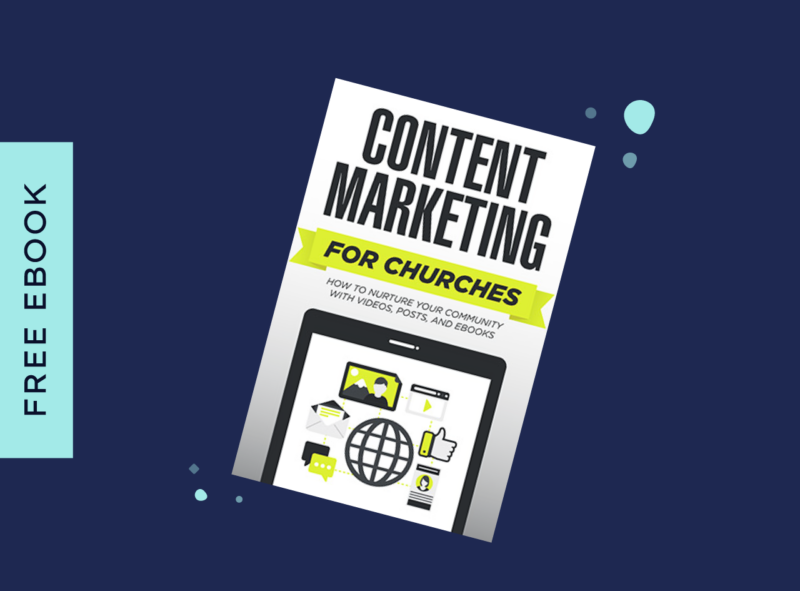 CHURCH OUTREACH IDEA #2: FAMILY MOVIE NIGHT
Time commitment: Ongoing
Investment: $$$
Volunteers: 5–10
Most churches have a great audio/visual setup. Why not use it for showing movies? This can be a weekly event that happens all summer—or all year! If you live in a college town, a movie night followed by a discussion about its themes and characters can be an interesting way to bring people into your church.
You might be surprised by the suggested financial investment and time commitment here, but this isn't a great idea you want to get into unless you're willing to invest in the proper non-theatrical public performance license which can be pricey (dependent upon what kind of movies you plan on showing). If you're going to spring for the license, you might as well make family movie nights a regular event.
CHURCH OUTREACH IDEA #3: SUPER BOWL PARTY
Time commitment: Once a year
Investment: $$
Volunteers: 5–10
The Super Bowl is one of the year's biggest events, and it can be a wonderful opportunity to get people into church—but it has to be done correctly. Most people would prefer to watch this event at home or with close friends, so there needs to be some real thought put into how you'll attract people.
Not only will you need a commitment from your congregation to show up themselves (and invite their friends), you might want to invest in some items to raffle off. This can be done during the halftime show—which is often not something you want to associate yourself with anyway.
Most of your investment money will go into creating invitations, buying snacks and food, investing in some great raffle items (you can probably get donations or discounts from local businesses, too).
Make sure you know what the NFL expects from churches sponsoring such an event.
CHURCH OUTREACH IDEA #4: SUPPORT A SENIOR CENTER
Time commitment: Ongoing
Investment: $
Volunteers: 5–10
This is another idea that's more about investing in the community than it is about getting an immediate return on your outreach. There are a number of ways you can invest in local senior centers:
Lead worship services
Serve during meals
Visit with seniors
Stock the facility with resources like books and movies
Not only can you really minister to the seniors in your community at a time in their life when they feel cast aside, but you also get to teach your congregation how to serve others. Your outreach spills over into the lives of the center's staff and family members of the residents.
CHURCH OUTREACH IDEAS #5: HOST A CONCERT
Time commitment: One time
Investment: $$$
Volunteers: 10–20
Depending on your goals, hosting a concert can be a bit of a risk. You need to ask yourself if you intend to charge for the event, take a "love offering," or make it a free church event.
If you have local talent, you can negotiate the cost of getting them to come play. This is your best bet for holding a free event. This can be a great way to make your church a place that's known for supporting local artists. If you want to host a more well-known artist, you're probably going to need to make a significant commitment to pay for them.
CHURCH OUTREACH IDEA #6: BLOCK PARTY
Time commitment: One time
Investment: $$
Volunteers: 10–20
If your church has nice grounds, or even a good-sized parking lot, you can put on an incredible block party. Make sure there are plenty of games, food, and entertainment, and you've got yourself a great way to get the neighborhood connected.
You'll probably want to invest in some flyers or invitations, go door to door around the local community, and create a Facebook event to help encourage families to attend. If your church isn't the best location, find a couple of different families in the church and host block parties from their homes. This is a great opportunity for a larger reach.
CHURCH OUTREACH IDEA #7: COMMUNITY FESTIVAL
Time commitment: Ongoing
Investment: $$
Volunteers: 10–20
I have a Catholic church in my town that has been doing this for more than 20 years. They've built relationships with local vendors from all around town who set up booths at the church to sell their products and services. There are also food booths and games for the kids.
This doesn't work as well as a one-time event, but over time your church can establish itself as an important part of the community.
CHURCH OUTREACH IDEA #8: HALLOWEEN ALTERNATIVES
Time commitment: Depends
Investment: $$
Volunteers: 10–20
Lots of families are looking for safe, fun things to do on Halloween. This is a wonderful way for your church to step up to the plate. If your church would prefer not to have anything to do with Halloween, you can host a harvest party and provide games, snacks, and candy. This outreach activity provides you with an opportunity to get to know parents as their kids play.
You can also put on a Trunk or Treat where people from the church gather in the parking lot, fill their decorated trunks with candy, and allow kids to trick or treat at all the cars. Trunk and Treats are generally well attended, but it can be kind of chaotic and hard to make genuine connections with visitors.
CHURCH OUTREACH IDEA #9: COMMUNITY GARDEN
Time commitment: A year
Investment: $$
Volunteers: 10–30
If the church or a church member has an acre or more of garden-worthy land, you can put together a public garden. With plowing, planting, maintenance, and harvest, you're committing to a year-long project (at least). You need someone knowledgeable to head it up and make sure you have a really good idea of what's needed:
Volunteers
Tools
Plants
Watering system and cost
Fencing
A well-run community garden can really pull people together, and it can also provide some food for local shelters and food pantries.
CHURCH OUTREACH IDEA #10: ART SHOW
Time commitment: Open
Investment: $
Volunteers: 1–5
Your town likely has a number of artists, and chances are that they don't think of the church as a big supporter of the arts. You can change that!
Find a way to do showings of local art in your church. You can do it all the time and feature different artists in your fellowship area, or you can feature multiple artists at bigger events throughout the year. This can provide an inroad into a community that the church doesn't typically do a good job of reaching.
CHURCH OUTREACH IDEA #11: FREE LUNCHES
Time commitment: Open
Investment: $$
Volunteers: 1–5
Is your church surrounded by businesses? Why not set up some barbecues in the parking lot and offer working people free lunches once a week? I mean, who doesn't love a free lunch? You can even deliver!
You'll need to market it to the businesses around your church. But if you set up well, it can give you an opportunity to get to know some of the people working near your church and help you build relationships with local businesses.
Pro tip: When you're trying to get the word out to these businesses, start with the executive assistant or someone in HR—they'll know how to get the message to the rest of the company.
CHURCH OUTREACH IDEA #12: FREE SCHOOL SUPPLIES
Time commitment: Ongoing
Investment: $$
Volunteers: 10–20
You can approach this a number of ways, but they're all going to require some involvement on the part of your congregation. You'll want them to donate money towards buying supplies. This is better than having them go buy the supplies themselves because sometimes they'll buy second-rate supplies to save money, and you really want to give kids the same kind of supplies you'd want your own children to have.
Once you have supplies, you can:
Donate them to a shelter or organization
Donate them to a school to give to kids who need them
Set up a little "store" in the church and allow people to buy the supplies at discounted rates so they don't feel like they're receiving handouts
CHURCH OUTREACH IDEA #13: PARENTS' NIGHT OUT
Time commitment: Open
Investment: $
Volunteers: 5–10
Why not open your church up as a daycare for a Friday or Saturday night, and allow local families to drop off their kids so that they can go out and having a child-free date? All you need is a couple of adults, some teenagers, snacks, and activities to keep kids occupied.
Remember: You want this to be an outreach, so don't let it become a service you're only providing for church members. Encourage people in your church to use this an opportunity to double date with couples who don't attend. This isn't just a win because the new couple gets to have an awesome experience with the church, but they also have an opportunity to spend the evening building a closer relationship with church-member friends.
CHURCH OUTREACH IDEA #14: MOTHER'S MORNING OUT
Time commitment: Open
Investment: $
Volunteers: 5–10
This is similar to the outreach idea #13, except its focus is on women's ministry and it happens during the morning and provides mothers an opportunity to get out and get some stuff accomplished without having to drag everyone along.
With both of these events, you'll want to make sure you have a well-defined start and stop time.
CHURCH OUTREACH IDEA #15: RAISE MONEY FOR A LOCAL CAUSE
Time commitment: One time
Investment: $
Volunteers: 10–20
There is a lot of need in your community. And when your church steps up to raise money for one of them, that is, in itself, outreach. Not only are you in the community raising money and awareness for a significant issue, but you're also communicating that your local church is part of and committed to the needs of your community.
Stepping out like this represents a significant risk. You don't want to make a big deal about your involvement in raising money for a cause and then drop the ball. Make sure that you have someone with a firm grasp on project management, fundraising, and marketing before you decide to step into this area.
An online donations tool like Pushpay can also be very helpful as you raise money for a local cause. Empower people to donate online or on their mobile phones at any time, regardless of whether they have cash on them or if they are able to attend a weekly service.
CHURCH OUTREACH IDEA #16: HOMECOMING SERVICE
Time commitment: One time
Investment: $
Volunteers: 5–10
Why not put together a special service for all the church's former members? This can be a fun and meaningful outreach idea that can let your current congregation know the value you place on everyone that has worshiped with you.
To pull this off, you need to be willing to invite back everyone that's left—which means you need to be willing to let bygones go. But this can be a really meaningful opportunity for healing and to communicate the importance of forgiveness and community.
CHURCH OUTREACH IDEA #17: THEMED MID-WEEK SERVICE
Time commitment: One time
Investment: $
Volunteers: 5–10
Is there a local, national, or international event that has really impacted your city? Plan a mid-week church service with themed worship, communion, and a relevant message. It's amazing how many people will come to church when they're going through a difficult or confusing time.
You can see great examples of this among the churches who opened their doors after the terrorist attacks of September 11, 2001. Churches were flooded by people who were overwhelmed and didn't know where else to turn. It's important to look at how you can serve people during these kinds of significant events.
If people are willing to come to a service like this, they're likely willing to give you their contact information and meet with you again.
CHURCH OUTREACH IDEA #18: RECOGNITION SERVICE
Time commitment: One time
Investment: $
Volunteers: 5–10
If there's a charity, ministry, service, or business doing amazing things for your community, recognize them in a special service. Let them know you're planning a service in their honor. With enough notice, many from the organization will attend. Maybe you can even take up a special offering for them!
This service could be for students who have led an important fundraiser or volunteered at a charity event, the staff at a local soup kitchen or homeless shelter, or a business that has developed a reputation for giving back.
CHURCH OUTREACH IDEA #19: MULTI-CHURCH MINISTRY
Time commitment: One time
Investment: $
Volunteers: 5–10
Look for big local services projects where it makes sense to partner with other churches. These kinds of projects could include:
Park restoration
City litter clean up
A local barbeque
School landscaping
Not only can you do more by partnering with other churches, but you can also communicate with your town what church unity looks like.
CHURCH OUTREACH IDEA #20: MULTI-CHURCH COMMUNITY VBS
Time commitment: One time
Investment: $$$
Volunteers: 20–30
Instead of doing your typical summer Vacation Bible School (VBS) program, you could get multiple churches involved and do something amazing. If you combine resources you might be able to rent a community center or use the building of the largest church. With enough planning, a multi-church community VBS could make a dramatic impact on the community!
Another plus to a large, multi-church VBS event is that it lets churches participate even when they have a lot of people vacationing or out for the summer.
As we mentioned earlier, an outreach idea like this will take many volunteers. Make the volunteer process as easy as possible with a tool like Pushpay.
CHURCH OUTREACH IDEA #21: COMMUNITY THANKSGIVING EVENT
Time commitment: One time
Investment: $$
Volunteers: 5–10
One Thanksgiving my church plant partnered up with a local restaurant and held a free Thanksgiving dinner. We bought four or five turkeys and took turns the week before cooking them in one of the restaurant's ovens.
All-day on Thanksgiving we enjoyed a meal together with those in the community who had nowhere to go or couldn't pull off their own dinner. It was an amazing event that really ministered to the restaurant owner.
CHURCH OUTREACH IDEA #22: HOST RECOVERY GROUPS
Time commitment: Ongoing
Investment: $
Volunteers: 1–5
If your church has the room for it, consider letting recovery groups use it during the week. There are all kinds of small groups that would benefit from using your facility like:
Alcoholics Anonymous
Narcotics Anonymous
Divorce Recovery
Eating Disorders Anonymous
AL-ANON
Your church can play a pivotal role in their ability to get better, and will likely provide an opportunity to get to know people who need to meet Jesus Christ.
And as a bonus, the visiting group members will become familiar with your church building's layout—which will make them a little more comfortable when they show up on Sunday morning.
CHURCH OUTREACH IDEA #23: COMMUNITY TALENT SHOWS
Time commitment: One time
Investment: $$
Volunteers: 5–10
Looking for another opportunity to partner up with local businesses? Host a talent show! Businesses can donate services and products for winners, and you can get people from all over your community to take part.
Think about it: for every person that comes to share their talent, you have multiple friends and family members who will come to your church to watch!
CHURCH OUTREACH IDEA #24: COMMUNITY YARD SALE
Time commitment: One time
Investment: $
Volunteers: 10–20
Here's an outreach idea that doubles up on the opportunity to reach out to your community. Think of something meaningful in your community you'd like to raise money for and put together a community-wide yard sale to raise funds.
(Remember, as an outreach it's best if you're not just fundraising for your own needs.)
Community members get to come interact with you when they donate their sale items to the yard sale, and then they get to interact with your church again when they come to the actual event!
Just a word of warning: Don't underestimate the number of volunteer hours that will need to go into sorting, cleaning, and pricing the items that people bring. It's time-consuming.
CHURCH OUTREACH IDEA #25: FREE CAR WASH
Time commitment: One time
Investment: $
Volunteers: 10–20
The key to this outreach is to not take any money. People will want to donate, but you'll have the biggest impact if you don't let them. Find a place with a good, central location with a water hookup for your event. Set up a Facebook event and invite the community. Make sure that you communicate clearly that your church is looking to serve the community and will not be taking any money for it.
Have some cards made up for the event with your church location and service times, and hand them out to the people who are getting their cars washed.
CHURCH OUTREACH IDEA #26: ESL BIBLE STUDIES
Time commitment: Ongoing
Investment: $
Volunteers: 1–5
If you have someone who is multilingual, host Bible studies on other languages for people whose English isn't too strong. My church has a large Hispanic population, and one of the families in our church holds a Bible study every week for Spanish speaking community members.
CHURCH OUTREACH IDEA #27: FAIR BOOTH
Time commitment: One time
Investment: $$
Volunteers: 10–20
Most communities have some sort of fair. Setting up a booth for your church can be a fun way to meet people. You can give away New Testaments or have "stump the pastor" hours. There are so many ways that a fair booth can be made into a fun opportunity to meet people in your community.
CHURCH OUTREACH IDEA #28: ELECTION DAY PRAYER SERVICE
Time commitment: One time
Investment: $
Volunteers: 5–10
Plan a community-wide evening prayer ministry service. This should be a totally agenda-free, non-partisan time for people in the community to gather and focus their attention on praying for the community and country. This can be a helpful outreach opportunity to build unity instead of sowing division.
CHURCH OUTREACH IDEA #29: FINANCIAL COURSES
Time commitment: Ongoing
Investment: $
Volunteers: 1–10
There are a lot of families out there who are suffering financially. They don't know how to make sound financial decisions, or they're crippled by credit card debt, or they're throttled by student loans—whatever the difficulty, they really could use some help. Many churches have told me that financial classes have been one of the best outreaches they've ever done.
You don't have to create the curriculum. There are plenty of great classes out there like Crown Financial Ministries and Financial Peace University.
CHURCH OUTREACH IDEA #30: FOOD PANTRY
Time commitment: Ongoing
Investment: $$
Volunteers: 20–30
Every city needs a good food pantry. It only needs to be open a couple days a week, but it can really open a lot of doors for relationships. It's also a good way to keep your thumb on the pulse of your community's needs. Most of the work will go into getting donations from people and businesses, and then running the pantry on the days it is open.
Church Outreach Ideas Post-Pandemic
The COVID-19 pandemic brought about many changes. Though the digital-age of churches isn't a new concept, COVID-19 has surely sped up the transformation. More churches than ever are turning to digital worship and giving solutions to stay connected with their congregation during this time of turmoil.
Churches have also used this opportunity to be creative with their outreach. Social distancing mandates don't mean that your church's community outreach has to stop, you'll just need to think outside of the box.
Here are three safe outreach ideas your church can use in 2021.
1. HOLD A SUPPLY DRIVE AND DISTRIBUTE THE ITEMS TO COMMUNITIES IN NEED
Time commitment: One time
Investment: $
Volunteers: 1-10
Members of your community may have a lot of unmet needs right now and could seriously benefit from the goodwill of your church and its members. Those facing financial difficulties due to job loss may need help with groceries, and older or immunocompromised members of the community could probably benefit from sanitation and personal health products.
By hosting a supply drive, both people who are already members of your church and those who are not can contribute. The financial investment by your church can be minimal (unless donating a substantial amount of supplies) and takes very few volunteers to pull off.
2. HOST A VIRTUAL DINNER PARTY
Time commitment: Ongoing
Investment: $
Volunteers: 5-10
Although you may not be able to get together in person, you can socialize with your community online using conferencing tools such as Zoom. A fun take on this activity is to host a dinner party.
Have members of your congregation join and invite friends who aren't yet part of your church. To make the event more engaging, consider selecting a volunteer to "host" each party. The host can then plan the menu and share the recipes with those that RSVP so that attendees can feel like they are truly sharing the same table.
3. HOLD AN ONLINE CLASS
Time commitment: Ongoing
Investment: $
Volunteers: 1-5
Does a member of your church have a unique skill or special interest? One way to hold a church outreach event during COVID-19 is to host an online class. Have someone from your church volunteer to lead a free how-to seminar and invite members of the community. This can be a one-time church event or recurring if there is enough interest.
If you'd like more guidance on how to manage your church during COVID-19, see The Church Leader's Guide to Coronavirus: How to Continue Ministry During a Pandemic.
Grow Your Ministry Without Sacrificing Personal Connection
To help your church accomplish its mission, you need the right tools that enable your staff and volunteers to do their best work. And you need powerful insights that help you manage the health and growth of your ministries. ChurchStaq will help you do both with one complete suite of giving, church management, and engagement tools. Click here to schedule a free demo.