Connect 2020 Product Launch – 16 new updates to help grow your ministry!
As we head into the fall, we know you are working to reconnect and re-engage your congregation. For some of you, this will be the first time you've welcomed your church family back since COVID-19. Others may still have your doors closed and are looking for ways to connect with your congregation from a distance.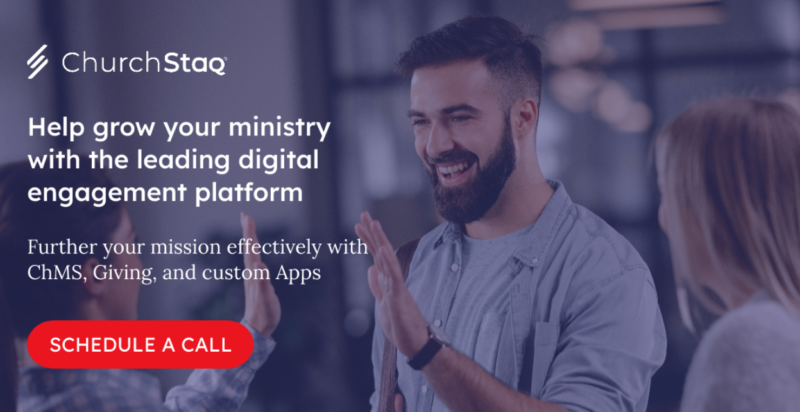 This product launch enhances connections across all aspects of your church: helping your congregation build relationships with each other, creating bridges across your various tools, and connecting your admins to the information and data they need to engage and grow your church family.
Introducing ChurchStaq™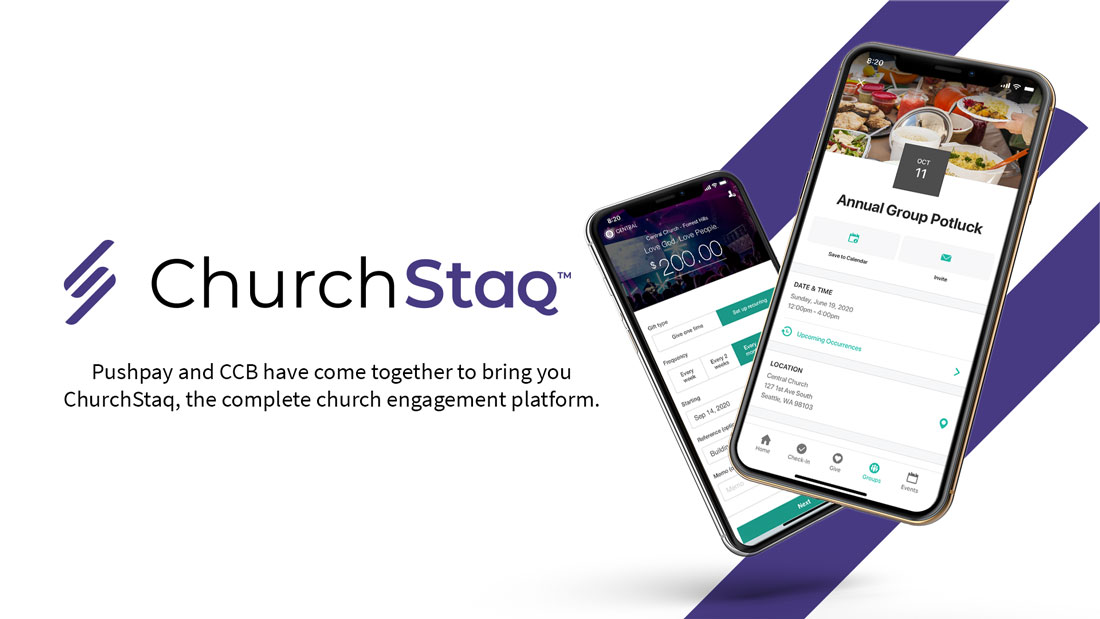 When Pushpay and Church Community Builder joined forces almost 8 months ago, our teams were excited by what our combined technologies would be able to offer to help further the ministries of our customers.  The need for technology, built specifically for the church, is a critical component for churches to be able to know, grow, and keep their people.  As a combined company, our strategy is to provide churches with uncompromising, best in class software built for the church.  The results of this combination have been incredible.  Churches who use Pushpay and Church Community Builder together have seen a 24% increase in recurring givers compared to churches who use a competing giving platform.
Today, we are excited to introduce ChurchStaq, a brand new product which combines our ChMS, giving, donor development, and church app solutions into one powerful platform.  ChurchStaq is centered around solving the unique challenges that you, as a church, face on a daily basis – growing engagement, knowing your people and increasing your ministry.
Grow engagement
Increased participation within your church is a critical aspect of spiritual and community growth.  The combination of Church Community Builder and Pushpay make ChurchStaq the perfect tool to help you drive increased engagement in your church.  The My Church App provides an integrated experience that drives connection, generosity, and engagement in one place for your congregants.  The mobile experience, built on Pushpay's proven app platform, serves as the single location for your church to connect with their groups, view and engage with your media, and express their generosity.   ChurchStaq's ChMS equips your leaders with the tools they need to grow their ministry, manage volunteers, and ultimately increase participation.
Grow your understanding of your people
As your ministry grows, so does the difficulty of knowing who your people are and finding meaningful ways to connect with them.  By joining the ChMS, Giving, and Church App, ChurchStaq is uniquely built to provide you with both the data you need to understand your people and the tools to take action.  ChurchStaq's integrated software synchronizes your community member data from the church app, donor generosity, and ChMS data to provide you with accurate reporting you can trust.  The result is actionable insights that you can use to understand and nurture your growing church.
Grow your ministry
Growing your ministry is an important part of achieving what God has planned for your church.  ChurchStaq was designed to provide you with the tools you need to grow finances, participation, and spiritual development.  Pushpay's giving and donor development platform provides churches with an unmatched experience for both your donors and staff.  The simplified donor experience helps donors to give regularly in addition to encouraging above and beyond giving.  In fact, churches who use ChurchStaq have, on average, 65% more digital givers when compared to those not with Pushpay.  Even more encouraging is that digital givers are more generous than non-digital and, on average, give 24% more in a month than offline givers!
Church staff will have access to powerful reporting tools that provide them with insights into giving trends, dashboards, and tools to follow-up with donors.  Of course it takes more than money to grow a ministry.  Church Community Builder's ChMS provides the tools needed to understand your congregation and encourage them to increased participation and volunteering.
Church Apps Built for your Congregation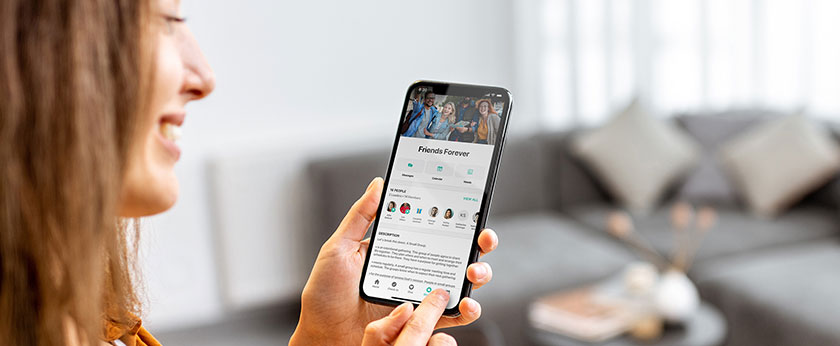 Church apps have never been more important than they are today because of their ability to connect people beyond the weekend experience.  ChurchStaq uniquely brings together communication, connection, generosity, and media into one convenient location for your congregation.  Your church will love having a single, personalized place where they can feel like they are part of church even when they are not in church.
The My Church App by Pushpay app platform provides churches with a solution to connect with their people beyond the weekend experience.  Congregants are able to receive rich push notifications, view and engage with your media, participate in surveys, and view the impact of your ministry – all from a beautiful and dynamic home screen.  And, of course, expressing generosity through the app is an important way for your church to participate.  The giving experience for a congregant is simple, allowing for a donation in under 3 seconds.  With the connect launch, we are improving the donor experience with My Giving which allows donors to view their giving history within the app.  Our research has shown that providing your donor with access to their previous gifts often inspires incremental giving.
With the Connect launch, we are adding Connection features to the church app.  The connection features are made possible by our integrated ChMS.  These features allow your congregation to grow deeper in their faith, build relationships with others, and improve the way they engage with the church throughout the week.
The new connection features include:
Pre-Check into kid's ministry or events from the app before you get to church
Find, join, and engage with other congregants using Groups
Find and register for events
Manage and update their church profile
Check-in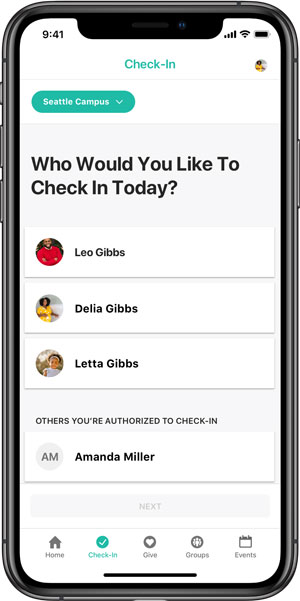 A church's check-in process can often be one of the most complex and frustrating experiences if done wrong.  The right software can transform this experience to one that your church will love.  With the Connect launch, we are introducing improvements to your check-in experience, both for in-person and virtual services.  For churches that are meeting virtually, we are introducing Instant Check-in which allows your congregation to check into service from your church app.
And for those churches that are meeting in person, checking in kids or volunteers is much easier thanks to pre-check for the church app.  Your church members can now check into services and volunteer opportunities even before they arrive.  Once a parent or volunteer arrives, they simply scan a barcode to complete the check-in process.  Pre-check gives parents peace of mind, reduces lines, and improves the in-person  experience.
Integrations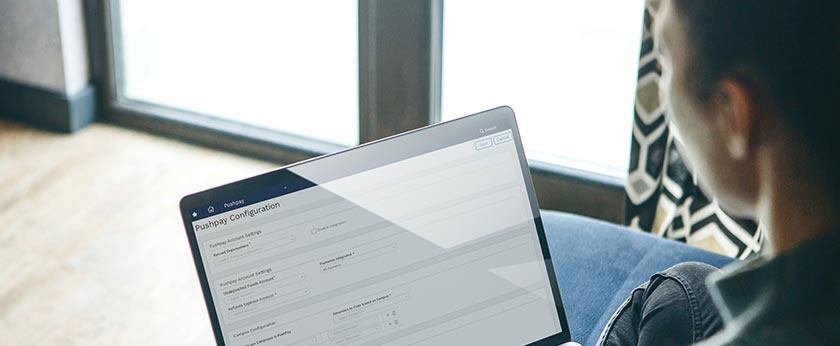 Strong integrations and developer tools have always been an important part of our platform.  It's critical that our software work as seamlessly as possible with your other church technology.  We're thrilled to announce early access to our newest integration with Sage Intacct.  This powerful connection simplifies your financial reconciliation and administration process by automatically creating records in your General Ledger, and matching your Pushpay settlements or batches for recorded gifts.
With this release, we're also excited to share some improvements to our existing Checkr integration with Church Community Builder.  When implemented with our ChMS, Checkr ensures that our churches are confident in the safety of their church by providing background checks.  However, we understand how complex managing volunteers can be, and, in their earnest desire to get people plugged in, volunteer leaders can easily miss a crucial step of scheduling people to serve who do not have a valid background check.  With our improved integration with Checkr, leaders can be alerted to volunteers who need a background check before they are scheduled, protecting the church, and more importantly, their people.
And so much more…  
New Church Community Builder Features
Auto matched form responses
New Pushpay Features
This is one of our largest releases with 16 new features and enhancements built to help you increase your ministry.  If you're reading this now and see an opportunity to improve the way you know, grow, and keep your people, we would love the opportunity to speak with you.  Talk to one of our experts to learn more about how Pushpay's software can help transform your ministry while putting your people first.
Learn more from our Connect Launch Webinar!
Featured Content
You May Also Like