Product Release – March 2022
Updated March 29, 2023

|
It's been a strange few years.
When the pandemic began, churches were forced to reinvent themselves in a hurry. The inability to hold regular in-person services was unprecedented, and we were all scrambling to find ways to connect. It became normal to put out any content you could, and to not know who was engaging with what you shared. Suddenly you were doing the most good in your communities by staying distanced from said communities.
As we enter 2022, the world seems—fingers crossed—to be transitioning back to normal. For our purposes, that means all the events and services we love are returning. Friends and families are finally gathering inside your four walls on Sunday again, instead of only interacting via their screens.
But that doesn't mean the screens are going to disappear. According to our 2021 State of Church Tech Report, 93% of church leaders believe technology plays an important role in achieving their mission. Even more telling: 94% of churches that livestreamed services last year will continue doing so a year from now, even if social distancing comes to a complete end.
This tells us that Covid didn't force a temporary adoption of technology; it spurred a new, ongoing, innovative era of digital Church.
And that's what drives us at Pushpay— innovation. Every quarter we host a Signature Moment: Product Release. This spring, we pulled out all the stops to deliver features that will help you rediscover your community and reimagine your vision for your church.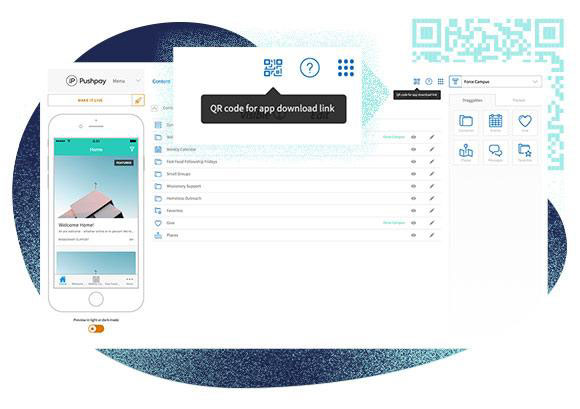 Improving Our In-App Experience
The past few years have proved the value of livestreaming for churches, so we're bringing you the most reliable video tool on the market. Resi Livestream Media is now powerfully & intuitively integrated within the Pushpay app.

Our draggable feature ends the days of remembering to unmute audio, getting your content oriented, or unlocking and relocking your screen; your video content is now immediately & totally immersive.
Your members and administrators can sign up for Resi via two simple in-app steps.
Resi Analytics not only shows a heatmap of who's watching your content from where, but will also deliver detailed data such as watch times, engagement rates, and more.
We first introduced QR Codes for Giving late in 2021. We've now upgraded the feature so that users can scan a QR code anywhere—the back of a pew, perhaps?—and immediately download your church's app.
Our App Engagement Dashboard has always shown you the number of downloads, average time spent in the app, and a few other key metrics. But after listening to your feedback, we've upgraded this feature to include insights about which of your content pieces are receiving the most engagement and which are being overlooked. You can also see what times your users are online—learn the best hours for sharing content to maximize visibility!

Re-Engagement via Church Management Software
No longer are you forced to create all your events on desktop or laptop—Create Events now lives in the app, empowering your leaders to manage everything straight from their mobile devices.
The Public Group Finder has received a facelift. This cleaner, more robust solution displays a list of public groups in a card view with images to match, new filter options for search, and simplifies messaging to group leaders when requesting to join. You can even embed the Public Group Finder link into your organization's website, within your app, Facebook page, and more. This solves for building a custom page and having to manage groups in multiple places.
Our LEAD app now has translation capabilities! This platform can now automatically translate localized content to Spanish, helping you easily connect with members of your hispanic community. We're also working to expand our apps' English/Spanish flexibility in the near future…

Re-Designing the Giving Experience
Allow your parishioners more choice and control over the generosity with our new Annual Recurring Giving. You can memorialize a certain date, or set appropriate annual gifts affiliated with the Catholic calendar. This feature is automatically accessible to all Catholic customers, but can be enabled for any customer upon request.
Your Top Donor lists are now inclusive of everyone who gives to your church. We've also set up a Households view within Donor Development, where you can sort giving by everyone living under one roof and sort by Household New Donors, New Recurring, At Risk, Lapsed, and more.
We've added a fun animation to thank your donors whenever they give. It's adorable (if we don't say so ourselves!)

Secure Event Payments
Rock RMS is, quite simply, one of the best-in-class church management software systems, particularly with larger organizations. Our new integration allows Rock RMS users to centralize donations and payments within Pushpay's Giving product. This makes for simpler reporting & reconciliation, and acknowledges giver/payer familiarity and trust with Rock RMS and the payment experience.
We're so incredibly proud to offer you these tools, and are confident they will unveil new possibilities for you and your organization in 2022 and beyond. Schedule a demo today and talk with one of our Pushpay experts to see how we can help your team achieve its mission.
To learn more about this release, click here.
Featured Content
You May Also Like