Pushpay Brand Updates
Updated August 8, 2023

|
Since Pushpay's inception, we've worked to help organizations achieve their mission by delivering pioneering technology solutions that enable generosity and strengthen community. Ensuring that customers have the most comprehensive solution available on the market to propel church missions forward was a key reason that Pushpay acquired Church Community Builder in 2019. Since that time, we've witnessed our donor management, custom app and ChMS products, and our combined solution, ChurchStaq, enable churches around the world to know, grow and keep their people. We are thankful for our customers.
As we look to the future, we will continue to expand our solution offerings even more to honor our commitment to our customers' success. Although our employees are spread across three offices on two different continents our goals have remained the same. We've worked hard to unite our internal cultures as we've defined new core values that encompass the passion and commitment of both Pushpay and Church Community Builder employees. These values are People-focused, Teachable, Driven, Simplicity, and Generosity.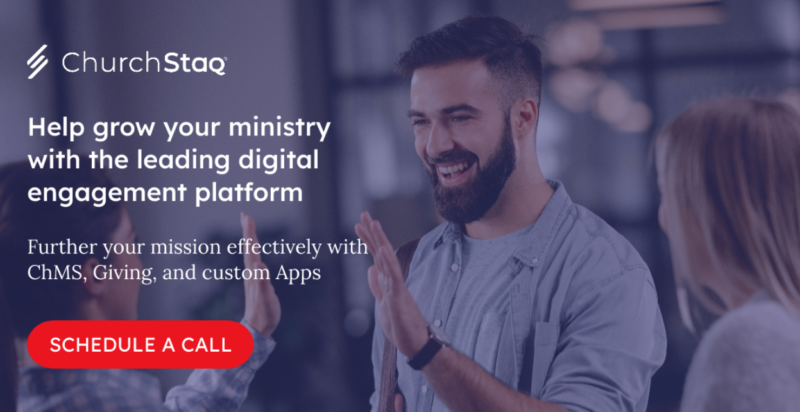 After laying the initial foundation to unite both organizations culturally, it became time to discuss the evolution of the brands.
Fresh Look, Same World-Class Products
Capitalizing on the stellar palette of both brands, we are excited to share the new look of the unified brand, Pushpay. We will start to unveil this new look and feel in the coming months across various channels including emails, social posts, website, and more. At the corporate level, you will recognize the Pushpay logo on our website and in communications.  Our product brand family will include donor and app products powered by Pushpay and a Church Community Builder branded ChMS product.
During this unification process, our technology service offering will remain unchanged.  Our customers will continue to experience the same world-class software and exceptional customer service they've come to expect, all unified under the Pushpay brand.
The Road Ahead
Despite the challenges of 2020, our customers have continued to do amazing things in support of their communities.  At Pushpay, our commitment remains constant – to provide world-class donor management, app and ChMS solutions that help them make their mark in 2021 and beyond. We're looking forward to the road ahead.
State of
Church Tech
Discover what church leaders like you are saying about their priorities, concerns, and expectations with church technology, today and for the future.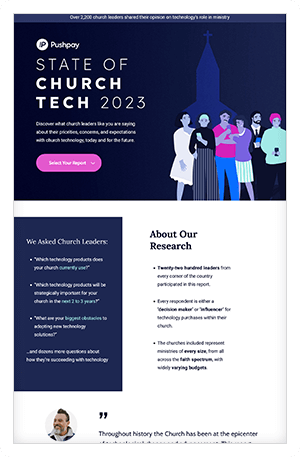 Featured Content
You May Also Like